Stout Brown Butter and Chocolate Chip Cookies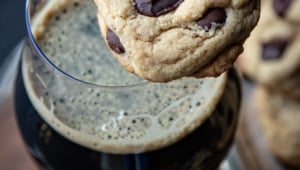 It's officially stout weather and stout weather waits for no man. The second the mercury drops below 60°F it's time for a celebratory stout.
I will admit that I'll drink stouts in the middle of an August heat wave but I don't expect you to partake. That is until Stout Weather has arrived and you have no excuses.
This is why I made these cookies, and why I only ask you to pour out 1/4 a cup for the homies. Or the cookies. Or maybe I should call these cookies "the homies" and only you and I will know what that means. I'm rambling again. Just open a stout and make some cookies so we can still be friends.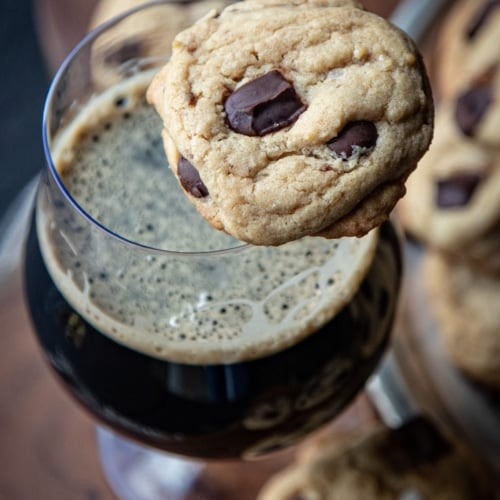 Stout Brown Butter and Chocolate Chip Cookies
Ingredients
1

cup

(228g) unsalted butter

¼

cup

(60g) stout beer

preferably barrel-aged stout

1

cup

(200g) packed golden brown sugar

½

cup

(100g) granulated sugar

2

large eggs plus one yolk

2

teaspoons

vanilla extract

1 ½

cups

(190g) all-purpose flour

1

cup

(135g) bread flour

½

teaspoon

baking soda

½

teaspoon

baking power

1

teaspoon

salt

2

cups

dark chocolate chunks

flaked sea salt

like Maldon
Instructions
Make the brown butter:
Add the butter and stout to a pan over medium heat. Allow to melt and become foamy, stirring frequently.

After about ten minutes the foam will subside and the liquid will become more translucent and you will be able to see the bottom of the pan and small bits on the bottom. Whisk continuously until it smells nutty and the bits have browned.

Remove from heat and add to the bowl of a stand mixer. Allow to sit until cool to the touch, about 30 minutes (if you don't allow the butter to cool it will melt the sugar and your cookies will turn out flat and greasy).
Make the cookies
Preheat the oven to 400°F.

Add the brown sugar and white sugar to the stand mixer with the cooled brown butter, beat until well combined.

One at a time add the eggs, yolk and vanilla allowing to beat well between additions. Beat on high speed until the mixture is creamy and resemble frosting.

Stop the mixer and sprinkle with both kinds of flour, baking soda, baking powder, 1 teaspoon salt, and chocolate chunks. Stir until just combined, making sure to scrape the bottom of the bowl to insure the mixture is well combined.

Scoop onto a cookie sheet that has been covered with parchment, leaving enough space for the cookies to spread. Sprinkle with flakey salt.

Bake for 9 minutes or until the cookies are golden brown at the edges and the center has puffed. Pull the parchment onto the counter to allow the cookies to cool.