Chocolate Stout Candy Cane Cake & Christmas Beers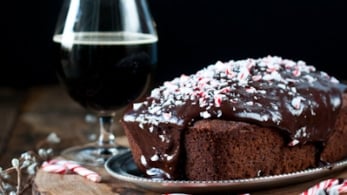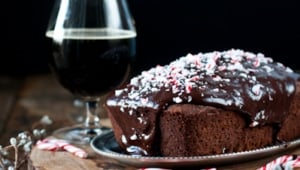 Chocolate Stout Candy Cane Cake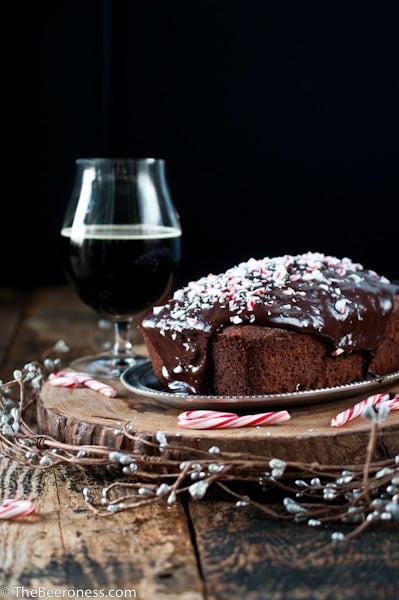 "Christmas Beer" is a bit of a broad term. It's isn't really a style since brewers are free to bring anything from an IPA to a barrel aged stout to the holiday beer table. It's more of an opportunity. An opportunity for beer people to do get creative, draw inspiration from the season, and make a beer that's infused with Holiday Cheer (specific, right?).
Often the beers that earn that cheerful Holiday label are malty, slightly higher ABV (alcohol by volume), low hop and include some of those spices we tend to see in Christmas food. Cinnamon, nutmeg, and cloves are frequently power players in Christmas Ales. Chocolate and chestnuts often make an appearance as well.
I have a few for you to seek out, but this list is in no way a "best of" compilation, a Mix Tape of Christmas beers, or a final say in all things boozy Christmas. It's just a jumping off point, some beers to get you started on your Christmas Beer Quest. If you have a favorite, please chime in. That's what the comment section is for.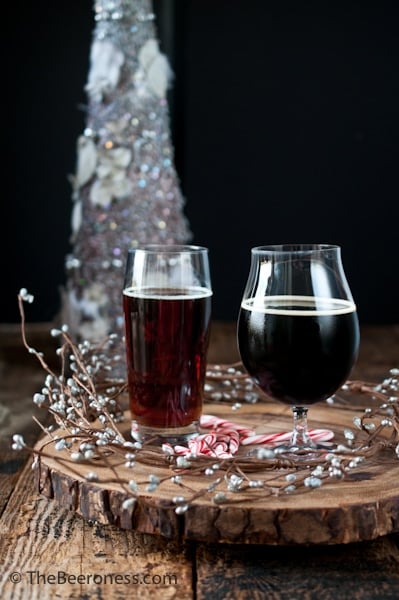 12 Beers of Christmas
Schlafly Christmas Ale Categorized as a Winter Warmer ale, this is a malty, low hop, 8% ABV flavor treat. It has notes of juniper, cardamom, cinnamon, and oranges. Count yourself among the fortunate if you happen to be in the limited distribution zone of the Schlafly brewery.
Great Lakes Christmas ale  This award-winning Christmas Ale seems to have a bit of a cult following. Another malty Winter Warmer with spiced notes along with some gingerbread, caramel and a 7.5% abv. This will keep you warm on a snow day.
Port Brewing Santa's Little Helper Not to be confused with those other beers by the same name, this Helper is a 10% ABV Russian Imperial Stout with notes of cocoa, coffee and dark cherries. There is also a barrel aged version if you're lucky enough to get your grubby paws on it.
New Belgium Accumulation White IPA This is a style you don't often see show up to the Christmas Ale party. A hopped up white IPA with bright notes of citrus, tropical fruit and sweet malt to remind you that winter won't last forever.

Deschutes Jubelale 

 A yuletide celebration in a bottle. This dark and malty ale has notes of chicory, spice and dried fruit. It's the perfect beer to wash down that fruitcake. And make you look forward to eating fruitcake.
Bison Gingerbread Ale This organic brewery out of the Bay Area is just the type of people you want to root for. Especially when they make a beer like this. It's a dark beer with notes of molasses, dark malts, spices and of course gingerbread cookies.
The Bruery 12 Days of Christmas Series Those mad brewing geniuses over at The Bruery have embarked on a 12-year Christmas ale event that results in one new 12 Days of Christmas themed beer every year. They are halfway through the quest, releasing their

Six Geese A Laying

Belgian Strong Dark ale just last month. It's malty as well as bright with notes of cranberries, cherries, citrus, and plums.
Rogue Santa's Private Reserve A variation of their Saint Rogue Red, this hopped up red ale with a beautiful malt finish and some nice spice notes is a great beer to pair with your Christmas dinner.
Avery Old Jubilation An Old English Ale with notes of toffee, mocha, hazelnuts and lots of malt. This drinkable treat is worth the wait each year.
Boulevard Nutcracker Ale With lots of malt, molasses, brown sugar and winter spices, this is a beer that will keep you warm by that winter fire.
Alaskan Winter Ale An Old English ale brewed up where they know a thing or two about cold winters. This winter beer has both a malty richness and crisp brightness with notes of spruce, cherries, and honey.
Souther Tier 2XMAS It's a Swedish Christmas in a bottle. Brewed with figs, orange peels and spices this is a beer that brings a European style Christmas to a beer bottle. This is a great one to pair with sausages or strong cheese.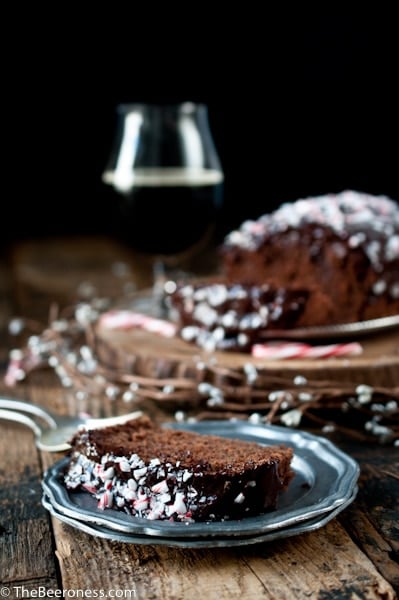 Chocolate Stout Candy Cane Cake
Ingredients
For the Cake:
1/2

cup

unsalted butter

softened

1 1/2

cups

granulated sugar

1/4

cup

brown sugar

2

eggs

1

tsp

vanilla extract

optional: ¼ tsp peppermint extract

1/2

cup

buttermilk

¾

cup

stout or porter beer

1/3

cup

dark chocolate chips

1 2/3

cups

cake flour

3/4

cup

unsweetened cocoa powder

1

tsp

espresso powder

1

tsp

baking powder

3/4

tsp

salt
For the frosting:
10

wt oz dark chocolate

1/3

cup

stout

¼

cup

heavy cream

¼

cup

crushed candy canes
Instructions
Preheat oven to 325.

In the bowl of a stand mixer beat the butter and both kinds of sugar until light and fluffy, about 3 minutes.

Add the eggs and vanilla extract (peppermint if using) and beat until well combined.

In a microwave safe bowl add the chocolate chips and the stout. Microwave on high for thirty seconds, stir and repeat until the chocolate and beer are well combined.

Add the chocolate to the butter and mix until well combined, stopping to scrape the bottom of the mixer to insure the butter and chocolate are well combined. Stir in the buttermilk.

In a small bowl mix together the flour, cocoa powder, espresso powder, baking powder and salt.

Sprinkle the dry ingredients over the wet ingredients and stir until combined.

Pour the batter into a large loaf pan that has been sprayed with cooking spray.

Bake at 325 for 65-75 minutes or until a tooth pick inserted in the center comes back with just a few crumbs attached.

Allow to cool before removing from pan.

To make the frosting add the chocolate, cream and beer to a microwave safe bowl. Microwave on high for 30 seconds, stir and repeat until melted and smooth.

Allow the frosting to cool for about 5 minutes and then pour gently over the cake.

Sprinkle with crushed candy canes. Chill until the frosting has set, about 30 minutes.
I made this once with the peppermint extract and once without. I have a well documented aversion to mint, so I preferred it without. But if you want to reiterate the Candy Cane flavor and like mint, adding it is a good option.