Flourless Chocolate Stout Cake with Orange Mascarpone Frosting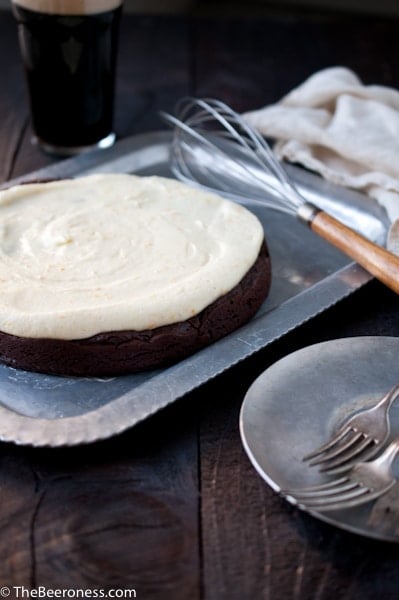 I'm on my way to New York right now to cook on The Today Show. I'd like to say that I'm cool enough to not think this is a big deal, but I'm not. I'm thrilled, and also a little nervous (significant nervousness is scheduled for the late 9am hour on Wednesday morning).
Before I left on my journey across the country I wanted to leave you with this cake. It's really easy, really rich and insanely good. A perfect cake to pair with a stout or even one of those black IPA's I've become so found of.
Flourless Chocolate Stout Cake with Orange Mascarpone Frosting
Ingredients
For The Cake

½ cup butter, chopped
7 weight ounces 60% chocolate, chopped
1/3 cup stout
1 ¼ cups granulated sugar
3 whole eggs plus 2 yolks
¾ cup cocoa powder
2 tbs cornstarch

For the Frosting

3 tbs butter, softened
8 ounces mascarpone
3 cups powdered sugar
2 tsp finely grated orange zest
Directions
Preheat oven to 375.
In the top of a double boiler over a simmering water add the chocolate and the butter. Stir until the butter is almost melted, turn off heat and continue to stir until butter is melted. Remove the top of the double boiler and place on a clean kitchen towel. Stir in the beer. Whisk in the sugar. Check to make sure the chocolate is room temperature or below, then whisk in the eggs and the yolks. Sprinkle the cocoa powder and the cornstarch over the chocolate, gently stir until combined.
Place a round of parchment paper inside a 10 inch spring form pan, rub the inside of the pan and the parchment paper with butter.
Pour the batter inside the prepared pan, smooth out into an even layer.
Bake for 35-40 minutes or until the top looks dry and the top is slightly springy, don't over bake of cake will be dry. Remove from oven and allow to cool on a wire rack for 10-20 minutes. Transfer to a cake pan, refrigerate until cool, about 2 hours.
In the bowl of a stand mixer, add the butter and the mascarpone, beat until well combined. Add the powdered sugar and zest, mix until well combined. Frost the cake with the mascarpone frosting, chill until ready to serve. (Don't be afraid to make this a day ahead of time, it's better the next day).
https://domesticfits.com/flourless-chocolate-stout-cake-with-orange-mascarpone-frosting/
Copyright �© TheBeeroness.com