Crock-Pot Express Crock Multi-Cooker Carnitas Sliders with Chipotle Sour Cream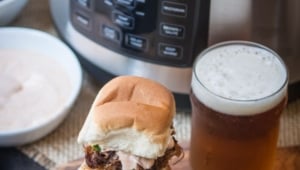 This post was sponsored by Crock-Pot. Partnerships with The Beeroness and outside companies are rare and only occur when the company's products are ones I use and enjoy myself. All ideas and opinions are my  own.
I'm still sort of in shock. If you're a long time carnitas lover, you'll know what I'm talking about. The best part of this delicious slow-cooked meat dish is the lovely caramelization you get on some of the end bits. It's really not the same without that.
What shocks me is that I was able to get the perfect seared caramelization in a Crock-Pot! If you'd have told me that was possible, I might have fought you, bet you several pitchers of good beer that it wasn't possible. And now here I am. I'd owe you quite a few beers, and I'd have gladly paid up, these carnitas were the best I've made and that sear is perfect! (Yes, it's SUPER nerdy that I'm THIS excited about it. But I can't even try to care, I'm so excited!)
The new Crock-Pot Express Crock Multi-Cooker is a game changer. It has eight different functions that encompass all the functions you would achieve from using multiple different kitchen appliances from slow cooking to pressure cooking and sautéing to searing. The Crock-Pot Express Crock Multi-Cooker is also available in NEW 4-Quart and 8-Quart Models.
I was a bit skeptical that the brown/sauté setting would work as well as a stovetop pot. It's a good thing I didn't have a bet going, it was perfect. Also, SO much easier. I didn't have to use anything but the Multi-Cooker. I'm usually someone who digs the traditional Dutch ovens for such endeavors, but these carnitas came out so well, I'll never go back.
So, if you want to win yourself a couple beers, just bet someone that you can't make a Crock-Pot sear. Or pressure cook. You'll never have to buy beer again.
Crock-PotExpress Crock Carnitas Sliders with Chipotle Sour Cream
Ingredients
4.5

lbs

pork shoulder

cut into cubes

1

tablespoon

salt

plus ½ teaspoon divided

12

ounces

stout beer

6

ounces

tomato paste

Juice from 1 large lime

1

teaspoon

cumin

1

teaspoon

garlic powder

1

teaspoon

onion powder

2

teaspoons

chili powder

½

teaspoon

cayenne powder

½

teaspoon

smoked paprika

1

cup

sour cream

1

tablespoon

chopped chipotle peppers in adobo

24

slider buns

chopped cilantro
Instructions
Sprinkle the pork on all sides with 1 tablespoon salt.

In a small bowl stir together the beer, tomato paste, lime juice, cumin, garlic powder, onion powder, chili powder, cayenne, and smoked paprika.

Add the pork and the sauce to a Crock-Pot Express Crock Multi-Cooker, add the lid (make sure the lid to the Multi-Cooker is locked but the steam value is open to "release" mode). Cook on high for 6 hours, or low for 8 hours.

Remove the inner bowl of the Crock-Pot, pouring off the liquid (leave a small amount, about 2 tablespoons, the amount doesn't need to be exact), place the bowl back in the Crockpot.

Turn the multi-cooker to the "brown/sauté" setting on high. Shred the pork, in the cooker with two forks while the pot heats up in sauté mode. Press meat firmly down with a wooden spoon into a firm even layer.

Cook for 5-8 minutes, stir and press again into a firm even layer.

Once the remaining liquid is gone and there are pieces of meat that have been nicely caramelized, remove from the pot and add to a serving bowl, toss with the remaining ½ teaspoon salt.

Stir together the sour cream and chipotle peppers.

Add the carnitas to the slider buns, top with sour cream and sprinkle with cilantro.
Notes
*If you plan to make the meat in advance, save about ½ cup of the cooking liquid and add the storage container. It will help to keep the meat moist once you reheat.