Pumpkin Ale Farro Roasted Asparagus Pomegranate and Goat Cheese Salad
Pumpkin Ale Farro Roasted Asparagus Pomegranate and Goat Cheese Salad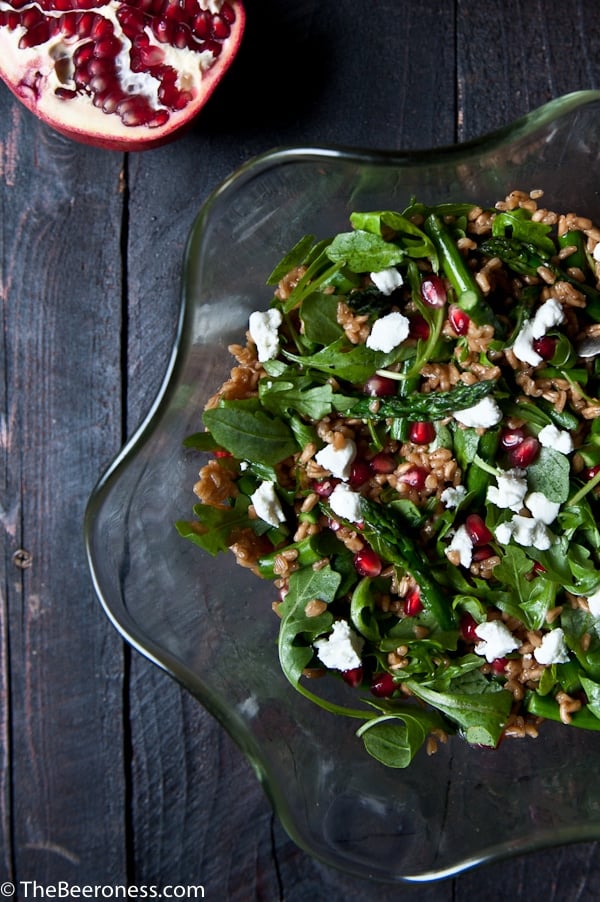 Somehow I ended up being the girl who brought salad to Thanksgiving. Not my usual holiday offering. Spending the holidays in an unfamiliar city and not being the host for the first time in forever drove me to beer up a salad. Maybe it's caused by the stir-crazy-work-from-home madness that's set in, a fall that's actually cold, or the life I'm living that looks almost nothing like it did a year ago, but beer in a salad made everything seem right. I needed a little familiarity in my world, and all of my favorite salads contain pomegranate seeds and goat cheese. You can even forget the fact that this salad is red, green, gold and white, making it more festive than it should be allowed to be for a holiday salad. This is a season for indulgences: barrel aged beers, cakes, fudge, cookies, and pie. With all of these perfectly fantastic holiday foods, I give you a salad. But rest assured it's a damn good salad, and with beer infused grains, it definitely made the naughty list.
Pumpkin Ale Farro Roasted Asparagus Pomegranate and Goat Cheese Salad
Ingredients
1

cup

whole farro

12

ounces

pumpkin ale

½

cup

chicken broth

1

lbs

asparagus

tripped and chopped into 1 inch sections

2

tbs

olive oil

1

tsp

salt

1

tsp

pepper

½

cup

pomegranate seeds

1

cup

baby arugula

3

wt oz goat cheese
Instructions
Add the farro, beer, and broth to a pot over medium high heat. Bring to a low simmer. Simmer until farro is tender but not mushy, about 20 minutes. Drain off any remaining liquid.

Preheat oven to 400.

Add the asparagus to a baking sheet, drizzle with olive oil, sprinkle with salt and pepper, toss to coat.

Roast asparagus at 400 until fork tender, about 8-10 minutes (less for thin asparagus, you still want some firmness, it's best to under cook rather than overcook).

Add the farro, asparagus, remaining ingredients to a bowl, toss to combine. Serve at room temperature.