Flourless Peanut Butter Oatmeal Chocolate Chip Cookies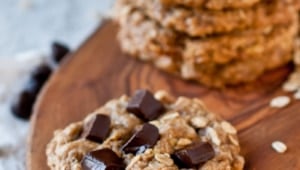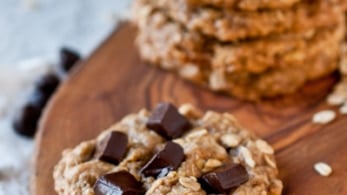 Flourless Peanut Butter Oatmeal Chocolate Chip Cookies are naturally dairy and gluten free, take 5 minutes and one bowl to throw together.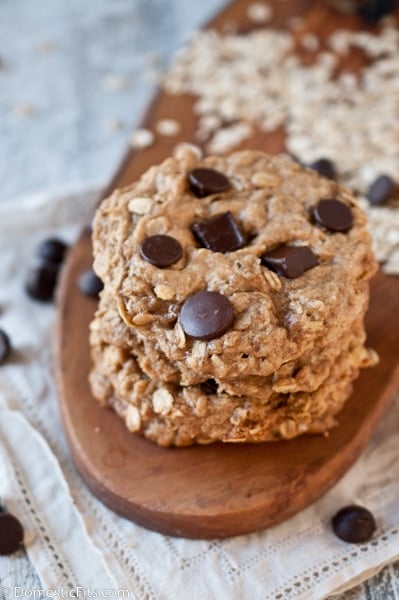 There is really nothing simple about my life these days. Between two blogs, freelance work, a book, a book tour, another super secret project I hope to tell you about soon, and (oh yeah) a family, I've officially crossed over into complex living. As a result, my food has become more simple. Beautifully simple. Fewer (but better) ingredients, less waste, more time with that family who gives me so much support. These cookies are a great example. My favorite cookie recipe ever (on the planet) takes 3 days to make, inspiring the name Thursday Night Cookies because if I want them for the weekend, I need to start making them Thursday night.
But right now, in this crazy phase of my life, I want something that can give me near instant comfort and gratification with just a few ingredients I already have. So that someday I can get back to those lazy days and Thursday Night Cookies.
Homemade Beer Burger Buns
Ingredients
2 ½ cups All purpose flour
1 envelope rapid rise yeast (2 ½ tsp)
½ tsp onion powder
¾ cup wheat beer
¼ cup butter, softened
1 tbs raw honey
½ tsp salt plus additional for topping
egg wash (1 egg plus 1 tbs water, beaten)
2 tbs sesame seeds
Directions
In the bowl of a stand mixer fitted with a dough hook attachment, add the flour, yeast, and onion powder. Mix until combined.
In a microwave safe bowl add the beer. Microwave on high for 20 seconds, test temperature with a cooking thermometer and repeat until temperature reaches between 120 and 125 degrees Fahrenheit.
Add the beer to the stand mixer and mix on medium speed. Once most of the dough has been moistened, sprinkle with the salt, honey and add softened butter.
Turn speed to medium-high and beat until dough is smooth and elastic, about 8 minutes.
Transfer dough to a lightly oiled bowl, tightly wrap with plastic wrap. Allow to sit in a warm room until doubled in size, about 45 to 60 minutes.
Preheat oven to 400.
Remove from bowl and add to a lightly floured surface, knead a few times. Cut into 8 equal sized pieces.
Form each piece into a tight ball. Add evenly spaced over a baking sheet that has been covered with parchment paper.
Cover loosely and allow to rise until almost doubled in size, about 20-30 minutes.
Brush with egg wash, sprinkle with sesame seeds and salt.
Bake at 400 for 12-15 minutes or until light golden brown.
https://domesticfits.com/flourless-peanut-butter-oatmeal-chocolate-chip-cookies/
Copyright �© TheBeeroness.com