Brown Butter Oatmeal Chocolate Chip Cookies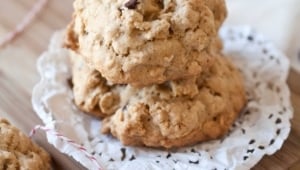 I spent the morning interviewing ex-cons.
For them, the employees of Homeboy Industries, it's a second chance and fresh start. A non-profit that works with gang members, fresh out of jail, provides culinary training, GED prep, job placement, parenting skills and so much more. "It's like a big family, but everyone believes in you." Said one guy, back for a second chance at his second chance.
But sitting at the front of the Homegirl Cafe, interviewing and photographing the employees, it felt like a second chance and fresh start for me too. I was hired to write an article about food. Paid to go there, talk to people and take photos. A rare opportunity it seems for me to bulldog my way into this food writing world that I've been fighting so hard to be  a part of. An article I hope to do justice to, undoubtably spending the better part of the next week working on.
So here we are. Me and them. My transformation so much less dramatic, so much less important to my survival. They inspire me. When I asked the man I met, the one who is back for his second time and only 3 days out of jail, how he is going to do things different this time around, he shrugs, "I'm just going to keep showing up. That's all."
I think he's on to something there.
Brown Butter Oatmeal Cookies
Ingredients
1 1/2 stick unsalted butter, cut into cubes
2/3 cups white sugar
2/3 cup brown sugar
2 eggs
1 tsp vanilla
1 cup bread flour
2/3 cup cake flour
1 1/2 cups quick cooking oats
1/2 tsp salt
1 tsp baking powder
1/2 cup chocolate chips
Makes 2 dozen
Instructions
In a pot over medium high heat, add the butter. Stir until butter has melted. Continue to cook, swirling the pot continuously, until the butter has turned an amber brown color and remove from heat. This will take about 5 minutes. Allow to cool to room temperature.
In a bowl, whisk together the eggs and the sugar. Add the vanilla and the browned butter, stir until combined.
In a separate bowl add the remaining ingredients and stir until well combined.
Add the dry ingredients to the wet ingredients and stir until just combined, don't over mix.
Line two baking sheets with a Silpat or parchment paper.
Form dough into balls a bit larger than a golf ball. Place on the baking sheets.
Cover and chill in the refrigerator for at least 3 hours, and up to 24.
Preheat oven to 350. Bake for about 18 minutes or until light golden brown. Keep an eye on your cookies at about the 12 minutes mark. Cookies that aren't as chilled will cook much faster.