Chocolate Dipped Peanut Butter Stout Chocolate Chip Cookies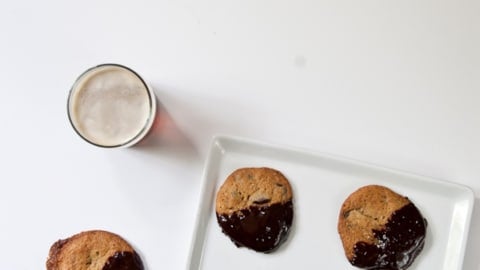 I have this theme in my life right now about fear.
Not the kind of fear that keeps you from jumping out of airplanes (which I've done), or the fear that comes when you hear a noise in the middle of the night which clearly means a murderer is in your living room.
But a fear that you don't even realize you have, the you don't realize is controlling you. Like this video of fear disguised as practicality. Or the fear that keeps you from standing up for yourself. Or the fear that keeps you from going after your dream. Or the fear that keeps you locked in a harmful relationship.
Talk to any sucessful person and you'll hear a story of failing. A failure that got them closer to the goal, with more information and more drive. Fear is just part of it. Brewers know this. Every brewer will tell you about how much fear there was in the early years.
When it comes to brewing, or dreams, or needs, or relationships, success isn't about being fearless, it's about being fear tolerant. Accept that the fear won't hurt you and move forward in spite of it. Learn to tolerate the feeling of fear and it won't be able to control you.
Now let's enjoy the spoils of that success and go drink some great beer.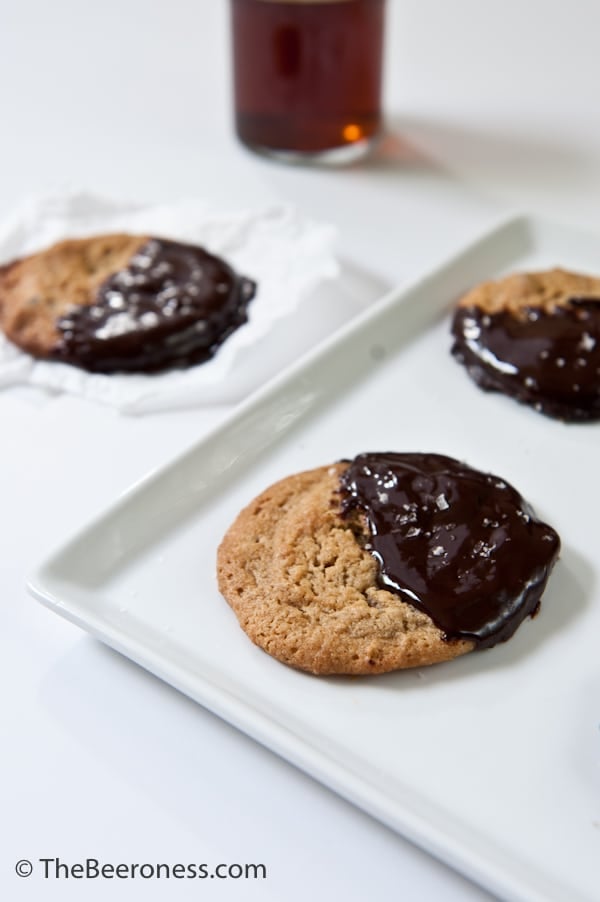 Chocolate Dipped Peanut Butter Stout Chocolate Chip Cookies
Ingredients
For the Cookies:
½

cup

unsalted butter

½

cup

white sugar

½

cup

brown sugar

¾

cup

creamy peanut butter

½

tsp

vanilla extract

1

egg

1/3

cup

stout

½

tsp

baking soda

2/3

cup

flour

2/3

cup

chocolate chips
For the chocolate dip
1

cup

dark chocolate chips

60% coca content

1/3

cup

stout

1

tsp

flaky sea salt

like Maldon sea salt
Instructions
In the bowl of a stand mixer beat the butter, white sugar and brown sugar until light and fluffy. Add the peanut butter, egg, and vanilla extract, beating until well combined, scraping the bottom of the bowl to insure all ingredients are well combined. Add the beer, mixing until well combined.

Lift the head of the stand mixer, sprinkle flour, baking soda, mix until just combined, stir in chocolate chips.

Using a cookie scoop, scoop onto a baking sheet that has been covered with parchment paper.

Refrigerated for 30 minutes.

Preheat the oven to 350.

Bake at 350 for 13-16 minutes or until golden brown. Allow to cool completely before dipping.

In a microwave safe bowl add the chocolate and remaining 1/3 cup stout beer. Microwave on high for 20 seconds, stir and repeat until melted.

One at a time, dip the cookies. Sprinkle with sea salt. Chill until chocolate has set.