Sticky Apple Pie Beer Focaccia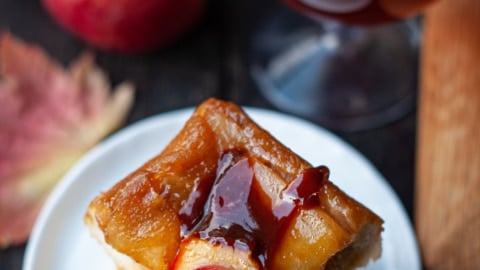 Does anyone else think that "pumpkin spice" could just as easily be "apple pie spice" and be less basic and more appetizing or are you normal?
I like pumpkin just fine but if it wasn't shoved right into my face repeatedly from August until January I'd most likely forget about it.
Fall is for apple pie and wet hop beers. I'm not going to pass on a good pumpkin cheesecake but I'm also not going to cross the street for one either, which would be an odd request.
I will cross a busy highway for a beer and an apple pie tho, especially this time of year. Unless it's raining. Or the beer isn't a good one. Or the pie is from the freezer section of the grocery store (I know, I'm such a pie snob, don't hate me).
I really wanted an apple pie but decided making an entire apple pie for no reason wasn't a good use of my time, BUT making bread is just fine. And topping the bread with apple pie-like substances would also be fine. Because logic.

Sticky Apple Pie Beer Focaccia
Ingredients
2

cups

(240g) All-Purpose Flour

2

tablespoon

sugar

1

package

(2 ¼ teaspoons or 7g) rapid rise yeast

¾

cup

(170g) cups beer (plus 1 tablespoon, divided)

wheat beer, pumpkin ale, brown ale,

3

tablespoons

(42g) olive oil, divided

1

teaspoon

salt

½

cup

(114g) unsalted butter

½

cup

(100g) brown sugar

2

tablespoons

heavy cream

3

large

honey crisp apples

thinly sliced

1

teaspoon

cinnamon
Instructions
Make the dough:
In a bowl of a stand mixer fitter with a dough hook, stir together half the flour, sugar and yeast.

Heat ¾ cup beer to 120°F to 125°F degrees (check the temperature guidelines on your yeast, always default to that).

Add the beer to the stand mixer, turn the mixer to medium, mix until combined.

Add the remaining flour, 2 tablespoons olive oil, and 1 teaspoon salt.

Turn the mixer to medium-high, beat for 5 to 6 minutes.

Transfer to a lightly oiled bowl, cover and allow to rise in a warm room until doubled in size, about 1 hour.
Make the caramel sauce:
Add the butter, beer and sugar to a saucepan over high heat Stir until butter is melted and combined. Stop stirring.

Remove from heat, stir in heavy cream.
Assemble:
Grease a 9x13 pan, pour the sauce in the bottom of the pan in an even layer.

Add the apples in an even layer in the bottom of the pan over the sauce. Sprinkle with cinnamon.

Transfer the dough to the pan, pulling to cover the apples. Press your fingers into the dough making holes across the entire loaf.

Cover and allow to rise for 30 minutes.

Preheat oven to 425.

Brush with remaining 1 tablespoon oil.

Bake until golden brown, about 15 minutes. Remove from oven and allow to cool until warm but not hot.

Invert onto a cutting board or serving platter.

Cut into squares, serve warm.