Pecan Pie Smoked Porter Brownies
Pecan Pie Smoked Porter Brownies
I have these moments. These "how have I lived this long without this?" moments that seem to reveal an incompleteness prior to the revelation that I was unaware of.
Beer was a big one. Realizing in the dawn of my beer drinking days that "imported" didn't mean better, it meant, arguably, worse. The only thing  I knew for sure about the "imported" beer was that it wasn't fresh, and was most likely stale and destroyed from months of shipping in warm containers.
Cocoa powder is another. There is a vast difference in taste between cheap brands, and craft brands. Rich, dark, silken texture gives you an elevated result. Your chocolate desserts taste Nordstrom instead of Walmart. It's like a secret ingredient that's hidden in plain sight. Why you can make the same brownie recipe as your neighbor, but yours just taste better, and no one can figure out how you do it.
There there was salt. Salt, in general, is grossly underused by most home cooks, but that's not the only revelation. Good salt. Great salt. Every time my passport has been stamped as I return to the USA, It has always been with a pouch of salt in my bag.
Honey and salt will always return with me from any destination. Smoked salt is my favorite, it's transformative. Step far, far away from the iodized salt and immediately replace it with Kosher. Buy some French Gray, and some Himalayan Pink and a ton of Smoked Maldon and you'll be off to a good start.
Coconut was another.  Ever since the most loathsome of all Trick-or-Treat offerings, Neapolitan Sundaes, Almond Joys and Mounds bars, started taking up valuable real estate in my orange plastic pumpkin during childhood Halloweens,  my Trow Away pile of post-Halloween candy sorting convinced me that coconut was to blame.  Assaulting me with its odd texture that wasn't quite crunchy and wasn't quite chewy and definitely wasn't delicious. Then came chicken Panang and I realized that I love, LOVE coconut, I just hated crappy candy. Now, I stockpile coconut milk, full fat, of course.
Then there are smoked things. I went through a phase of not liking anything smoked, mostly because of a run in with meat that had recently vacated a 1940's gym locker that had been transformed into a meat smoked. But still smelled like sweat socks. I got over it, with the help of bacon. Now, I love all the smoked things. I even own a stovetop smoker.
So, beer, coconut, salt, smoked things. This is why I give everyone, and most food products, a second chance. Or maybe a third. But don't push it.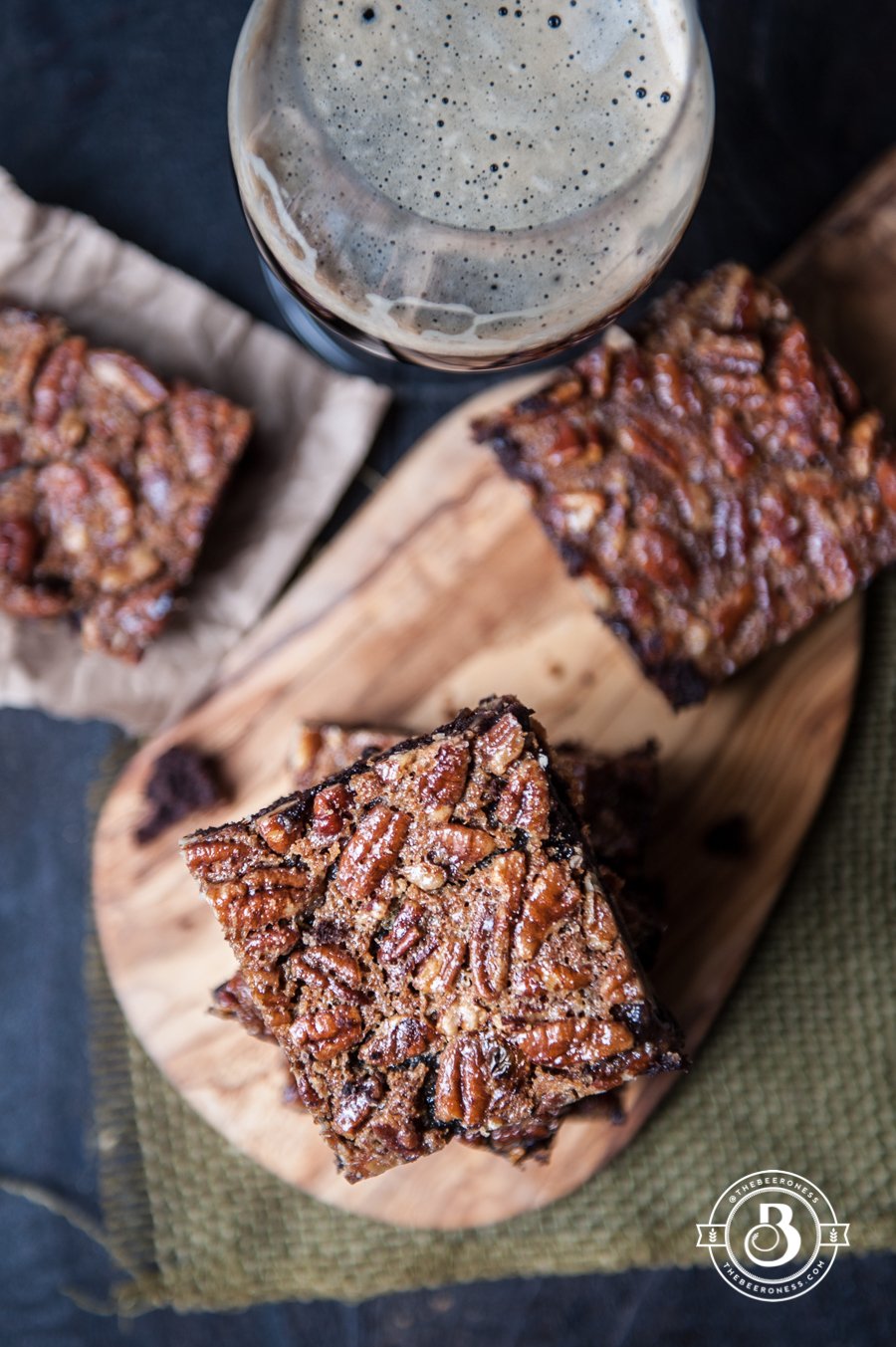 Pecan Pie Smoked Porter Brownies
Ingredients
For the Brownies:

18 standard sized (280g) graham crackers (two standard sleeves)
2 tablespoons brown sugar
½ cup (90g) plus ½ cup (90g) melted butter, divided
2 cups (420g) white sugar
1 ½ cups (135g) unsweetened cocoa powder
1 tsp (8g) salt
¾ cup (164g) smoked porter beer*
1 tsp (6g) vanilla extract
2 large eggs, plus 2 yolks
2/3 cup (95g) flour
¼ tsp (.5g) smoked paprika

For the Pecan Layer:

2 tbs porter
1 cup (234g) packed brown sugar
½ cup (171g) light corn syrup
2 eggs
1 tbs (12g) vanilla extract
¼ cup (55g) butter, melted
¼ cup (57g) heavy cream
2 cups (227g) chopped pecans
1 tsp sea salt
Instructions
Preheat oven to 350.
Add the graham crackers and brown sugar to a food processor, process until just crumbs remain. While the mixer is running add ½ cup melted butter, process until well combined.
Press into the bottom of a 9X13 pan in an even layer.
Add the remaining ½ cup melted butter, sugar, cocoa power, salt, beer and vanilla to bowl. Stir to combine.
Add the eggs, stir until well combined.
Sprinkle with flour and smoked paprika, stir until just combined.
Pour over the crust. Bake for 20 minutes, remove from oven and allow to cool for 20 minutes.
Reduce oven heat to 325.
In a large bowl stir together the 2 tablespoons beer, brown sugar, corn syrup, eggs, butter, cream and pecans.
Pour over brownie layer, sprinkle with sea salt.
Bake at 325 for 35 minutes or until the center is a little wobbly, but not sloshy.
Allow to cool to room temp. Cover and chill until set, at least two hours and up to two days.
Notes
*I used Alaskan Brewing Smoked porter. You can also use a coffee stout, or a barrel aged stout.
https://domesticfits.com/pecan-pie-smoked-porter-brownies/