Apple Pie with Pale Ale Mascarpone Cream and Beer Pie Dough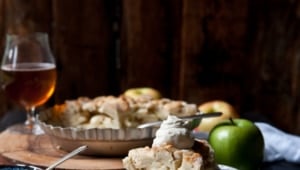 Apple Pie with Pale Ale Mascarpone Cream and Beer Pie Dough
There are always these things that I keep coming back to. Faded destroyed jeans, vintage rock t-shirts, Van Morrison, Old Rasputin, the first Back to the Future movie, apple pie. It was one of those recipes that always felt perfect, even when it wasn't. Even when the edges of the crusts were brunt, or the filling was runny, or the apples turned mushy, it was still apple pie.
The tartness, the sugar, the cinnamon, the flaky crust, it was all there reminding me that it has been there all along. Through my lust for a complicated soufflé, my affair with Crème brûlée, that summer I was obsessed with pavlovas, apple pie has always been there. Always perfect, even when it's not. Classic but never boring. Just as perfect at 8am as it is at midnight.
Perfect with a cold beer, and even better made with one. Or both. Always both.
Apple Pie with Pale Ale Mascarpone Cream and Beer Pie Dough
Ingredients
Pie Dough

2 1/2 cups (12 ½ wt oz) all-purpose flour
1 teaspoon salt
2 tablespoons sugar
12 tbs cold unsalted butter, cut into cubes
8 tbs vegetable shortening
1/3 cup ice cold pale ale
2 tbs melted butter

Filling

1 ¼ lbs (2-3 large) Honey Crisp (or Fuji) apples peeled and sliced
1 ¼ lbs (2-3 large) Granny Smith apples peeled and sliced
½ cup brown sugar
½ cup white sugar
¼ cup flour
1 tsp Vietnamese cinnamon
¼ tsp nutmeg
1 tbs fresh lemon juice
1 tbs pale ale
3 tablespoons unsweetened apple sauce

Cream

8 wt ounces mascarpone
1 cup powdered sugar
1 tsp vanilla extract
2 tablespoons pale ale
Instructions
Make the crust:

Add 1 ½ cups of flour, salt and sugar to a food processor, pulse to combine. Add the butter and shortening, process until well combined and dough gathers around the blade.
Add the remaining flour and pulse 6-8 times or until all the flour has been coated.
Transfer to a bowl. Using a rubber spatula, stir in the beer until completely incorporated into the dough (don't add the beer in the food processor or your dough will turn into a cracker). Dough will be very soft.
Lay two long sheets of plastic wrap on a flat surface.
Divide the dough evenly between the two sheets, Form into flat disks.
Wrap each disk tightly in plastic wrap, chill until firm, about 1 hour.

Make the filling:

Add the apples (about 8 cups total) to a large bowl. Sprinkle with brown sugar, flour, cinnamon, nutmeg, lemon juice, 1 tablespoon beer and apple sauce, toss until coated.
Roll out one of the pastry disks out on a lightly floured surface, line a 9-inch pie pan, trim off the excess.
Pour the filling into the prepared crust.
Roll out the remaining pie dough, cut with a small cookie cutter, layering the shapes over the filling. Brush with melted butter, sprinkle with sugar.
Place pie in the freezer for ten minutes while the oven preheats.
Heat the oven to 350 degrees.
Bake the pie at 350 for 40 minutes or until the pie is golden brown. Remove from oven and allow to cool for at least an hour before cutting.
In a small bowl combine the mascarpone, powdered sugar, vanilla and pale ale until well combined. Top the pie with cream prior to serving.
https://domesticfits.com/apple-pie-pale-ale-mascarpone-cream-beer-pie-dough/