Drunk French Toast Sticks with Beer Blood Orange Syrup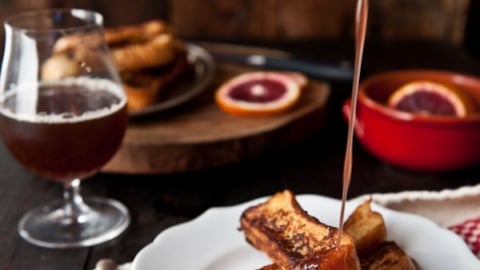 Drunk French Toast Sticks with Beer Blood Orange Syrup. Win at breakfast.  
Breakfast being the most important meal has nothing to do with nurtition. It's not about blood sugar, or enriched whole grains or jumpstarting your metabolism. It's emotional.
Breakfast is important because of who we eat it with. The people who live in your house, the out of town guest, the friend who is worth getting up early and meeting at that overcrowded brunch place in Silverlake.
It's OK if breakfast takes a while, and it's OK if it doesn't. This takes about 20 minutes, leaving you more time for coffee and conversation. Serve it with a side of eggs, or a side of beer mimosa. Dunk the sticks in your latte.
Lick the syrup off your fingers, or the other guys fingers, or your plate.
You should probably stop licking things.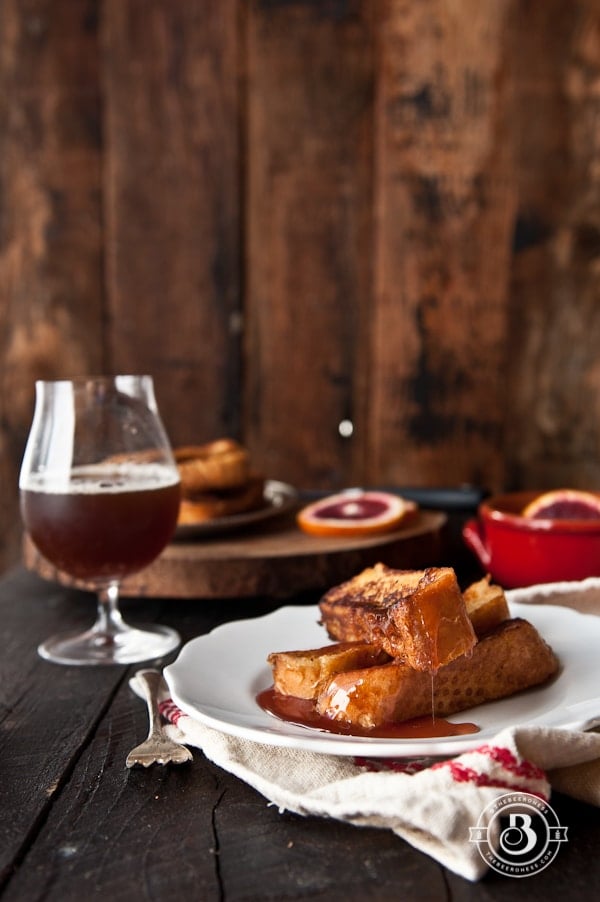 Breakfast will always be my favorite meal. I can share a mid-day coffee or a late night dinner with anyone, but if you find a seat at my breakfast table, especially before I've showered, then you know you've really made my inner circle. Breakfast means you're really important.
Drunk French Toast Sticks with Beer Blood Orange Syrup
Ingredients
French Toast Sticks
One loaf Italian bread

or Texas Toast, cut into thick slices

1 ½

cup

half & half

1

cup

brown ale

2/3

cup

brown sugar

1

tsp

salt

1

tsp

vanilla extract

4

eggs

3

tbs

unsalted butter
Syrup:
1

blood orange

1

cup

white sugar

½

cup

beer

1

tbs

cornstarch

pinch

salt
Instructions
Preheat the oven to 200. Line a baking sheet with parchment paper or tin foil sprayed with cooking spray.

In a large bowl whisk together the half & half, beer, brown sugar, salt, vanilla extract and eggs until well combined.

Melt the butter in a large skillet over medium-high heat.

One at a time dunk the bread sticks in the mixture until well saturated. Remove and allow excess to drain off.

Cook until golden brown on all sides. Place French toast sticks on the baking sheet in the oven when you finish the rest of the French toast sticks to keep warm until serving.

Zest the orange with a microplane. Juice the orange.

In a pot over medium heat whisk together the sugar, beer, cornstarch, salt, orange juice and zest. Bring to a boil, boil for three minutes without stirring. Remove from heat, allow to cool (syrup with thicken as it cools).

Serve French toast sticks drizzled with syrup.