Mozzarella and Beer Pesto Stuffed Flank steak
Mozzarella and Beer Pesto Stuffed Flank steak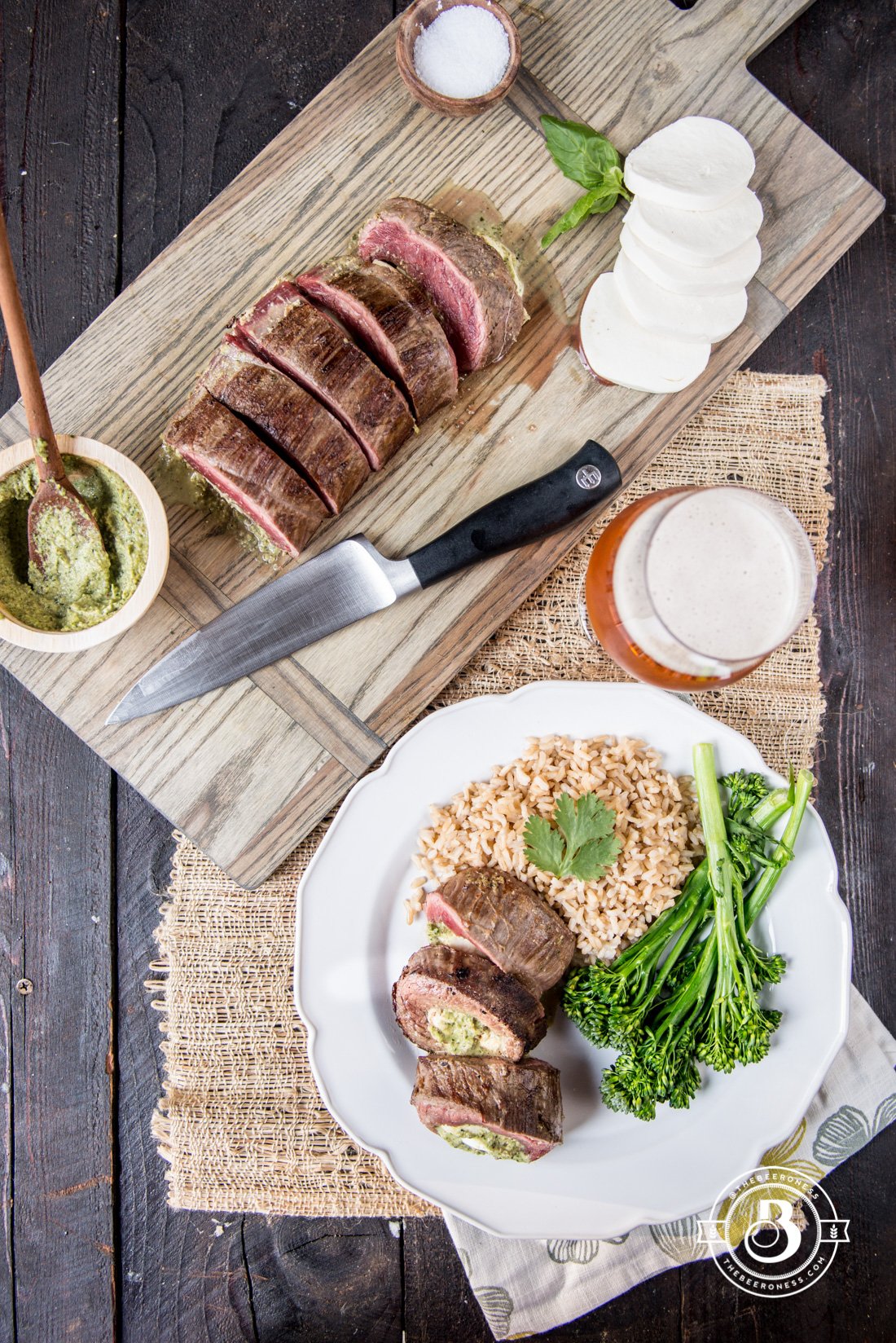 I was on top of a mountain last week and I saw a dinosaur. Not a real one, obviously, I'm not crazy. I'd taken a gondola ride up to the summit of Mount Rainier, the very top, no more left to climb.
There he was, right below the platform I stepped out onto. He was wearing a giant inflatable dinosaur costume as he clipped his boots into the bindings of his snowboard. Laughing, he threw a hang ten sign skyward as he started to rapidly glide towards the bottom of the mountain.
We. Were. On. The. Top. The literal top of the mountain, a 20° temperature drop from the bottom, steep downward trajectory on both sides of me. He didn't just decide to snowboard down an entire mountain, but he was so confident in his abilities, he did so in a giant inflatable costume.
I want to be that confident in my abilities, in what I do. I want to be Dino-Confident (Confident-osauras?).  This is what I want. Because even if I CAN do dino-confident things, I still doubt myself.
Maybe THAT should be New Year's goal. Let's agree that we'll try to believe in ourselves more, that we can find Inflatable Costume Confidence inside of us.
Mozzarella and Beer Pesto Stuffed Flank steak
Ingredients
2 lbs flank steak
1 tablespoon salt
12 ounces pilsner or pale ale
½ cup pecan pieces
¾ cup fresh grated Parmesan cheese
½ cup packed fresh basil leaves, torn
½ teaspoon salt
½ teaspoon black pepper
2 large cloves garlic
3 tablespoons olive oil
3 tablespoons pilsner
1 (6oz) ball of fresh mozzarella, cut into 1 inch slices
1 tablespoon cooking oil (vegetable, olive, safflower)
Instructions
Add the flank steak to a large baking dish. Sprinkle on all sides with the salt.
Reserve 3 tablespoons of the pilsner for the pesto, pour the remaining beer over the steak. Cover and allow to sit at room temperature for 30 minutes.
Add the pecan to a pan over high heat. Toss the pecans until lightly toasted, about 5 minutes (watch carefully, they burn quickly).
Add the pecans, Parmesan, basil, salt, pepper, and garlic to a food processor. Process until only small crumbs remain.
While the food processor is running, add the olive oil and reserved 3 tablespoons beer until well combined.
Add the flank steak to a flat surface, pat dry.
Cut the tapered ends of the flank steak to make a neat rectangle. Cover with parchment paper and pound with a meat mallet, heavy rolling pin or heavy pan until thin and even.
Spread the pesto evenly over the steak. Add a row of mozzarella lengthwise about 2 inches from the edge. Starting at the cheese edge, roll into a tight log.
Tie with kitchen twine.
Heat the oil in a large skillet over medium high heat. Cook on all sides until well caramelized on the outside and the internal temp reaches 130° F.
Add steak to a cutting board, remove twine, slice into 2 inch circles. Serve immediately.
https://domesticfits.com/mozzarella-beer-pesto-stuffed-flank-steak/