Mushroom Steak Pasta with Garlic Beer Cream Sauce
I've spent the past few weeks making my way up the West Coast, traveling from brewery to brewery, enjoying the company of Craft Beer's finest. A journey much less about scribbling my name inside a few hundred books with a black Sharpie marker than it's been about connecting to this community I've fallen in love with. This world I feel so grateful to be a part of is glad to count me as one of it's own, and I'm incredibly honored that's the case.
This gypsy soul that I own doesn't want the travel to end, but being able to get back in the kitchen is consoling. I didn't miss my bed, but I missed my knives. I didn't care about living out of a suitcase, but living without my pans was hard. I didn't want the shoes I left behind, but I did want my spice cabinet. Other than the open road headed North, there isn't many placed I'd rather spend a day than in a familiar kitchen.
This is a meal that doesn't require the full day that I'd like to spend in the kitchen, it can even be accomplished after work. But with warm flavors of beer, garlic and mushrooms it has a Sunday Supper feeling.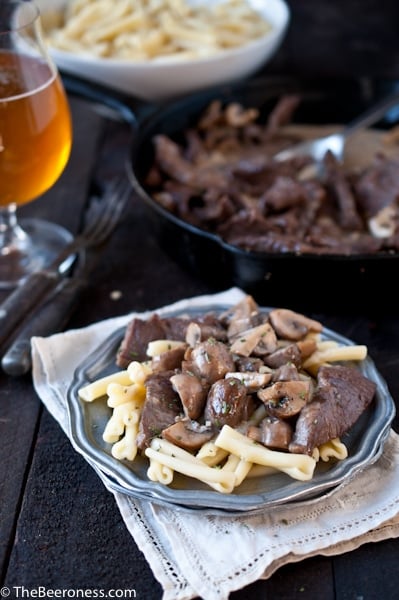 Mushroom Steak Pasta with Garlic Beer Cream Sauce
Ingredients
1

lb

flat iron steak

1

tsp

salt

1

tsp

pepper

6

tbs

butter

divided in half

3

cloves

garlic

minced

10

wt oz crimini mushrooms

baby bellas, quartered

1

cup

white ale

¼

cup

heavy cream

1

tsp

minced fresh rosemary

salt and pepper to taste

Pasta

cooked al dente and drained
Instructions
Cut the steak into 1/8 inch strips. Sprinkle on all sides with salt and pepper.

Melt 3 tbs butter in a cast iron skillet until hot. Add steak and cook until browned, removed from pan.

Add the remaining 3 tbs butter, mushrooms and garlic, cook until the mushrooms have darkened, about 5 minutes.

Add the white ale and cook until the beer and butter has reduced by about half, about ten minutes.

Turn off heat, stir in the cream.

Add back in the steak and simmer until slightly thickened, about 8 minutes.

Season with rosemary, salt and pepper.

Serve over pasta.