Beer Marinated Flank Steak with Avocado Cilantro Cream Sauce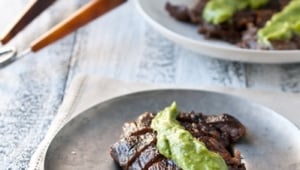 Beer Marinated Flank Steak

I've always enjoyed lower alcohol beers. Due in no small part to the fact that I can drink more and still be functional, for me, the goal is never to get hammered.
After what seems like an eternity of ABV one-upmanship, brewers are also starting to offer fantastically well-crafted beers on the lower end of the alcohol scale.
Maybe for people who don't want to have to call a cab after just one pint, maybe as a way to focus on more delicate flavors that might be overwhelmed by the alcohol or maybe because some of us want to try several beers while avoiding becoming a cautionary tale.
As summer creeps up on us, and worries of beer-snobbery-judgment over the selection in our Beer Party Tub offerings start to invade our weekends, here are some craft beers that can keep you up to your witty ways while still enjoying a few pints:
Half Acre Beer Co.: Gossamer Golden Ale  4.4% ABV
 Stone Brewing Co.: Levitation 4.4% ABV
Founders Brewing: All Day IPA 4.7% ABV
Drakes Brewing Co.: Alpha Session 3.8% ABV
Dogfish Head: Festina Peche  4.5% ABV
 Ballast Point Brewing and Spirits: Wahoo Wheat  4.5% ABV
Eagle Rock Brewing: Solidarity 3.8% ABV
Beer Marinated Flank Steak with Avocado Cilantro Cream Sauce
Ingredients
2

lbs

flank steak

1/2

tsp

salt

1/2

tsp

black pepper

2

tbs

lemon juice

1

cup

pale ale

1

garlic clove

minced

2

tbs

brown sugar

1

tsp

cummin

1/2

tsp

chili powder

2

tbs

low sodium soy sauce

2

tbs

Worcestershire sauce
For the Avocado Cilantro Sauce
1

avocado

peel and seed removed

¼

cup

cilantro

2

cloves

garlic

2

tbs

oil

2

tbs

pale ale

¼

tsp

salt
Instructions
Salt and pepper the steak on all sides, place in a resealable plastic bag. Whisk together the lemon juice, garlic, beer, cummin, chili powder, brown sugar, soy and Worcestershire sauce, pour over the steak, seal the bag well.

Refrigerate for 4-6 hours. Remove from marinade and pat dry.

Grill on a preheated grill until medium rare, about 6-8 minutes per side. Remove from grill, allow to rest for 5 minutes before slicing.

To make the sauce add the remaining ingredients to a blender or food processor, process on high until smooth. Serve steak topped with avocado sauce.