10 Minute Pale Ale Puff Pastry + Beer Caramel Apple Tartlets
10 Minute Pale Ale Puff Pastry + Beer Caramel Apple Tartlets
LOOK
AT
THOSE
LAYERS!
I need to admit to you that I used to be one of those "puff pastry is a crazy amount of work so just buy it" people. Until today. TODAY I made it with a food processor and it took ten minutes.
Adding in a little beer, instead of the more traditional ice cold water, gives you just a little bit more of a rise out of your dough. That's not a euphemism. It's literal. But I can see the confusion since I am the type of person who would make a sexual innuendo out of a baked goods reference, it's an honest mistake.
This puff pastry was so buttery, flakey and amazing I'll never go back. It also freezes really well so you can spend a few extra minutes, make a few dozen batches, and freeze it for the future. Because if you're anything like me, you could have a tart emergency at any minute (also not a euphemism) and just need to stuff your face with something sweet. It happens.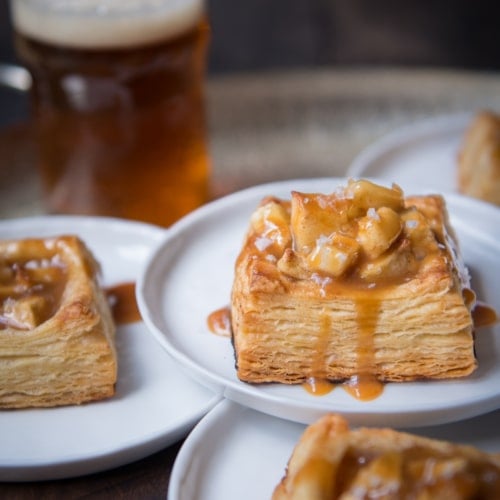 10 Minute Pale Ale Puff Pastry + Beer Caramel Apple Tartlets
Ingredients
For the puff pastry:
2

cups (240g)

flour

1 ¼

cup (285g)

very cold butter

cut into cubes

½

teaspoon (3g)

salt

½

cup (4oz)

very cold beer

(pale ale, pilsner, pale lager)

2

tablespoons

melted butter

(for baking)
For the apple tartlets
1

large

Fuji apple,

peeled, cored, and diced

2

tablespoons (25g)

white sugar

¼

teaspoon

ground cinnamon

1

teaspoon

cornstarch

½

teaspoon

salt

½

cup (100g)

brown sugar

packed

1

tablespoons (14g)

butter

3

tablespoons

beer

1

teaspoon

vanilla extract

1/3

cup (87g)

heavy cream
Instructions
For the puff pastry
Add the flour, salt and approximately half of the butter to a food processor, pulse 10-15 times until just combined.

Add the remaining butter, pulse to combine (don't over process).

Add the flour mixture to a flat surface, make a well in the center, add the beer.

Mix with your hands until combined (this can also be done in a food processor, just make sure not to over mix or the dough will turn out tough).

Add to a lightly floured surface, roll into a rectangle about ½ inch thick. Fold into thirds, like a letter about to go into an envelope.

Roll again, then fold again. Repeat the process 3-4 times (this is how you get the layers).

Wrap in plastic wrap and chill for at least 3 hours.

Roll the dough into a rectangle about ¼ inch thick. Cut into 12 equal sized squares. Score a border about ½ inch from the edge (do not cut all the way through) prick the center with a fork. Evenly space on a baking sheet that has been covered with parchment paper. Chill while you prepare the apples.
Make the apples and caramel
Preheat oven to 400°F.

Add the apples, sugar, cinnamon, cornstarch, salt, and brown sugar to a bowl, toss to combine.

Add the apples to the center of the tarts, avoiding the edge. Brush the edges with the melted butter.

Bake for 18-22 minutes or until puffed and slightly golden brown.

Add the brown sugar, butter, and beer to a pot over high heat. Stir until the butter has melted, then stop stirring. Boil for 3 minutes.

Remove from heat, stir in the vanilla and cream. Return to heat, boil for one minute.

Add to serving plate, drizzle with caramel.
Adapted from Bon Appetit