Jalapeno Pale Ale Cornbread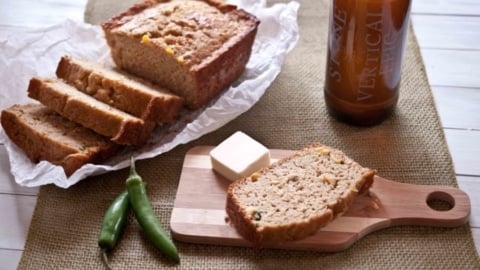 The past few weeks I've been craving summer. I live in Los Angeles, so feel free to laugh at my inability to cope with a mild seasonal chill. It isn't so much the weather of the Summer months that I miss, but the culture of the season. Backyard barbecues, a slower life pace, vacations and water related activities. There is something about the way that summer feels in my bones, the feeling of endless possibilities that the days bring that I miss. Cornbread is an epicurean reminder of what I'm missing out on, and brings a comfort that the Summer isn't too far away.
Beer is a great way to add a new dimension to cornbread. Not only is it a leavening agent, insuring that your bread won't be overly dense, it is also a preservative, giving you a few extra days to consume it. But I don't think you'll need them.
I chose Stone 11.11.11 Vertical Epic Ale because it has a beautiful chili flavor, without the heat, a hard thing to accomplish. It also has a bit of a cinnamon and spice finish that pairs very well with a recipe that runs the line between savory and sweet.
If you can't get your hands on this beer, look for a pale ale with strong, bold flavors of chili and spice.
Jalapeno Pale Ale Cornbread 
Jalapeno Pale Ale Cornbread
Ingredients
3

tbs

unsalted butter

1

tbs

chopped fresh jalapenos

seeds removed

¾

cup

whole milk

¾

cup

dry polenta

course corn meal

¾

cup

flour

2

tsp

baking powder

½

tsp

baking soda

½

cup

brown sugar

½

tsp

salt

¾

cup

pale ale with notes of spice

I used Stone 11.11.11 Vertical Epic Ale

2

eggs

1

tbs

raw honey

1

cup

corn kernels

fresh is better. If you use frozen, make sure they are thawed

2

tbs

melted unsalted butter
Instructions
Preheat oven to 350.

Spray a large, deep dish loaf pan generously with butter flavored cooking spray.

In a sauce pan over medium/heat, add the butter and the jalapenos and cook until just starting to soften, about 3 minutes.

Add the milk and polenta and stir until the milk starts to bubble and is well combined with the polenta. Cover and remove from heat, allowing to rest for about 20 minutes.

In a separate bowl, whisk together the flour, baking soda, baking powder, sugar and salt.

In another bowl, whisk the eggs and the honey until well combined.

Add the egg mixture to the polenta pan and stir. Add the dry ingredients and stir until incorperated. Add the beer and the corn kernels, stirring until just combined.

Add to the prepared baking dish and pour the 2 tbs of melted butter over the top.

Bake at 350 until a skewer inserted in the middle comes out clean, about 45-55 minutes.