Beer Cornbread Biscuits
This was really born out of necessity, at least the first time I made it. I'm not very organized, open any of my cabinets and you'll see it (you'll be horrified). My house is more or less clean but my life is messy. Anything that I can put in a closet, out of site, gets the shove allowing me to continue to pretend like my house is clean.
This quality extends far past my pantry and into all parts of my grown-up life where it becomes startlingly apparent that I'm not very good at adulting. And even though I go to the grocery store nearly every day, I still found myself without eggs, bread, and any other breakfast-related items early one morning. I need breakfast, this isn't negotiable.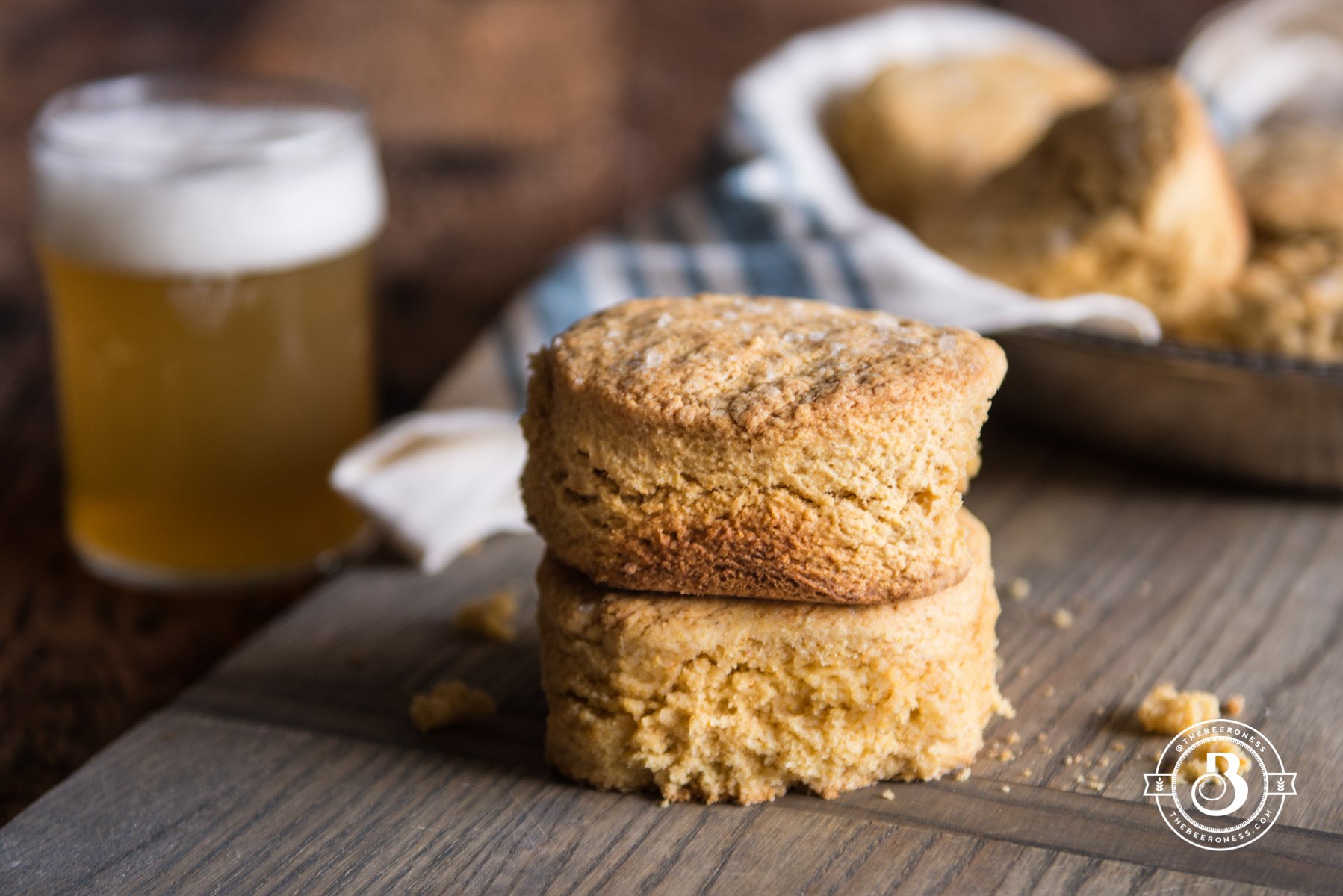 Instead of just going to the store I decided to make biscuits. It was just easier to write a recipe than it was to get out of my pajamas and head to the store. I'm not a "pajamas at the store" kind of girl, I can't look as messy as I feel. I like to put on a good show, and trick people into believing that I've got my shit together. Spoiler alert: I don't.
This hatched my Beer Cornbread Biscuits recipe, so tender and melt-in-your-mouth I obviously had to make them again, and then share it with you.
I also think I need to make them one more time, but add some cheddar cheese. And maybe some bacon.
Ingredients
2 ½ (300g) cups all-purpose flour
1 tablespoon cornstarch
½ cup (96g) brown sugar
1 ½ cups (240g) cornmeal
2 teaspoons baking powder
2 teaspoons baking soda
1 teaspoons salt
10 tablespoons (142g) cup butter cut into 1-inch pieces
2/3 cup (160) heavy cream
½ cup (116g) beer (pale ale, pilsner, wheat beer)
1 tablespoon (14g) melted butter
½ teaspoon flaky sea salt
Instructions
Preheat oven to 425°F.
Add the flour, cornstarch, brown sugar, cornmeal, baking powder, baking soda and salt to a large bowl, stir to combine.
Add about half of the mixture to a food processor along with the butter, process until the butter is well combined with the dry mixture. Return the mixture to the mixing bowl, stir into the remaining dry ingredients.
Add the heavy cream and beer, mix with a fork until just combined.
Add to a lightly floured surface, press into a rectangle about 1 inch thick.
Cut into 6-8 circles with a biscuit cutter.
Add to a baking dish that has been sprayed with cooking spray.
Brush with melted butter, sprinkle with sea salt.
Bake until the tops are golden brown, 18-20 minutes.
Allow to cool before removing from the baking dish.
https://domesticfits.com/beer-cornbread-biscuits/