Stout Creole Gumbo over Smokey Cheddar Grits
Stout Creole Gumbo over Smokey Cheddar Grits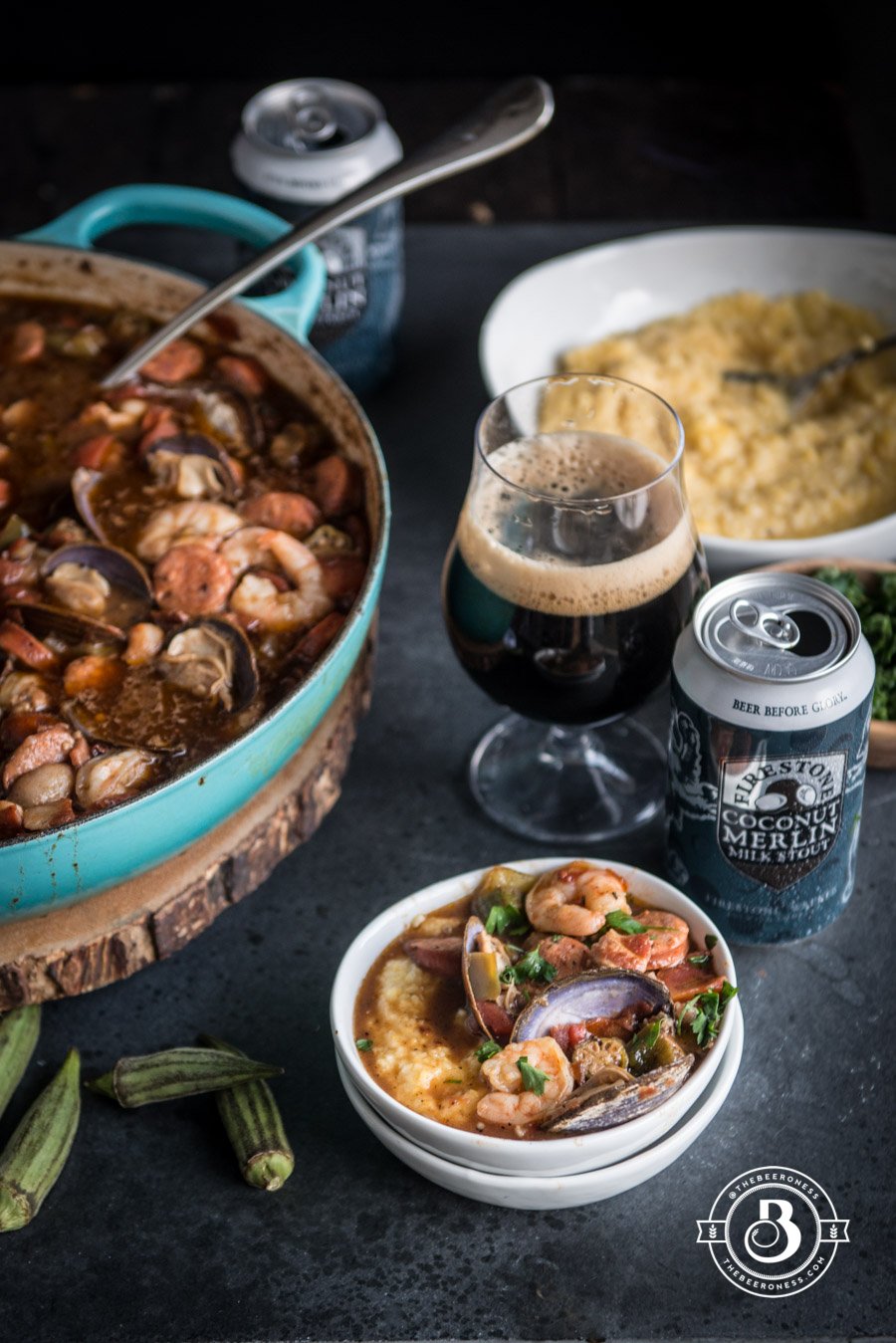 This is something you need to be warned about. At least I did and I think we are alike, you and I. When I first started to dive into trying to figure out this food and cooking thing I didn't know how important some things were, because not everything is important. Sometimes you can make swaps, skip steps, make it your own, and it's still delicious. And then sometimes you ignore the "soften the butter" step and your chocolate frosting looks like ground beef and you have no idea what happened.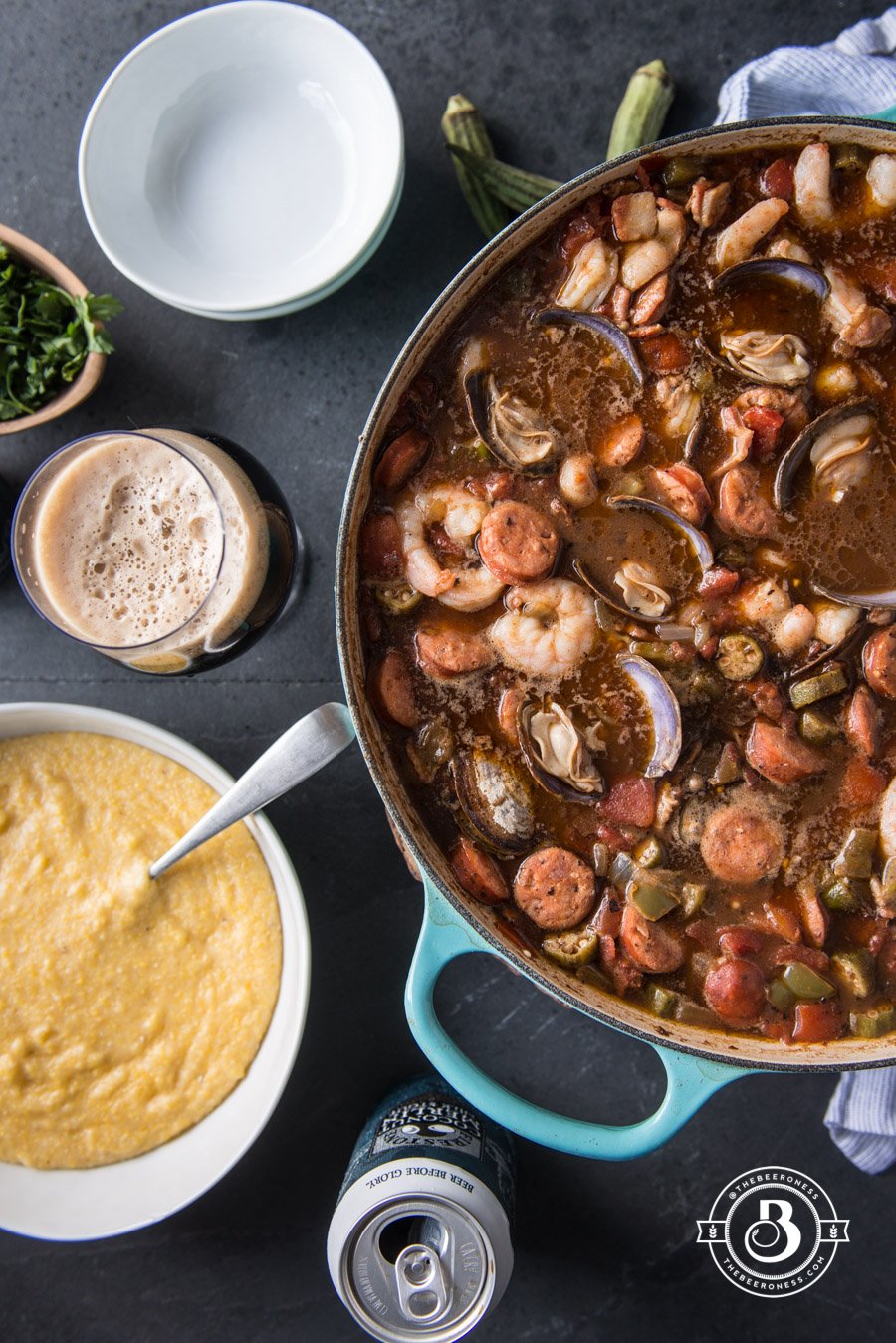 I'm going to ask you, no, BEG you to cook your flour for a long time and you'll look at me like I'm a crazy person. It's just flour! How important can that be?! I'll just do it for like 3 minutes, it'll be fine, right?!
I know, I hear you, it doesn't seem that important. BUT IT IS. Have you ever seen a sad, anemic looking gumbo with a light brown sauce? Back away, don't eat it. It's not very good. And it's because the person who made it skipped that step. It's ok, they were probably having a bad day, we forgive them. But not your gumbo, your gumbo is dark and gorgeous and delicious. Because you didn't skip that step. You opened your beer early, drank it and just enjoyed a little moment to yourself. I promise you, it's worth it.
Especially if the beer you opened was this one:

I spend some of my childhood years in San Luis Obispo, California. If you've never driven Highway 1 south from San Franciso, ending in San Luis Obispo to stay the night at The Madonna Inn, you now have a new item to add to your travel checklist. I've been all over the world and I promise you, it's one of the best road trips that exist in the Universe. Once you do, you must reward yourself with a beer at Firestone Walker. The beer doesn't just have a place in my heart because of where it's grown, it's absolutely some of the most amazing and consistent beer there is.
Craft beer can be squirrely, and making batch after batch of the same beer, making sure each batch taste the same as the last, is nearly impossible. But I have yet to try any Firestone Walker beer that isn't exactly what I want it to be. It's consistent, and consistently incredible.
Coconut Merlin is a beer you should try, it's fantastic. If you can't get it where you live, then I guess you just have to do that road trip I suggested. Don't worry, there is beer at the end. And it's really good.
Stout Creole Gumbo over Smokey Cheddar Grits
Ingredients
For the Gumbo:
1

lbs

bacon

chopped

1

green bell pepper

diced

1

cup

white onions

diced

2

tablespoons

olive oil

1/3

cup

flour

½

cup

stout beer

4

cups

seafood or fish broth

½

lbs

okra

sliced

2

(14.5oz) cans

fire-roasted diced tomatoes

2

teaspoons

Worcestershire sauce

1

tablespoon

Cajun seasoning

½

teaspoon

cayenne pepper

1

tablespoon

gumbo file

1

lbs

andouille sausage

cut into ½ inch rings

1

lbs

raw shrimp

1

lbs

live clams

Chopped parsley
For the Grits:
3 ½

cups

chicken broth

¼

cup

half and half

1

cup

corn grits

1

teaspoon

salt

1

teaspoon

smoked paprika

½

cup

shredded cheddar cheese

use smoked cheddar for a more intense smoke flavor
Instructions
Make the gumbo:
Add the bacon to a large stockpot or braiser over medium heat. When the bacon starts to render add the onions and peppers, cooking until the onions have softened and the bacon has rendered all of it's fat.

With a slotted spoon remove the bacon and vegetables, setting aside. You want about 1/3 cup of bacon fat still in the pan (no need to meticulously measure, just eyeball it), if there is significantly more than 1/3 cup discard excess, if there is less add the olive oil to the bacon fat. Sprinkle with flour.

Cook the flour, stirring frequently over medium heat, until the roux is dark brown. This will take at least 20 minutes and up to 40 minutes, it's the backbone of the dishes' flavor so don't skip it.

Once the roux is a dark brown add the beer, scraping to deglaze the bottom of the pan.

Add the broth, tomatoes, okra, bacon and vegetables, Cajun seasoning, cayenne, file, and sausage. Simmer until slightly thickened, about 10 minutes.

Add the shrimp and clams, stir slightly and then cover immediately. Allow to simmer for 5 minutes. Lift the lid, discard any clams that did not open. Sprinkle with parsley before serving.
Make the grits:
Add the broth and half and half to a saucepan, bring to a boil then reduce to a low simmer.

Add the grits, salt, and smoked paprika, cover with a lid. Simmer, stirring occasionally until the grits have softened, about 25 minutes. Stir in the cheese.

Serve the polenta topped with gumbo.
Notes
If you want to make this in advance, stop right before adding the shrimp and clams. The dish without the seafood can simmer over low heat for hours without issue, but it will make the seafood tough. Add the seafood, cooking right before serving. You can also make and refrigerate it without the seafood and then add it back to the pot, bring to a simmer and then cook the seafood before serving. 
Don't store live clams in water or in airtight packaging. Store them in an open container between wet paper towels. Ideally, buy them right before using.