Cheap Eats: Rosemary Potato Tart (Serves 4 for $4.87)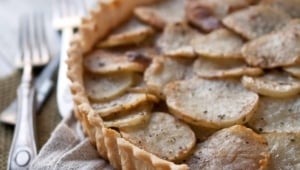 I started a Cheap Eats section of my blog because I wanted dishes that were good enough for a dinner party, but didn't cost a lot. It was a challenge to myself to create dishes that I'm so proud of I want to serve to company, but that will serve 4 people for less than $10. I don't want to dump  a bunch of pre-packaged food in a slow cooker, I want real food. These dishes aren't necessarily quick, but they are low cost, easy and taste great. Hope you love them as much as I do. 
I'm going through a hostess phase right now. I'm also going through a phase where I'm trying to spend less on groceries (my grocery store impulse buying was getting out of control) and these two phases are battling it out right now. I love having people over for dinner, and although I want to spend crazy amounts of money to "play" in the kitchen, that just doesn't make sense for a freelancer.  By the way, if you see me in the cheese aisle of Whole Foods, remind me that it is not a good idea to spend $45 on cheese when I don't really have any cheese cookin' plans. Homemade tarts are a great way to bridge the gap between these two phases, they just feel special but can be really affordable (less than $5!).
If you haven't made a tart crust from scratch, I promise that this is so easy you'll be thrilled at your new found kitchen talent. You can even make it 3 days ahead of time, this dough stores really well (you can even freeze it in a zip lock bag for up to a month) and for just about $1 and 10 minutes of active time you just can't go wrong.
I served this with a salad made of what I already had, similar to this one. If you want to add a little protein, serve this with grilled chicken or pan seared red snapper and you'll probably still be under that $10 mark!
Lemon Cream Pie with Raspberry Beer Sauce
Ingredients
Crust (you can also substitute a gram cracker crust):

1 ½ cups all purpose flour
½ tsp salt
1 tbs sugar
8 tbs of butter, cold, cut into cubes
2 tbs ice cold beer (high ABV works best)

Lemon Cream Filling:

2 tbs lemon zest
¾ cup lemon juice
2 tbs corn starch
5 egg yolks
2/3 cup sugar
5 tbs butter
2/3 cup heavy cream

Raspberry Beer Sauce:

12 wt ounces raspberries
1 cup powdered sugar
2 tbs corn starch
½ cup IPA
Directions
In a food processor, add 1 cup of flour (reserving the other ½ cup) salt, sugar and pulse to combine. Add the butter cubes and process until combined. Add the remaining ½ cup of flour, process until well incorporated.
Transfer to a bowl, add the beer and mix until combined. Dough will be very soft.
Form into a wide flat disk, wrap in plastic wrap and chill for at least 2 hours.
While the dough is chilling, make the curd. Add the lemon zest, lemon juice, cornstarch, yolks, and sugar to a saucepan off the heat. Whisk until well combined. Add the butter cubes and add to medium heat, stirring constantly until thickened, about 12 minutes. Pour into a medium bowl, chill until just below room temperature, about 1 hour.
Preheat the oven to 350.
Once the dough has chilled, roll out on a lightly floured surface, transfer to a 9-inch pie pan, press into shape. Remove the excess.
Prick the bottom several times with a fork. Line with a sheet of parchment paper, fill with pie weights or dried beans.
Bake at 350 for 18-22 minutes or until crust is golden brown. Remove from oven and allow to cool to room temperature, remove the pie weights or beans.
Add the heavy cream to the bowl of a stand mixer, whip on high until soft peaks form, about 3 minutes. About ½ a cup at a time, gently fold the lemon mixture into the whipped cream. Once all of the lemon mixture has been mixed into the cream, pour into the cooled crust. Chill until set, about 1 hour.
In a pot over medium high heat, add the raspberries, powdered sugar, cornstarch and beer. Stir frequently until thickened, about 10 minutes. Allow to cool to room temperature. Pour evenly over the lemon cream layer, chill until set about 1 hour. Keep chilled until ready to serve.
https://domesticfits.com/cheap-eats-rosemary-potato-tart/
Copyright �© TheBeeroness.com