Stout French Onion Soup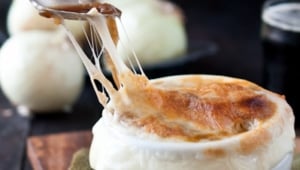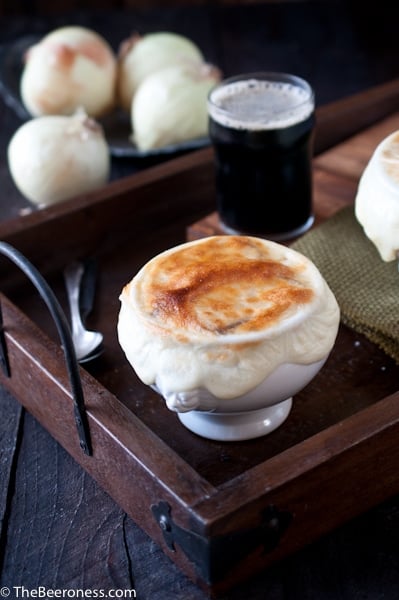 French Onion Soup was Julia Child's last meal. Seems fitting for a woman known for French classics. And who wants to mess with a classic dish that America's Culinary Grandma chose as her last meal?
Me. That's who.
Although I do like to stick to classic methods when it comes to cooking this warm bowl of cheese-topped-comfort, the addition of a malty stout gives a new dimension and depth of flavor. While most French Onion Soup recipes all have nearly the same ingredients, the results vary widely depending on how you treat the onions, the star ingredient.
Stick with sweet onions when making this dish, the higher sugar content gives you a better caramelization. Cook them for a long time. Then cook them longer.
Caramelized onions will actually give off a "beefy" flavor when cooked slow and low for an extended period of time. This is one of the major key factors in bringing a soup from "good" to "great".
Although I'm sure Julia would have wanted to throw a copy of The Way To Cook at my head for putting beer in her soup, I'll just have to make peace with that. I love a beerified soup.
Stout French Onion Soup
Ingredients
6

tbs

butter

2

lb

sweet white onion

sliced into ¼ inch rings

1

tbs

brown sugar

½

tsp

salt

1 1/2

cups

stout

divided

2

cups

beef stock

½

tsp

fresh cracker black pepper

4

slices

French bread

toasted

8

ounces

shredded or sliced Gruyère cheese

about 2 1/2 cups
Instructions
In a large pot over medium high heat melt the butter. Add the onions, brown sugar and salt, allow to simmer over low to medium heat, stirring occasionally, until onions are a dark golden brown, at least 30 minutes and up to one hour (the longer onions cook the more flavor develops).

Add ½ cup stout beer, simmer until the beer is reduced and the pan is almost dry.

Add the remaining beer, beef stock and black pepper. Simmer for ten minutes.

Pre heat the broiler on your oven.

Ladle soup into bowls, top with slices of French bread toast and then cheese.

Broil until the cheese has melted.