Beer Battered Avocado Tacos with Fresh Corn Salsa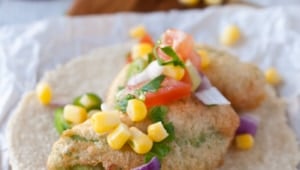 Nothing in life should be qualified by what is left out. You shouldn't stand in the warm, golden, tropical, sun, toes digging into the sand, asking where the snow is.
You shouldn't visit Machu Picchu and think, "It's pretty good for a place that doesn't have a mall."
Lazy Sunday afternoons spent reading Down and Out in Paris and London while gently swaying in a hammock aren't known as That Day I Didn't Go To A Rock Show.
Unfortunately for us all, we tend to filter everything though a check list of our own normality, fact checked by what we're used to. Food shouldn't be though of by what isn't in it, but by what is. Vegan food shouldn't be thought of meatless food, but food that celebrates produce.
Even though I am a meat-loving bacon-devotee, I love the challenge that produce- celebrating-food presents. Because I never want to serve food that's described as "good for [vegan, parve, gluten free, healthy, etc.]" I want it to be damn awesome regardless of what's put in or left out.
These tacos were every bit the shockingly fantastic bites that I wanted them to be. It just so happens that I didn't need any meat or dairy to accomplish this feat.
I can't take all the credit, you could beer batter anything and wrap it in a beer corn tortilla and you pretty much have a winner on your hands.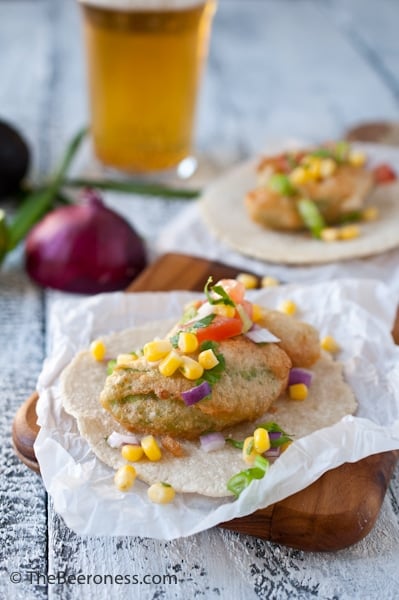 For the love of God, make your own tortillas. Once you realize that corn tortillas take about 5 minutes and three ingredients to make, not to mention taste a thousand times better than store-bought (plus cost only pennies), you'll never go back.
Beer Battered Avocado Tacos with Fresh Corn Salsa
Ingredients
For the Tortillas:
2

cups

masa harina

½

tsp

salt

1 1/3

cup

warm IPA
For the Avocados:
Canola oil for frying

2

cups

flour

½

tsp

salt

½

tsp

garlic powder

½

tsp

black pepper

12

ounces

IPA

3

avocados

ripe but still firm
For the Corn Salsa:
1

ear of fresh sweet corn

kernels cut off

1

jalapeno

stem and seeds removed, chopped

¼

cup

red onions

diced

¼

cup

chopped cilantro

2

tbs

chopped scallions

juice from one lime

¼

cup

chopped tomatoes

salt and pepper to taste
Instructions
Make the tortillas:In a large bowl, add the Masa and the salt, stir to combine. Add the beer and stir to combine. If the dough is too dry to hold together, add additional beer or water. If it is too wet, add more Masa. It should be the consistency of Play-Doh.

Form into balls a bit larger than golf balls. Prepare a tortillas press by wrapping in plastic wrap or covering with parchment paper (you can place tortilla ball between two sheets of parchment and use a rolling pin). Place one ball in the center. Press, rotate, press again.

Heat a griddle (or cast iron skillet) to a medium high heat (about 350 for electric griddles). Cook until slightly brown on the bottom (about 30 seconds to a minute) flip and cook on the other side. Don't overcook.

Make the Avocados:Add about 4 inches of oil to a saucepan, clip a deep-fry thermometer onto the side (make sure the needle is not touching the bottom of the pot. Bring to 375-400 degrees (adjust heat to maintain that temperature).

In a large bowl stir together the flour, salt, garlic powder, and pepper. Add the beer and stir until combined (should have the consistency of pancake batter).

Cut the avocados into thick slices (about 4-5 per half) making sure the skin and seed is removed.

Dip the avocado slices into the batter and fry for about 1 minutes, flip and fry until golden brown, about an additional 2 minutes. Remove from fryer and allow to drain on a stack of paper towels. (only fry 2-3 slices at a time or the oil temp will drop and batter will become overly oily).

Make the salsa: Combine all ingredients in a bowl, stir to combine.

Assemble tacos and serve.