Beer Braised Chicken Tacos with Beer Corn Tortillas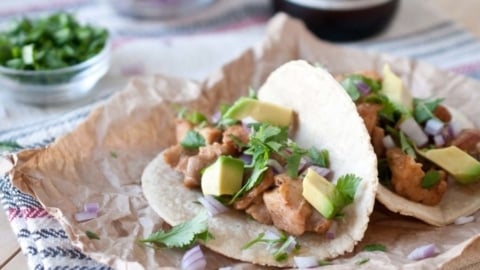 When it seems like your entire life revolves around a food blog, small things make you really excited.
Like making homemade tortillas with beer and realizing how much better they are than any other tortilla you've ever had.
Or getting a shout out from The Cooking Channel as if they knew just how to fuel your obsession with them.
Or realizing that because Foster Farms is willing to fly you into Napa a few days early for the National Cook-Off Finals, you get to visit the following breweries: Laguanitas, Russian River, and Bear Republic.
And then your Aunt tells you that your Grandma and Guy Fieri's Grandma where roommates in college, which sounds like a Mad Lib, but turns out to be true.
Small wins that make me so excited, you'd think I won a Beer Cooking Oscar. This is what keeps us playing the Man Behind the Curtain on these little blogs we are so dedicated to. Bloggers are easily excitable, which maybe why we spend so much time on the other side of these computer. Sometimes our excitement isn't fit for public consumption.
Back to these tortillas. Homemade tortillas are a completely different animal from those cardboard disks they sell in supermarkets. Soft, slightly sweet, and they only take 5 minutes to make. To use a beer analogy fit for an SAT exam:
Coors Light is to Pliny as Store Bought Tortillas are to Homemade Tortillas
I'm not kidding, that much different. If you don't believe me, and really, why should you, I'm just the overly excited girl behind the screen, try it and report back. I really think you'll be amazed.
For this recipe, I used Lagunaitas IPA. And like I've mentioned before, IPA's give you a huge punch of beer flavor. If you want a milder beer flavor, grab a traditional Pale Ale, a Blonde or a Wheat Beer.
Beer Braised Chicken Tacos with Beer Corn Tortillas
Ingredients
For the Tortillas
2

cup

Masa

½

tsp

salt

1 1/4

cup

room temperature beer

2

Tbs

melted butter

or olive oil
For the Chicken
4

boneless skinless chicken thigh fillets

1

tsp

garlic powder

1

tsp

black pepper

1/2

tsp

salt

1/2

tsp

chili powder

1/2

tsp

smoked paprika

2

tbs

olive oil

1

cup

beer
Recommended Garnishes
1/4

cup

chopped onion

1/4

cup

chopped cilantro

1

avocado

chopped
Instructions
Chop Chicken thighs into small, bite sized pieces. In a bowl, place all spices and mix well. Add the chicken pieces and toss to coat.

Heat olive oil in a dutch oven. Add the pieces and sear quickly. Reduce heat, add beer, cover and cook until cooked through, about 10 to 15 minutes.

In a large bowl, add the Masa and the salt, stir to combine.

Add the beer and butter, stir to combine. If the dough is too dry to hold together, add additional beer or water. If it is too wet, add more Masa.

Form into balls a bit larger than golf balls.

Prepare a tortillas press by wrapping in plastic wrap or covering with parchment paper (you can place tortilla ball between two sheets of parchment and use a rolling pin). Place one ball in the center.

Press, rotate and press again until thin.

Heat a griddle (or cast iron skillet) to a medium high heat (about 350 for electric griddles).

Cook until slightly brown on the bottom (about 30 seconds to a minute) flip and cook on the other side. Don't overcook.

Fill tortillas with chicken, garnish and serve.