Stout French Dip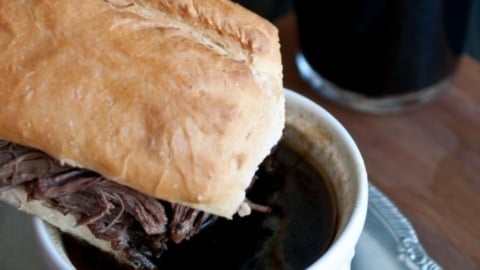 When you write, reading isn't important, it's essential. Unfortunately, my days are packed too full and reading has become a rare luxury. All due in no small part to the fact that I'm not only writing a cookbook (due to my publisher at the beginning of next month) I've also started writing for a print magazine as well as two other websites. Once I can, at least, check "cookbook" off my to-do list, I can get back to being a normal human and indulging in reading, and sleep, and all those sorts of activities that I'm currently ignoring.
I'm making a list, I thought I'd share. About a month ago, I posted on The Beeroness Facebook page asking for suggestions for beer books. Since you all are so amazing, the list has been growing.
Beer & Food:
The Brewmaster's Table: Discovering the Pleasures of Real Beer with Real Food, Garrett Oliver
Beer, Food, and Flavor: A Guide to Tasting, Pairing, and the Culture of Craft Beer, Schuyler Schultz
The Craft of Stone Brewing Co.: Liquid Lore, Epic Recipes, and Unabashed Arrogance, Randy Clemens & Steve Wagner & Greg Koch
The Oxford Companion to Beer, Garrett Oliver
Beer Non-fiction:
America Walks into a Bar: A Spirited History of Taverns and Saloons, Speakeasies, Christine Sismondo
Ale, Beer, and Brewsters in England: Women's Work in a Changing World, Judith M. Bennett
Boozehound: On the Trail of the Rare, the Obscure, and the Overrated in Spirits, Jason Wilson (beer & liquor)
The Search for God and Guinness: A Biography of the Beer that Changed the World, Stephen Mansfield
Bitter Brew: The Rise and Fall of Anheuser-Busch and America's Kings of Beer, William Knoedelseder
For The Homebrewer:
The Naked Brewer: Fearless Homebrewing Tips, Tricks & Rule-breaking Recipes, Christina Perozzi & Hallie Beaune
For The Love of Hops: The Practical Guide to Aroma, Bitterness and the Culture of Hops, Stan Hieronymus
Brew Like a Monk: Trappist, Abbey, and Strong Belgian Ales, Stan Hieronymus
IPA: Brewing Techniques, Recipes and the Evolution of India Pale Ale, Mitch Steele
Stout French Dip
Ingredients
1

tbs

brown sugar

1

tsp

black pepper

1

tsp

salt

¼

tsp

cayenne

¼

tsp

smoked paprika

3

lb

chuck roast

2

tbs

olive oil

12

ounces

porter or stout

3

cups

beef stock

4

French sandwich rolls
Instructions
Preheat oven to 325.

In a small bowl, combine the brown sugar, black pepper, salt, cayenne, and smoked paprika.

Pat the roast dry. Rub with spice mixture.

Heat olive oil in a Dutch oven, or other large oven safe pot, until hot but not smoking. Add the roast, sear on all sides. Pour beer and broth over the meat. Cover and roast in oven at 325 for 3 hours or until very tender. Move meat to a cutting board.

Place Dutch oven back on the stove. Bring to a boil, stirring occasionally, until slightly reduced, about 10 minutes.

Shred meat using two forks. Split rolls, fill with meat. Spoon a bit of sauce over the meat. Serve remaining broth in bowls with sandwiches for dipping.