Pressure Cooker Stout Pho (AKA-The best and easiest way to feed a group)
Pressure Cooker Stout Pho (AKA-The best and easiest way to feed a group)
I have a confession. You won't be surprised, it's very typical of who I am. The last THREE times I've had people over for dinner, this is what I made. All three times. And then I acted like it was creative and inspired when I really just wanted to eat this again.
Luckily, these three groups of people don't know each other and won't be able to compare notes and realize that I'm not as creative as I pretend to be. I also have a large pot of this in my freezer, just in case I need to feed more people at the last minute. Or in case I just want to feed my own face at the last minute.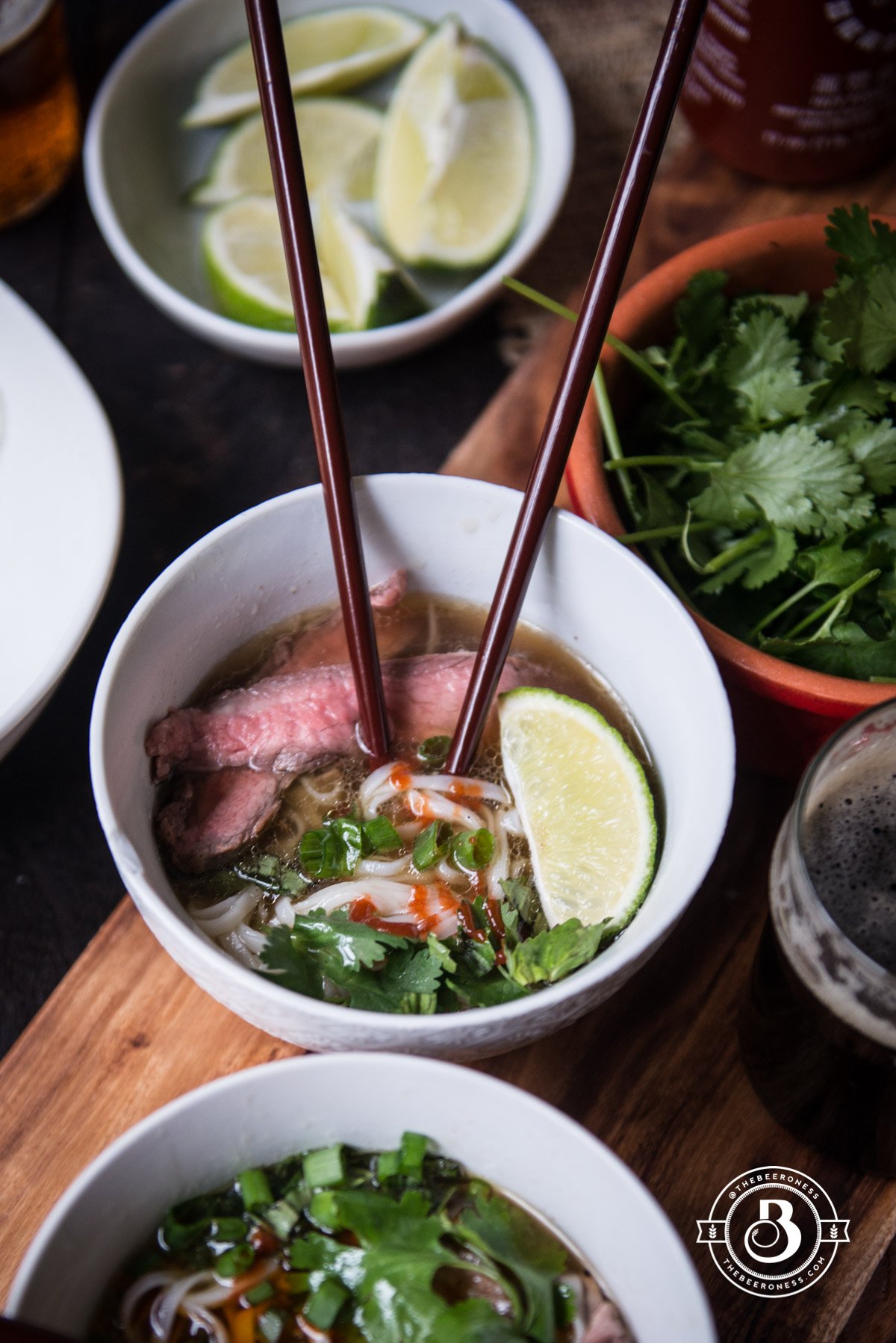 The thing about this Pressure Cooker Stout Pho, is that it's the easiest way to get that broth, and we all know that Pho is all about the broth, once you have that handled, the rest is quick. You can even make it in a huge batch, then freeze it for when you know you'll have to pull this off in less than 30 minutes, it's completely doable. And you'll look like a rock star, even if you do it three times in a row.
Just serve it with good beer and no one will say a word.
Pressure Cooker Stout Pho (AKA-The best and easiest way to feed a group)
Ingredients
For the broth:
2

pounds

marrow or knuckle beef bones

2

tablespoon

olive oil

divided

1

pound

oxtails

1

cup

stout beer

1

knob of unpeeled ginger

about 4 inches long

1

large yellow onion

peeled and quartered

2

tablespoons

fish sauce

1

tablespoons

soy sauce

1

whole star anise

1

cinnamon stick

2

tablespoons

coriander seeds

8

cups

water

2

teaspoons

salt
For serving:
1

pound

flank steak

1

teaspoon

salt

1

lbs

rice noodles 1 lime

cut into wedges

4

Thai peppers

thinly sliced

1

bunch fresh cilantro

chopped

1

bunch fresh Thai basil

chopped

1

bunch fresh mint

chopped

2

cups

bean sprouts

Sriracha sauce

Sesame chili oil
Instructions
Add the beef bones to a stock pot, cover with salted water. Bring to a boil for ten minutes, discard the water, rinse the bones, set aside (this is the only way to get rid of the scum that happens when making beef broth).

Turn the Instant pot or Multi-Cooker to sauté (this can also be done in a pan on the stove top), add 1 tablespoon olive oil. Once hot, add the oxtails, cooking until browned on all sides.

While the oxtails cook, char the ginger. Slice the ginger lengthwise into 4 strips, add to a baking sheet along with the quartered onions.

Using a kitchen torch, char ginger and onions on all sides until blackened. You can also add the baking sheet to an oven with a pre-heated broiler, broiling until blackened, turning the ginger and onion pieces to make sure they char on all sides.

Once the oxtails have cooked, add the beer, stirring to deglaze the bottom of the pot.

Add the charred onions and ginger, beef bones, the fish sauce, soy sauce, anise, coriander, cinnamon, water and 2 teaspoons salt.

Add the lid tightly to the pressure cooker. Set the pressure cooker to cook for 60 minutes. Once the cooking has finished, vent to release pressure then remove the lid. Drain, removing the solids and saving the broth (broth freezes well, it can be made in advance and frozen for up to a month).

While the broth cooks, make the steak and noodles.

Dry the steak well on all sides with paper towels. Sprinkle liberally with salt. Allow to sit at room temperature for 30-60 minutes.

Preheat the oven to 350°F.

Add the remaining olive oil to a cast iron skillet or other oven-safe pan over high heat until just before smoking. Add the steak, cooking for 2 minutes on each side. Add pan to the oven, cooking in the oven for 6 minutes. Remove the steak, add to a cutting board, allow to rest for 5 minutes. Slice very thinly, add to a serving plate.

Cook the rice noodles in boiling salted water until al dente, drain and add to a large bowl. Toss with oil to prevent sticking (store noodles separate from the broth to prevent over cooking).

Serve broth along side the steak, herbs, sprouts, limes, peppers and sauces, allowing all guests to build their own bowls.