Porter Ginger Glazed Salmon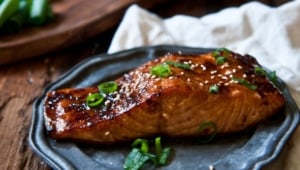 Porter Ginger Glazed Salmon. 20 minutes and SO good! #salmon #recipe #quick #easy #asian  
I have this bizarre ability to have strangers confess dark secrets to me without provocation. Several times, after such admissions, they'll say, "I can't believe I just said that," as they further expand upon the revelation. Maybe it's something in my eyes, or maybe it's that I have a Master's Degree in Feelings (Psychology, whatever), or maybe it's that I genuinely do care about people, but sometimes it's jarring.
I was at a local market buying salmon when I start chatting with the clerk about my recent move to Seattle from Los Angeles and my love for the Dodgers that hinges on my unabashed adoration of Vin Scully. She'd lived in LA too, decades ago "I left because I had a drug problem," the 70-year-old checker declared. She gasped and waited for my reaction.
"Looks like you've kicked it, congratulations. Seems like it was a good move for you,"
She gave me a childlike smile, "I did some nude modeling too, but that was when I was much younger,"
"Look at you! So saucy, I bet you were quite the dish back then,"
"I WAS!" she said, with a huge grin on her face.
My transaction was complete, salmon packed in my shopping bag so I left, I didn't want her to Next Level her admission. Although, there was part of me that wanted to invite her over for dinner and hear the rest of her stories. If I got drug problems and nude modeling in 6 minutes at the check stand, imagine what she'd admit to after a few beers.
Porter Ginger Glazed Salmon
Ingredients
3 tbs olive oil
¼ cup porter beer
2 tbs soy sauce
2 cloves garlic, grated with a microplane
1 tbs grated ginger
1 tbs brown sugar
4 salmon fillets
1 tbs sesame seeds
3 tbs green onions
Instructions
In a medium bowl stir together the olive oil, beer, soy sauce, garlic, ginger, brown sugar. Add the salmon. Allow to marinate at room temperature for 15 minutes.
Preheat the broiler. Add the salmon to a baking sheet that has been covered with aluminum foil, pour the marinade into a saucepan.
Bring the marinade to a boil, stirring frequently until thickened, about 6 minutes.
Brush salmon with glaze, place under broiler for 2 minutes, remove from oven, re-brush with glaze and broil for two minutes, repeating this step until salmon flakes easily with fork.
Plate salmon, sprinkle with sesame seeds and green onions.
https://domesticfits.com/porter-ginger-glazed-salmon/