Porter Marinated Steak Skewers with Cilantro Horseradish Cream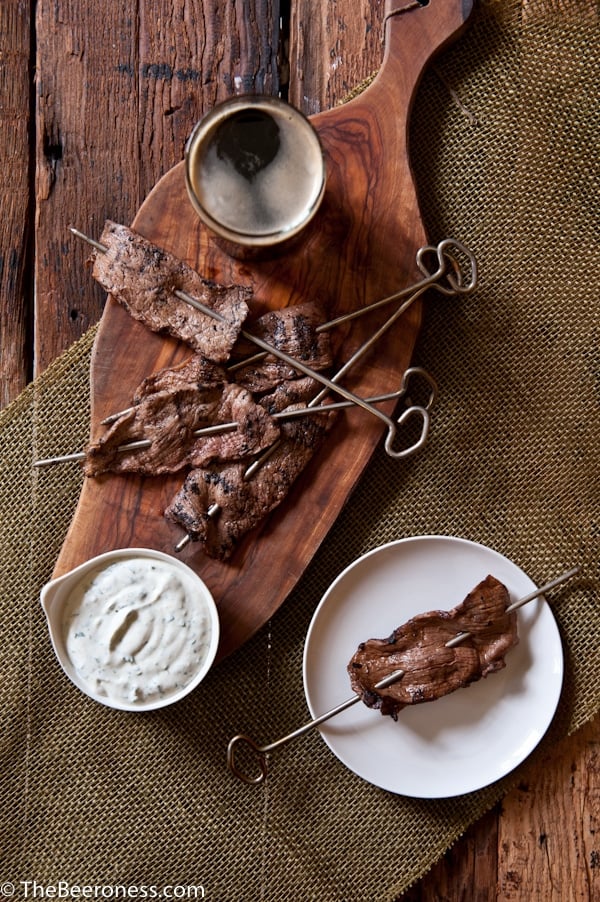 We have caveman like instincts, I have lots.
I have this nearly uncontrollable urge to knock over that giant tower of perfectly stacked wine glasses in Crate & Barrel. I walk past, barely glancing at the shimmering tower that's mocking me from it's white square pedestal as I clutch my purse tightly and imagine swinging it right through the center, sending it all crashing to the ground. And I promise you that if I'm ever on the receiving end of a giant cash filled windfall, it's the first thing I'll do. Some people will buy a car, or that ridiculously overpriced pair of shoes, but for me: walk right into the nearest Crate & Barrel, swing my purse right through a six foot tower of glassware, throw down a wad of hundreds and walk right out, completely  satisfied. Don't think I wont.
Until I'm a millionaire, I'll have to control myself. I'll just sublimate my destructive urges by eating meat off a stick. It's caveman like, and it's less expensive.
But If I ever win the lottery, you should alert all of the nearest high end house-ware retail chains, just to be safe.
Porter Marinated Steak Skewers with Cilantro Horseradish Cream
Ingredients
For the Steak:

2 lbs thin slices flank steak
1 tsp brown sugar
1 tsp onion powder
1 tsp chili powder
1 tsp cumin
1 tsp salt plus 1 tsp, divided
1 tsp black pepper
2 tbs olive oil
1 cup porter
1 tbs Worcestershire sauce
2 tbs soy sauce
2 cloves garlic, chopped

For the cream sauce:

1/3 cup sour cream
1 tbs cream style horseradish
2 tbs chopped cilantro
1 tbs lemon juice
¼ tsp salt
¼ tsp garlic powder
Directions
Place the flank steak in a baking dish or wide bowl. Sprinkle all over with brown sugar, onion powder, chili powder, cumin, 1 teaspoon salt, and black pepper. Drizzle with olive oil, rub oil and spices into the meat.
Pour porter, Worcestershire, soy and garlic over the steak. Cover and refrigerate for 2 hours.
Remove steak from marinade, cut into 2 inch strips, thread through metal skewers (or pre-soaked wooden skewers). Sprinkle with remaining salt.
Grill until desired doneness, about 3 minutes per side for medium rare (depending on thickness.
In a small bowl stir together the sour cream, horseradish, cilantro, ¼ tsp salt, lemon juice, and garlic powder (can be made up to a day ahead of time, flavors develop after a few hours).
Serve skewers with sauce on the side.
https://domesticfits.com/porter-marinated-steak-skewers-cilantro-horseradish-cream/
Copyright �© TheBeeroness.com