Prosciutto Mushroom Pasta in a Porter Cream Sauce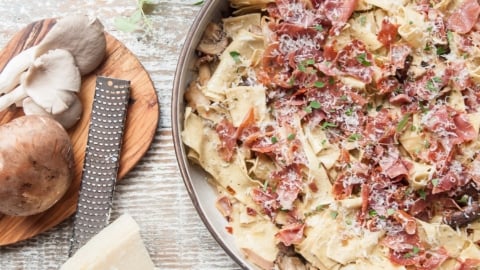 Prosciutto Mushroom Pasta in a Porter Cream Sauce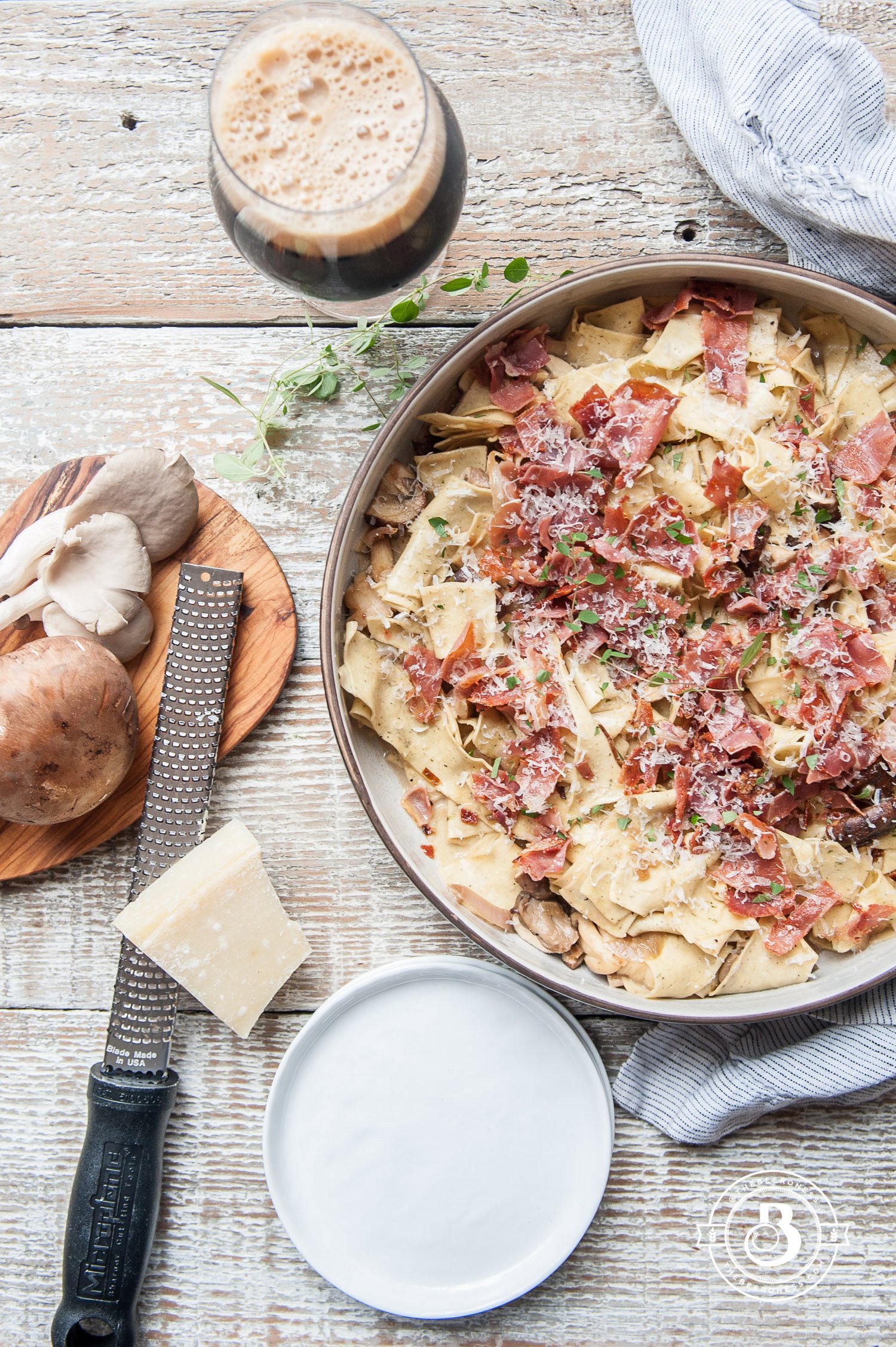 I've figured something out. I have a reverse sense of fear. Is this a thing? I think so, even if it's a term I just made up. I'm terrified of things that shouldn't scare me, like mall Santas, commitment, and going on a cruise.
But things that should scare me like almost dying in Morocco and jumping out of airplanes, those things sound fun and exciting. The thought of having the same job for 30 years sounds frightening, but quitting my job to write about beer wasn't (even without any certainty of income).
This all points to the same issue: I must be miswired on some fundamental level.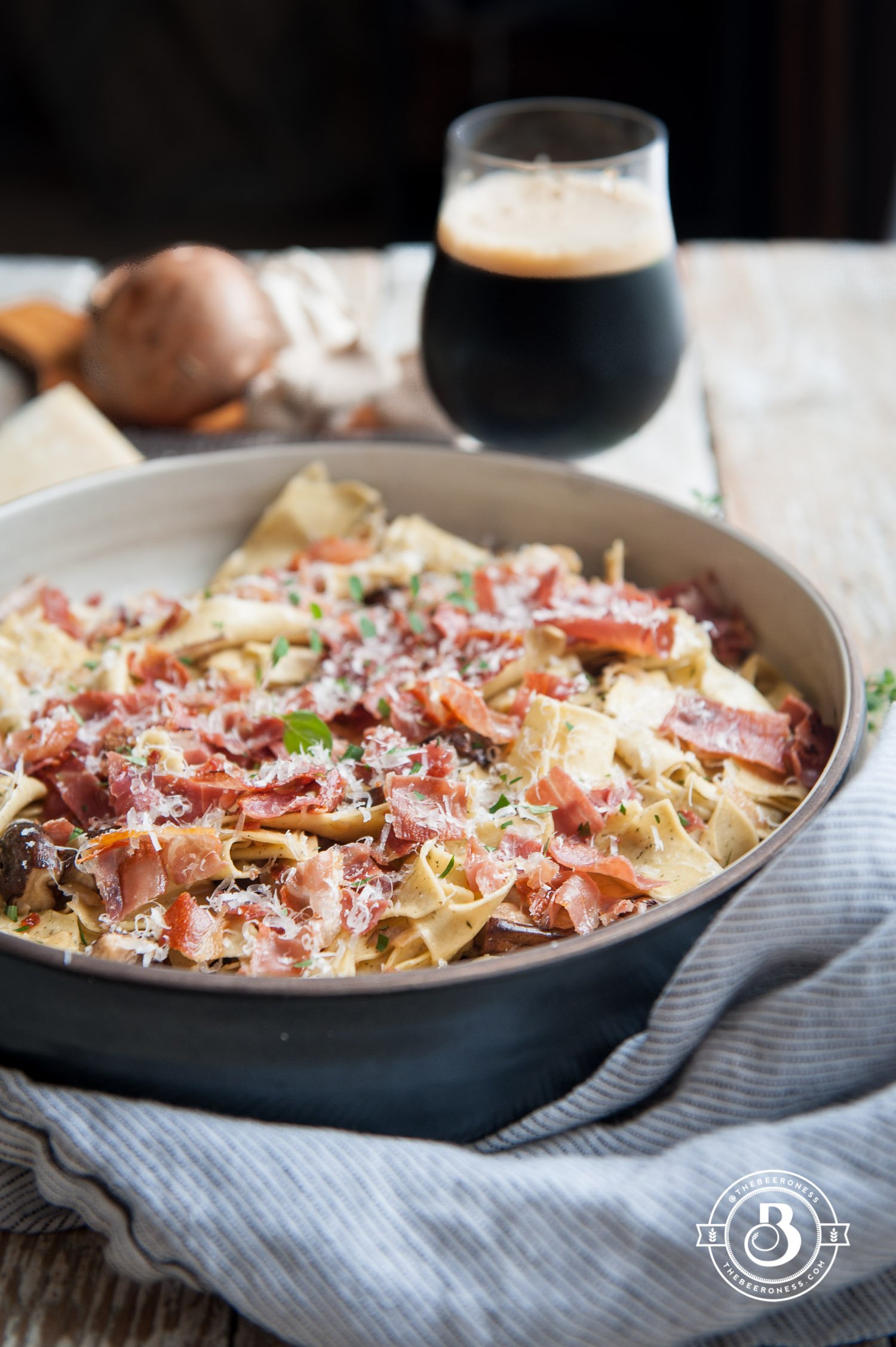 I'm OK with this, to be honest, I prefer it. There is a long list of things I'd change about myself if given the chance, but this isn't one of them. Maybe my life would be a bit easier if I was more typical, but clearly "easy" isn't something I've ever strived for.
For now, I'll continue to do things that don't make sense like putting beer in all the things and taking a perfectly lovely vegetarian pasta and covering it in pork. And I hope you're OK with that since I like you.
And I want you to stick around. Especially because of all the lovely things you said when I posted this. You're the best.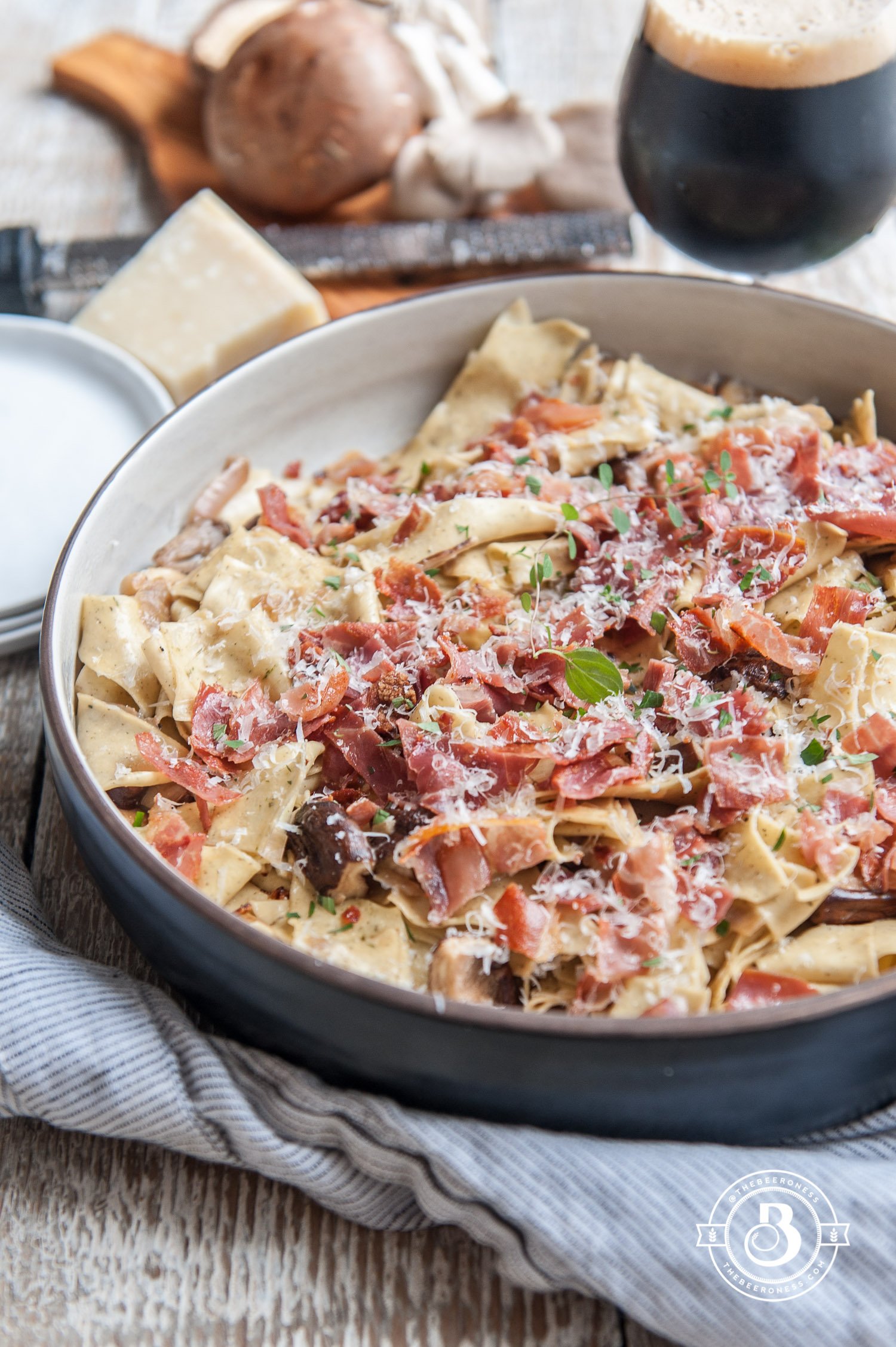 Prosciutto Mushroom Pasta in a Porter Cream Sauce
Ingredients
3

tablespoons

olive oil

3

oz

prosciutto

1

shallot

chopped (about ¼ cup)

5

cups

mixed mushrooms

rough chopped (chanterelles, crimini, oyster, Shittake)

1

teaspoon

fresh thyme

chopped

1/3

cup

porter beer

1

cup

chicken broth

1/3

cup

heavy cream

½

teaspoon

salt

½

teaspoon

garlic powder

½

teaspoon

black pepper

12

ounces

pappardelle pasta

¼

cup

fresh grated parmesan
Instructions
Heat the olive oil in a large skillet over medium high heat. Add the slices of prosciutto, cooking until crispy. Remove from heat and allow to drain and cool.

Add the shallots, cooking until softened, about 5 minutes.

Add the mushrooms and thyme, cooking until the mushrooms have browned, about 10 minutes.

Add the beer, scraping to deglaze the bottom of the pan. Stir in the chicken broth, lower heat to simmer until the sauce has slightly thickened. Stir in the cream, and remaining spices.

Cook the pasta in boiling, salted water until just before al dente.

Drain the pasta and add to the pan. Toss to coat.

Transfer pasta to a serving bowl. Crumble prosciutto and sprinkle on the top. Sprinkle with parmesan, salt and pepper to taste. Serve immediately.
Notes
Adapted from Bon Appetite