Chocolate Stout Cherry Pie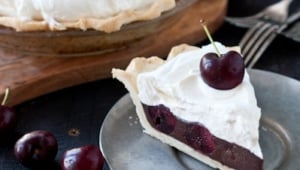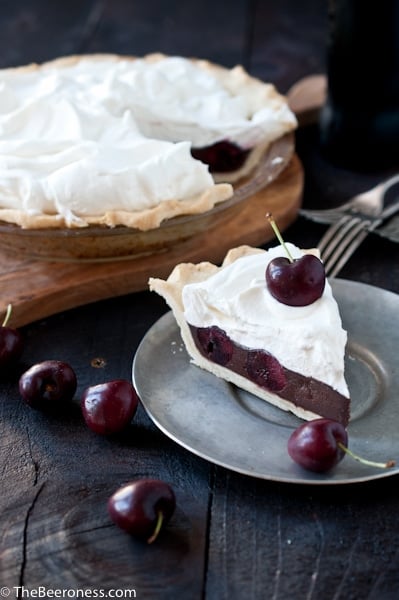 This is a baking PSA, a result of an ongoing panic attack I've been having since I turned my book into the publisher. I've been convinced that most people who attempt to make my Chocolate Stout Cake with Raspberry Chocolate Ganche won't know there is a difference between weight ounces and fluid ounces, confuse the two and end up with a failure. These things keep me up at night. Because if you make a recipe of mine and it fails, I feel awful, even if the recipe isn't to blame. Even if you are totaly to blame for the failure, I still feel terrible.
Weight ounces and fluid ounces are not the same thing. In fact, for the most part, they have nothing to do with one another.
Weight ounces measure weight, fluid ounces measure volume. One does not equal the other.
Take a bag of chocolate chips, for example. It will probably list on the package: 12 weight ounces (often abbreviated as just "wt oz"). Pour those chocolate chips into a measuring cups and you're bound to see it reach about 2 cups, or 16 fluid ounces.
12 weight ounces of chocolate equals about 16 fluid ounces.
Cheese is the same. 8 weight ounces of shredded cheese is about 16 fluid ounces.
Flour is even worse. Most bakers weigh their flour rather than measure it in cups (although most recipes will say cups) but  if you see a baker call for ounces of flour, she probably means weight, not volume. Have I lost you yet?
Generally, 1 cup (8 fluid ounces) of flour is only 4 weight ounces.
Most of the time, the difference is easy to distinguish, and lucky for us, beer is equal when it comes to fluid ounces and weight ounce. 8 fluid ounces of beer equals 8 weight ounces (one less thing to worry about!)
The biggest worry in the cooking and baking world are generally cheese and chocolate. Mostly because they are sold in weight ounces, but recipes vary when it comes to what they call for. Recipes should call for those items in weight ounces, but if you aren't familiar, and just load up your measuring cup with shredded cheese or chocolate chips and think you're looking for fluid ounces, you'll most likely have a recipe disaster on your hands.
The take away:
When you see a recipe calling for ounces: figure out what type of ounces or your recipe may not work.
Thank you for letting me get that off my chest, I feel better. Although I still want to kick the crap out of the a-hole who decided to use the same word for both.
And take moment to check out those glorious cherries in the middle of that pie.
Chocolate Stout Cherry Pie
Ingredients
1 pie crust
2 (3.5 ounce) bars 60% chocolate (total 7 weight ounces)
3 tbs unsalted butter, cut into cubes.
2 tbs light corn syrup
1/3 cup stout
3 tbs heavy cream
2 1/2 cups pitted dark sweet cherries (such as Bing, about 16 wt ounces pitted)

For the Whipped Cream

2 cups heavy cream
2/3 cup powdered sugar
1 tsp vanilla extract
2 tbs stout (optional)
Directions
Preheat oven to 350.
Rough out pie dough, transfer to a 9-inch pie pan, trim off excess. Prick several holes in the bottom.
Bake at 350 for 18-20 minutes or until a light golden brown. Allow to cool.
Break the chocolate into chunks and add to the top of a double boiler over gently simmering water along with the butter, corn syrup and stout. Stir frequently until the chocolate has melted. Add the cream and stir until completely incorporated. Add the cherries, stir until all of the cherries are well coated. Pour into the crust. Refrigerate until set, about 4 hours and up to 24.
Once the pie has cooled make the whipped cream. Add the heavy cream, powdered sugar and vanilla extract (and stout, if using) to a stand mixer. Beat on high until soft peaks form, about 3 minutes.
Notes
Note about chocolate: you can use up to 70%, but the higher the percentage (which indicates the amount of cocoa in the bar) the more bitter the chocolate, therefore the more bitter the pie. If you use a really low cocoa content, like a 30%, the pie may have a harder time setting up because of the lower cocoa content, and higher milk content. I would stay between 55% and 70%.
https://domesticfits.com/chocolate-stout-cherry-pie/
Copyright �© TheBeeroness.com