What To Make A Fireman For Breakfast: Beer Waffles with Amber Ale Caramel Sauce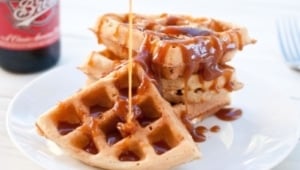 Firefighters are a rare beast. The perfect combination of rugged bravery and compassion driven sensitivity.  A sports watching, beer drinking guys-guy, who is also the first in line to pull a shivering puppy from a frozen river and then make a batch of tender homemade scones.
So what do you do if you find yourself on the daylight side of a fantastic evening, eye to eye with one these hungry beasts?
Make waffles.
Not just any waffles, beer waffles. With beer caramel sauce.
Somehow, it seems to be a rule that every fire house has at least two resident fire fighting chefs, ready for a culinary battle at all times. Making it a near certainty that the beast you woke up with is used to eating, or cooking, great food on a regular basis. Your average breakfast just won't do.
And keep a healthy stock of Fireman's Brew handy. Not only is it made by real life Firefighters, they even donate a portion of their profits to causes that support families of fallen Firefighters. Craft beer with a cause.
Great beer and a warm fuzzy feeling. Fireman sold separately.

Beer Waffles with Amber Ale Caramel Sauce
What To Make A Fireman For Breakfast: Beer Waffles with Amber Ale Caramel Sauce
Ingredients
Waffles:
2

cups

flour

1/4

cup

sugar plus 2 tablespoons

1/2

tsp

salt

1

tsp

baking powder

1/2

cup

butter

melted

2

large eggs

1/4

cup

milk

12

oz

Blonde Ale or Pilsner

such as Firemans Blonde Lager
Caramel Sauce:
12

oz

Amber Ale

such as Firemans Amber Ale

2

cups

brown sugar

packed

3/4

cup

heavy cream

1

tsp

vanilla

2

tbs

butter
Instructions
Make the caramel sauce: Add the beer to a pot over high heat and bring to a strong boil, reducing the beer to about 1 cup, about 6-10 minutes.

Remove from heat and add the brown sugar, stir until dissolved. Add a thermometer with a clip to the side of you pan, submerging the tip in the liquid, but making sure it does not hit the bottom of the pan.

Boil, without stirring (swirl the pan occasionally to redistribute the caramel sauce), until the temperature reaches between 230 degrees. Remove from heat and stir until the bubbling subsides. Add the cream, vanilla and butter, stir to combine. Allow to cool.

Make the waffles:

Heat your waffle iron according to manufacture directions.

In a large bowl, combine the flour, 1/4 cup sugar, salt and baking powder. In another bowl, stir together the butter, milk and egg yolks, in a third bowl add the egg whites and a pinch of salt.

Make a well in the dry ingredients and add the milk mixture. Stir to combine. Add the Pilsner (there will be significant bubbling) stir until just combined, a few lumps are to be expected.

Whip the egg whites until light and fluffy and tripled in volume. Add the remaining 2 tablespoons sugar, whip until well combined. Stir the egg whites into the waffle batter.

Using the waffle iron, cook waffles according to manufacture directions (make sure to use butter flavored cooking spray, if called for).

Serve waffles topped with caramel sauce.