Brown Butter Grilled Beer Cheese Sandwich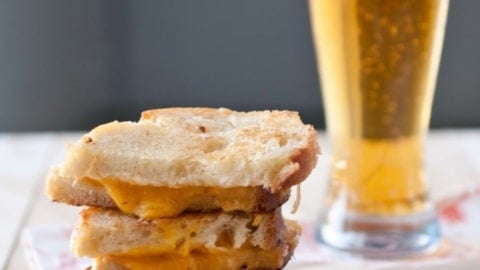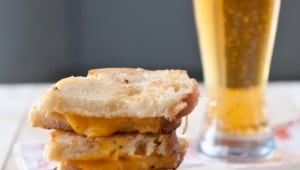 There are some great elements in this world we live in that we beg the universe to some how bring together.
Like a Yankees vs. Dodgers World Series
Or an episode of The Office directed by Christopher Guest
Or Trey Parker have complete creative control over The White House Holiday Card
Or a reality show hybrid of The Bachelor and Fear Factor
Even though I have to come to terms with the fact that those things will sadly never exist, I can meld brown butter and beer cheese into the greatest of all grilled cheese sandwiches. It won't have the cultural repercussions of any of the above unions, but it is the best sandwich I've had in a long time. Too bad I didn't have the forethought, or the consumptive restraint, to create a beer tomato soup to go along for the journey.
Brown Butter Grilled Beer Cheese Sandwich
Ingredients
6

oz

cream cheese

1/2

cup

mozzarella cheese

1

tsp

cornstarch

1/4

cup

Pale Ale

4

oz

cheddar

8

slices

bread

4

tbs

butter
Instructions
In a blender or food processor add the cream cheese, mozzarella, cornstarch and beer. Blend until smooth, about 3 minutes. Spread the beer cheese generously onto 4 slices of bread. Top with about 2 tbs of cheddar and then top with a clean slice of bread.

In a skillet with a lid melt the butter over medium heat (don't allow the butter to get too hot or it will burn) until just starting to turn a golden brown. Carefully add the sandwiches, and replace the lid allowing the sandwiches to steam in the pan until the underside is golden brown, about 3 minutes. Flip the sandwiches, replace the lid and allow to cook until the other side is a light golden brown and the cheese is melted, about 3 additional minutes.
 You can also use the pre-oven beer cheese from my Roasted Garlic & Parmesan Beer Cheese Dip.