Stout Braised Pulled Pork Chili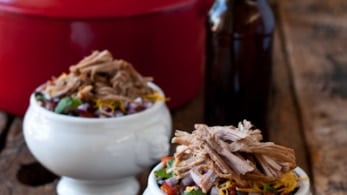 If you want to watch a culinary sports crowd get rilled up, ask what the "right way to make chili" really is. Just meat? Beans? No beans? Pork, vegetables, beef? Tomatoes? Because if you do it "wrong" you might was well be at  Morton's and ask for ketchup with your steak. Or waltz yourself in the kitchen of a southern Grandma and boss her biscuit making ways around: you might get yourself punched.
I happen to be a bit more of a wandering chili Gypsy, the only requirement that I see necessary is a kick of heat. Some days I want beans, some days I want to pack it full of pork, chipotle stout, hold the beans and top it with pork rinds.
Regardless of your "right" way to make chili, I hope your take away from this recipe is that the braising liquid, what is left after a pork shoulder simmers in beer for 4 hours, is the perfect liquid to use in chili. It's packed with flavor, beer, broth, spices, and meaty goodness. Don't wash it down the drain, strain it and save it for making soup and chili. Even freezing it if you have to.
It's like a free secret ingredient, even if you still have to fight with your brother in law about why you want to add beans.
Stout Braised Pulled Pork Chili
Ingredients
For the Pork
1

tbs

brown sugar

1

tbs

salt

1

tsp

garlic powder

1

tsp

onion powder

1

tsp

smoked paprika

½

tsp

cayenne pepper

2.5-3

lb

pork butt

pork shoulder

2

tbs

olive oil

24

ounces

stout beer

or porter

2

cups

beef stock
For the Chili
2

tbs

olive oil

1/2

red onion

diced

1

red pepper

diced

4

cloves

garlic

minced

1

14.5 ounce can black beans, rinsed and drained

1

14.5 ounce can red kidney beans, rinsed and drained

1

14.5 ounce can stewed tomatoes

3-4

chipotle peppers in adobo

minced

2

tsp

adobo sauce from chipotle can
Garnish:
1

cup

sharp cheddar

shredded

½

cup

cilantro

chopped

½

cup

red onion

chopped

1

large tomato

chopped
Instructions
In a small bowl stir together the brown sugar, salt, onion powder, garlic powder, smoked paprika, and cayenne pepper.

Sprinkle pork on all sides with spice mixture.

Heat the olive oil in a large Dutch oven until hot but not smoking. Sear pork on all sides until browned.

Pour the beer and beef stock over the pork.. Reduce heat to a low simmer. Add a lid at a vent and allow to cook until pork is very tender and shreds easily, about 4 hours. Remove from the pot, shred using two forks, return to the pot and allow to simmer for 5-10 minutes. Remove meat from the pot with a slotted spoon to drain off excess moisture (reserve braising liquid).

In a separate pot heat 2 tbs olive oil, cook the onions and red pepper until soft, about 4 minutes. Stir in the garlic. Add 1 ½ cups of the pork braising liquid, black beans, kidney beans, tomatoes, chipotle pepper and adobo sauce. Simmer for 20 minutes.

Serve topped with cheddar, cilantro, red onion, tomatoes and pulled pork.