Chocolate Chip, Stout & Beer Nut Cookies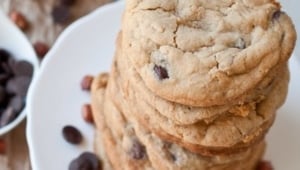 If you live in the Los Angeles area, I'm going to need you to do me a favor. I've somehow been booked on CBS, Los Angeles mid-day news with a cooking segment this Friday, August 31st. They want me to do a quick Cooking With Beer segment on the news at noon. People will be hungry, naturally, it is lunch time, and my hope is that this will persuade them to ignore any brief moments of nervousness that I have.
But If you could tune in, and support me, that would be great. I'm not really nervous, I keep waiting for that to set in, but it hasn't yet. When it does, I would love to know that people who have been visiting me here on this little blog for the past year are out there cheering me on.
That would be great.
In the meantime we're going to make some cookies. These call for the classic Beer Nuts, which I found myself in possession of after a particularly round night of cards at my house. Several bags of Beer Nuts left by an anonymous donor.  And I can't just leave them in my pantry, I need to find a use for them.
We are also going to revisit that crazy idea I have of making beer extract. Because vanilla is just too…well, vanilla.
Chocolate Chip, Stout & Beer Nut Cookies
Ingredients
3/4

cup

stout beer

1

cup

cake flour

3/4

cup

bread flour

1/2

tsp

cornstarch

1

tsp

baking powder

1/2

tsp

salt

3/4

cup

butter

2/3

cup

brown sugar

1/2

cup

white sugar

1

egg

1

cup

dark chocolate chips

60%

3

oz

bag Beer Nuts
Instructions
In a pot over medium high heat add the beer. Cook, stirring occasionally, until reduced to about 1 tbs.

In the bowl of a stand mixer, add the butter and both types of sugar, beat until well creamed. Add the egg and beat until well combined. Add the 1 tbs of beer extract and beat until well combined, scraping the bottom to make sure all the ingredients are well combined.

In a sperate bowl, add both types of flour (these two types of flour are very important to the end result of your cookies, regular all purpose flour will not give you the same results), cornstarch, baking powder and salt. Mix well. Add dry ingredients to the stand mixer and mix on medium/low speed until just barely combined, don't over mix. Add the chocolate chips and Beer Nuts, and stir until incorporated.

Resting the dough is an important step in this recipe. Cover a baking sheet with parchment paper, scoop golfball sized scoops of dough, roll them into round balls and place on the baking sheet, cover with plastic wrap and chill for at least 4 hours.

Preheat oven to 350.

Bake for 20-22 minutes or until light golden brown, don't over bake. (If you don't chill the dough, or if you make smaller sized cookies, the cooking time will be much shorter. Start to keep an eye on your cookies after about 14 minutes).