Chocolate Stout Shortbread Cookies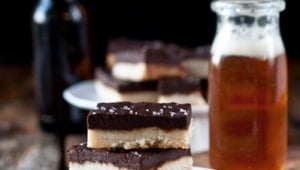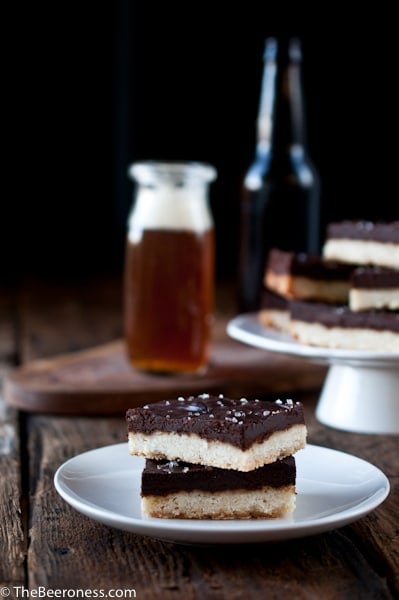 I need to start a petition.
To change the usually paring of Milk and Cookies to Beer and Cookies. First of all, it's just a better idea. If you want to lure friends over, "Hey I've got beer and cookies" will go over much better than the alternative. Second, milk is gross. Sure, you turn it into butter, cream or cheese and I'm in. But a tall glass of liquid that was recently inside of a cow just makes me gag. I'm not sure if I have ever in my life drank a glass of milk that wasn't in the form of blended ice cream. Not even as a kid, I was the juice and cookies type. Now, it's beer. A nice milk stout is as close as you can get me.
So next time you find yourself at my house and I offer you cookies, don't expect a glass of milk. But I will give you some good beer, and some cookies made with beer. So I hope that's a good substitution.
Of course it is, it's beer and cookies.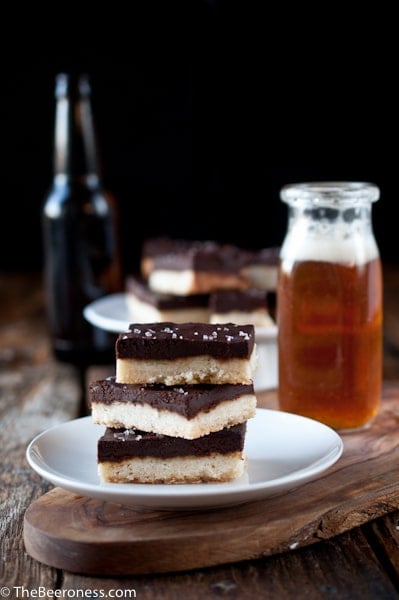 Chocolate Stout Shortbread Cookies
Ingredients
For the Shortbread

1 ½ cups butter, softened
1 ¼ cup sugar
½ tsp almond extract
1 tsp vanilla extract
¼ tsp salt
3 cups flour
2 tbs cornstarch

For the chocolate layer:

3 cups (18 wt. oz) dark chocolate chips (60%)
2 tbs heavy cream
1 cup plus 2 tablespoons chocolate stout or imperial stout
1 tsp Fleur de sel or other flaky sea salt
Directions
Preheat oven to 325.
In the bowl of a stand mixer add the butter, sugar, almond extract and vanilla extract. Beat until well combined, light and fluffy, about 5 minutes.
Sprinkle with the salt, flour and cornstarch, mix until just combined.
Line a 9x13 baking pan with parchment paper. Press the shortbread dough into the bottom of the baking sheet in an even layer.
Prick all over with a fork.
Bake at 325 for 25-30 minutes or until the edges have just started to turn golden.
In the top of a double boiler (or a metal bowl set over a pot of water, but not touching the water) over gently simmering water, add the chocolate, cream and stout. Stir until the chocolate is smooth and melted. Pour over the shortbread in an even layer.
Sprinkle with salt. Chill until set, about 3 hours and up to overnight.
Cut into squares. Chill until ready to serve.
https://domesticfits.com/chocolate-stout-shortbread-cookies/
Copyright �© TheBeeroness.com