Beer Braised Pulled Pork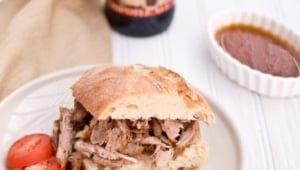 There is nothing new about braising with beer. In fact,  it should be the standard. Beer, as with all alcohol, is a natural meat tenderizer but it's the flavors of the beer that make for braise meat that has a truly special taste. Craft brews are known for more intense flavor profiles and will always produce a vastly superior product when cooking than a macro brew. Craft beer is truly that, a craft. I have had a soft spot for Rogue brewery for years. Rogue is beer lovers beer, and dedicated to the art of the craft. Actual real life people making really good beer. If you live on the West Coast, this Portland Oregon brewery's beer is probably at your local grocery store. It's one of the few great craft beers that I have a very easy time getting my hands on.
What does braising mean? What a good question. Braising just means to sear meat at a very high heat and then cook it slowly at a low heat until cooked through. I used another amazing craft beer for this recipe. Rogue's Chipolte Ale:
Beer Braised Pulled Pork
Ingredients
1

tbs

kosher salt

2

tbs

brown sugar

1

tbs

onion powder

1

tbs

chili powder

1

tbs

ground cumin

1

tbs

black pepper

2

tsp

smoked paprika

2

tsp

dry mustard powder

3.5

lb

Pork butt

It's acctually the pigs shoulder, and sometimes called that. The actual butt is called Ham.

6

cloves

of garlic

peeled

1/4

cup

olive oil

3

cups

Chipotle ale

or smoked porter (I used Rogue's Chipotle Ale)
Instructions
In a small bowl stir together the salt, brown sugar onion powder, chili powder, cumin, pepper, smoked paprika and mustard powder together until combined, set aside.

Take out your pork and stab 6, 2 inch deep holes fairly evenly spaced through the meat. Push a clove of garlic into each hole until no longer visible.

Rub the entire surface of the meat with the spice mixture, using it all.

In a large Dutch oven, heat the olive oil until very hot. Sear all surfaces of the meat, even the sides, until browned. The entire process will probably take about 10-15 minutes.Pour the beer over the meat, cover and reduce heat to medium-low. Cook for about 2 1/2 to 3 hours, turning the meat over about every 30 minutes, until the meat is tender and falling apart.

Once the meat is finished, remove from the pot and allow to cool. Use two forks to shred into pieces. Return to the braising liquid and allow to simmer for about 5 minutes. Remove the meat from the pot and discard the liquid.
I used this meat in three ways, on italian bread as a delicious sandwich, over rice and beans, and in a burrito. Other ideas for pulled pork include:
Pulled pork nachos
Pulled pork sliders
Pulled pork tacos
Pulled pork enchiladas
Pulled pork flatbread pizza
Pulled pork hand pies
Seriously, you could go all Bubba Gump about this and it would be endless. There is no shortage of uses for Pulled Pork.