Beer Bread Grilled Beer Cheese Sandwich with Bacon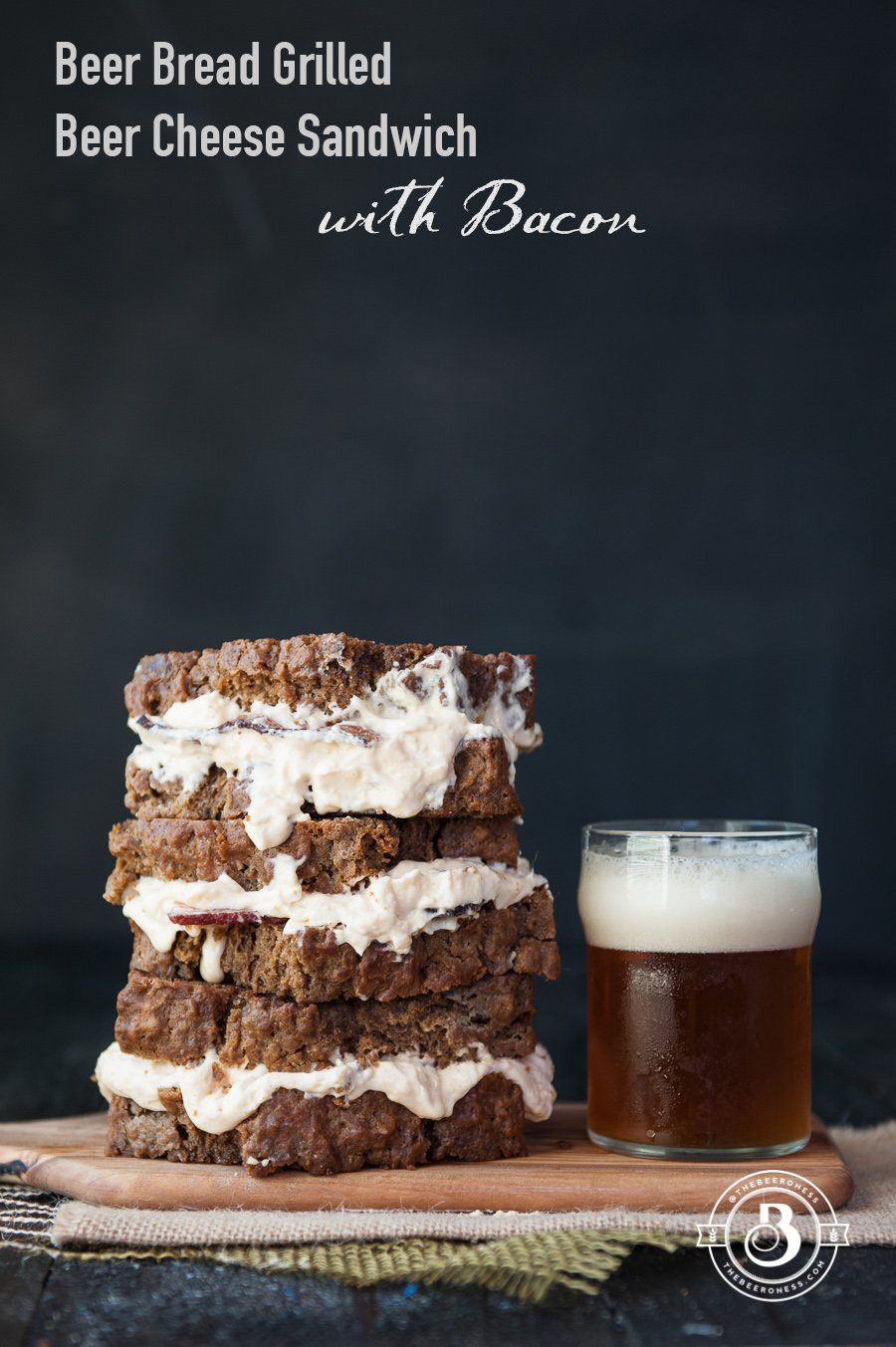 Grilled Cheese & Gratitude
I was standing in the kitchen of a group home, talking to a 15-year-old foster kid when I learned what gratitude really  was. (Before I became a full-time food and beer writer, I worked with foster and probation kids in South Central LA, you can read more about that here and here)
He was skinny, his Hanes t-shirt nearly swallowing him up as it hung down past his waist over his dark sweat pants that pooled around the China Town slippers on his feet. "How lucky are we?!" He peels a few slices off the block of government issue cheese, a long, unnaturally orange-colored rectangle housed in a cardboard tube. I was as amused as I was confused.
He could tell I wanted more, "Well, the last place I lived we didn't ever really have bread. It was always moldy. And the place before that, we NEVER had cheese, that was like, a luxurious thing and all, and then before that the stove aint never worked…" He smeared both sides of the bread with the contents of an oversized tub of margarine, filled the two slices of bread with at least five pieces of cheese, and gently set it in a hot pan that screamed a victorious sizzle in response. "See!" the sound thrilled him, "We got, like…MAD cheese up in here, they don't even care when I use like a grip of slices. And look at all this butter! This thing HUGE! and we got bread for days!" he claps his hands, thrilled at the bounty that the group home kitchen provided.
I'd read his file at the office before I headed over to meet him. Absent biological father, mother was abusive and her whereabouts are now unknown. He was placed in a state run group home after several reports of abuse by his previous foster parents. I look at him, a genuine smile on his face, and I think about the night before.  I'd been in Hollywood, chasing a sullen fashion model around The Grafton, trying to keep her out of trouble. She was the girlfriend of a musician friend of mine, and I was trying to avoid press nightmare if she'd been able to follow through with the crazy that her anger was begging her to perform. I'd pushed her into a alcove by the ice machine and commanded  her to talk to me about why she was so upset. Tears streaming down her gorgeous face, onto her three thousand dollar dress, "I can't go to London with him because I have this stupid print ad to shoot tomorrow. My condo is being renovated so I have to stay at a hotel…And I forgot my Prada jacket! I hate everything…."
I think about this, about the conversation I'd had the night before as I watch him finish up his grilled cheese. I realize that gratitude and happiness have nothing to do with circumstances. You can decide to focus on every great thing in your life, no matter how small, or you can decide to focus on what's broken. It's your choice.
Choose wisely.
I used Fort George Omegatex in the filling, and to wash it all down with. 
Beer Bread Grilled Beer Cheese Sandwich with Bacon
Ingredients
3

cups

all purpose flour

2

tsp

baking powder

1

tsp

baking soda

¼

cup

sugar

12

ounces

beer

summer ale, wheat beer, saison, pilsner

¼

cup

melted butter

8

wt oz cream cheese

1

cup

2.5 wt oz shredded cheddar cheese

1/3

cup

IPA beer

½

tsp

sriracha

1

tbs

cornstarch

¼

tsp

salt

¼

cup

softened butter

4

strips bacon

cooked
Instructions
Preheat oven to 350.

In a large bowl stir together the flour, baking powder, baking soda, and sugar. Add the beer, stir until just combined.

Spray a loaf pan with cooking spray. Pour that batter into the pan in an even layer. Pour the melted butter over the loaf.

Bake for 40 minutes or until cooked through. Remove from oven, allow to cool completely before slicing, chill if necessary.

In a food processor add the cream cheese, cheddar, IPA, sriracha, cornstarch and salt, blend until smooth.

Slice the bread into 8 slices.

Butter one side of each slice.

Heat a non-stick pan over medium high heat.

Working in batches, place one slice of bread, buttered side down in the pan. Spread with about ¼ cup of the cheese mixture, then a slice of bacon, then another slice of bread, buttered side up.

Cook until the bottom bread is slightly browned, then gently flip. Cook on the other side until the bread is golden brown. Serve warm.