Pale Ale Crumb Cake + Loving Craft Beer People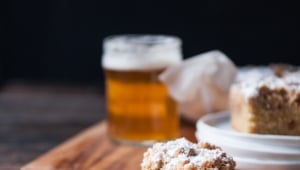 Pale Ale Crumb Cake
Walking in the bay doors, they all seem to look the same. There are always the mingling smells of hops, malt and fickle high-maintenance yeast hard at work. There's a brewer in rubber boots nearby, working out a problem behind a furrowed brow. There is inevitably a tank being cleaned, water from a thick hose being sprayer to cleanse the vessel to ready it for the next batch.
Music played from unseen speakers. Drums and bass melting into the sounds of the equipment, mostly being ignored. I'm always greeted warmly, always welcomed in and offered a beer. In the past year most of my visits to breweries have been to write a story, or take photos. You can make the argument that there are more beautiful subjects than fermenters and bright tanks. You can tell me how shitty the yellow fluorescent light is in a brewery. You could, but I'd tell you how much I want to show you the beauty in what is there.
Have you seen fresh hops right from the bine? Have you seen the look on a brewers face when sampling wort? Have you seen how gorgeous the color of beer can be? Maybe I'm starry-eyed over the craft beer community, maybe I focus more on what's right than what's wrong, but I won't stop. Maybe it was the years of teaching anger management to gang members in South Central Los Angeles but I've learned that people tend to repeat the behavior you focus on. Let the others tear down people, behaviors, and semantics, I'm here as much for the people as I am for the beer. Of course there are changes that can and need to be made, we are, after all, a bunch of humans who drink too much. But let's do it together. And let's talk more about what we're doing right. Because, craft beer, I love you. Flaws and all.
Have some cake, drink a beer, and let's talk this out. I won't stop loving craft beer, and I won't stop focusing on how much I love the people here and what they are doing right.
Ingredients
For the Crumb Topping:

1/3 cup (73g) sugar
1/3 cup (73g) brown sugar
1 tsp (3g) ground cinnamon
1/2 tsp (3g) salt
8 tbs (113g) unsalted butter melted
1 ½ (180g) cups flour
2 tbs (20g) cornstarch

For the Cake:

1 cups (120g) all purpose flour
2 tbs (20g) cornstarch
½ cup (117g) sugar
½ tsp (2g) baking soda
½ (3g) teaspoon table salt
6 tbs (83g) unsalted butter, cut in cubes, softened
1 large egg, plus 1 yolk
1/3 (74g) cup pale ale
2 tbs (26g) olive oil
1 tsp (4g) vanilla extract
powdered sugar for dusting
Instructions
Preheat the oven to 325.
In a small bowl stir together the sugar, brown sugar, cinnamon, salt and butter. Add the flour and cornstarch, stir to make a soft dough, set aside.
In the bowl of a stand mixer add the flour, cornstarch, sugar, baking soda and salt. While the mixer is running add the butter mixing until the butter is cut in and the mixture resembles coarse meal with no uncombined lumps of butter.
Add the eggs, yolk, beer, olive oil and vanilla, beat until light and fluffy and well combined.
Line an 8x8 baking pan with parchment paper with the paper hanging over the sides. Pour batter into prepared pan in an even layer.
Crumble the topping and gently sprinkle it over the batter in an even layer. Bake for 35-40 minutes or until a toothpick inserted in the center comes out clean.
Allow to cool for ten minutes, remove from pan using the parchment overhang. Cut into squares, sprinkle with powdered sugar.
https://domesticfits.com/pale-ale-crumb-cake/