Drunk Diablo: Chocolate Stout Devils Food Cake with Mexican Hot Chocolate Frosting
Drunk Diablo: Chocolate Stout Devils Food Cake with Mexican Hot Chocolate Frosting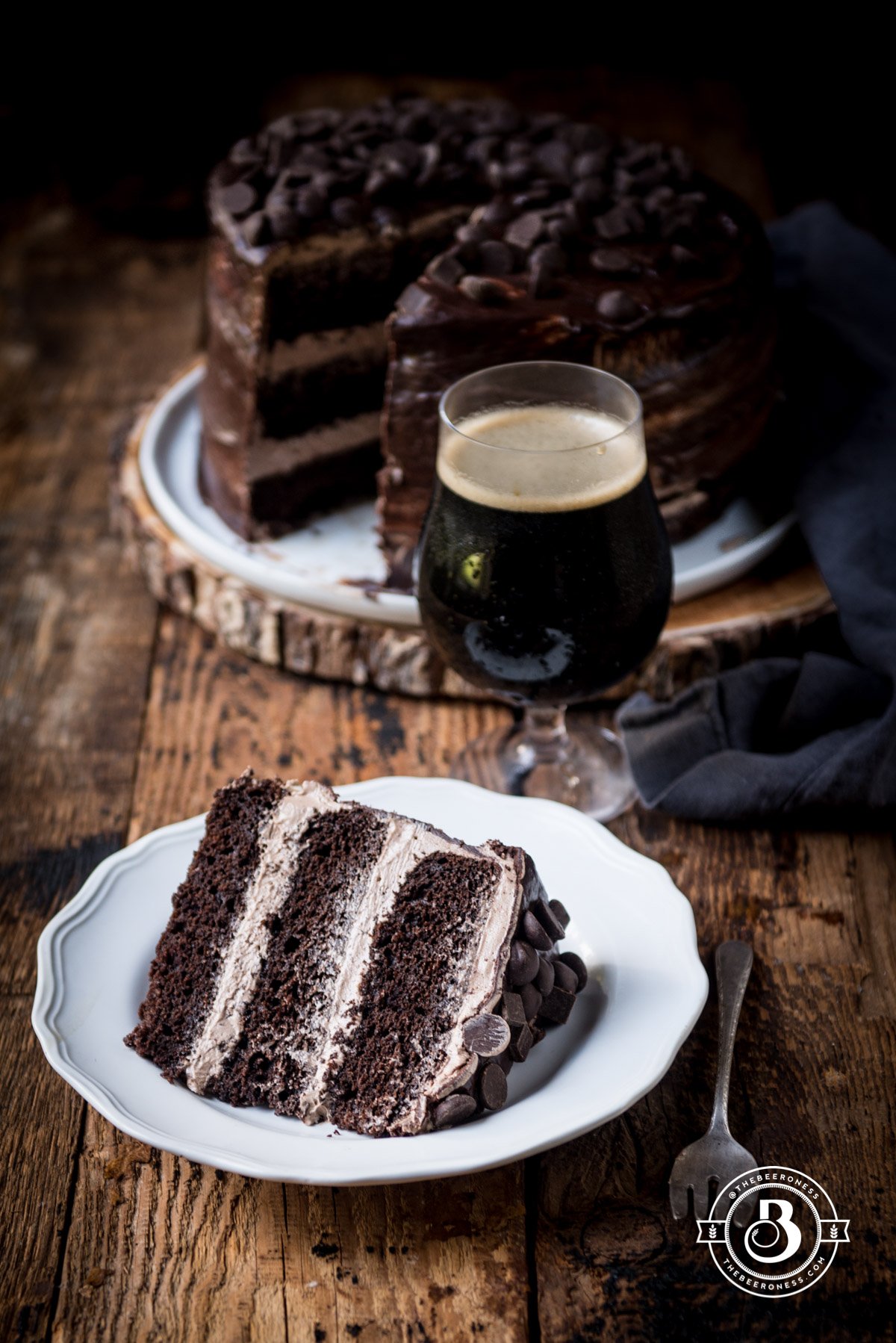 When you have a weird job, there are two categories of projects you work on. The first types are the reasons you got into this in the first place. The love projects. The creative soul projects. The goosebumps and fevered excitement projects.
Those are the ones that keep you going. The second type, are the ones that pay the bills. The ones that you still like, the ones you're grateful for, the ones that you still throw your heart and gypsy soul into, but in your heart of hearts, you know you're only doing them because you like electricity and groceries and being able to pay those bills affords you such luxuries.
If you're lucky, there is a huge Venn diagram overlap between the two. Most of what you do is —to one degree or another— both. I very rarely do projects that are just to pay the bills, but I very frequently find myself immersed in a passion project that will probably never result in any type of bill-paying.
I'm ok with this, it's how I know I've chased my career down the right rabbit holes.
Right now I'm trying to turn my number one passion project into something that's more in the center of that diagram. It's a website I started about a year ago, a project I've been trying to move forward and I'm really in love with it.
It's Craft Beer Photography, it's stock photos, it's prints, it's "please hire me to photograph your brewery because that sounds really fun and I want to do it."
It's also one of my favorite parts of this weird job I'm trying to invent for myself. Because no one has ever really done this and I'm still trying to figure out what it looks like.
For now, let's eat some cake and drink some beer and figure the rest out later.
Drunk Diablo: Chocolate Stout Devils Food Cake with Mexican Hot Chocolate Frosting
Ingredients
For cake:

3 ounces bitter sweet chocolate
½ cups (4oz) hot brewed coffee
1 cup (8oz) stout beer
3 large eggs
2 ½ cups (375g) sugar
¾ cup (180g) vegetable oil
1 ½ cups (360g) sour cream
1 teaspoon vanilla
2 ½ cups (300g) all-purpose flour
1 ¾ cups (168g) unsweetened cocoa powder
2 teaspoons (10g) baking soda
1 teaspoon (5g) baking powder
1 teaspoons (6g) salt

For the frosting:

1 ½ cup (342g) butter, softened
2 cups (386g) vegetable shortening*
¼ cup (24g) cocoa powder
3 cups (390g) powdered sugar (plus additional to taste)
¼ teaspoon (0.5g) cayenne pepper
1 teaspoon (4g) cinnamon
½ teaspoon (2g) chili powder
1 teaspoon vanilla extract

For the ganache:

10 wt oz dark chocolate (60% cacao)
¾ cup (180g)heavy cream
¼ cup (60g) stout beer
Instructions
Preheat oven to 325°F.
Add the chocolate, coffee and beer to a microwave safe bowl. Microwave on high for 30 seconds, stir and repeat until melted (this can also be done in a double boiler).
Add the eggs and sugar to the bowl of a stand mixer, beat on high until light in color and well combined. Add the vegetable oil, sour cream and vanilla, beat until well combined. Mix in the chocolate mixture.
In a separate bowl stir together the flour, cocoa powder, baking soda, baking powder and salt.
Sprinkle the dry ingredients over the wet ingredients, stir until just combined.
Divide evenly between three 9-inch cake pans that have been greased and floured.
Bake for 35 minutes or until the top springs back when lightly touched.
Add the butter to the bowl of a stand mixer, beat on high until light and fluffy. Add the shortening, beat until well combined. Add the remaining frosting ingredients, beating until well combined. Frost the cake, with frosting between all the layers. Refrigerate while you prepare the ganache.
Add all the ganache ingredients to the top of a double boiler set over simmering water. Stir until the chocolate is almost all melted. Remove from heat and continue to stir until the chocolate is completely melted.
Pour the ganache over the cake, spread in an even layer, or allow to drip down the sides.
Notes
*Just use the shortening. It's a texture thing, and it's totally worth getting over the fact that shortening skeeves you out. It makes the most amazing frosting, trust me, just do it!
https://domesticfits.com/drunk-diablo-chocolate-stout-devils-food-cake-mexican-hot-chocolate-frosting/