Epic Chocolate Stout Cake with Chocolate Bourbon Sour Cream Frosting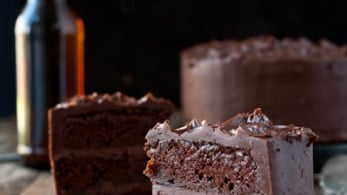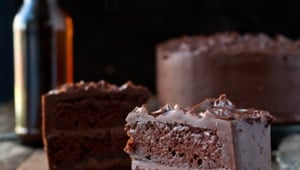 Epic Chocolate Stout Cake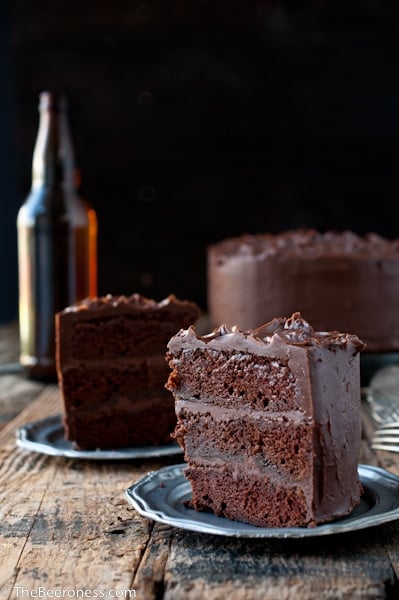 Although I may be shattering illusion with this admission, I don't always cook with beer. I often create very sober meals with teetotaling side dishes, not a whisper of booze in sight.
However, over the years of carving out a niche in this corner of Craft Beer Land, I have found that beer is an essential and non-replaceable ingredient in several dishes, it just does the best job.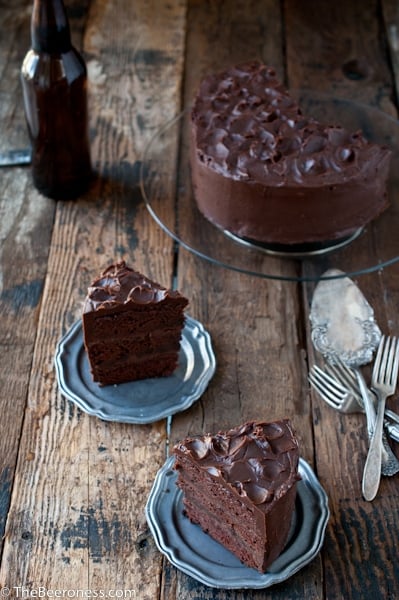 My Thanksgiving Turkey will always be brined with a brown ale, the meat tenderizing properties of beer have no match. If you want a juicy bird, it's the best way to get there.
My dinner rolls will always be made with wheat beer, the leaving agents are just too good.
My steak will always be given a good soak in a dark craft beer, it gives the best results.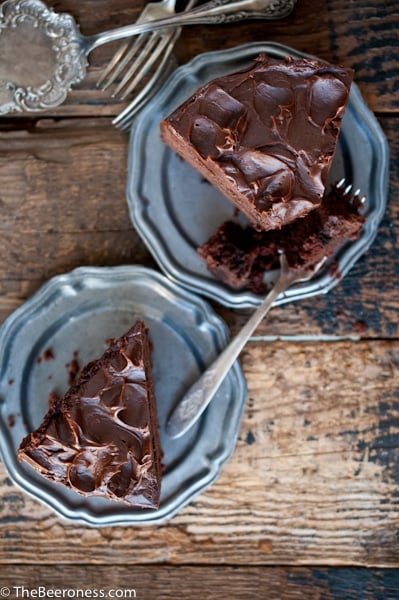 And my chocolate cake will always be made with a nice chocolate stout. The first recipe I ever made with beer was a stout cake, it was by far the best homemade chocolate cake I had ever made, wooing me to the boozy side of baking.
The taste was both rich and light, smooth and bold. It may have been a gateway recipe that lead me down a path of beer cooking obsession.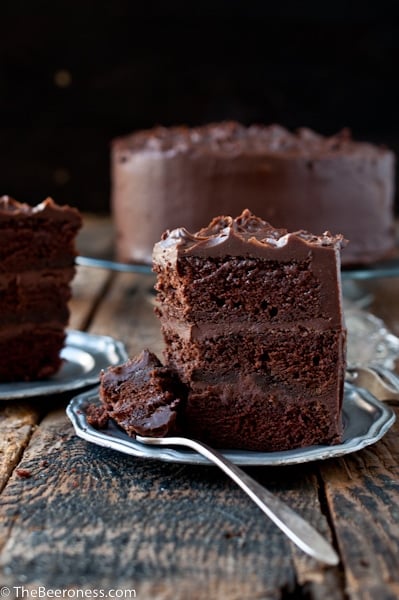 Epic Chocolate Stout Cake with Chocolate Bourbon Sour Cream Frosting
Ingredients
For the Cake:
7

wt oz 72% dark chocolate

chopped (about 1 ½ cups)

1

cup

2 sticks unsalted butter

12

ounces

Chocolate Stout

3

and 1/4 cups granulated sugar

4

eggs + 2 yolks

¼

cup

canola oil

2/3

cup

sour cream

3

cups

flour

1

tbs

baking powder

1

tbs

espresso powder

¾

cup

unsweetened cocoa powder

1

tsp

kosher salt
For the Frosting:
1

cup

2 sticks unsalted butter, softened

1

cup

sour cream

4

cup

dark chocolate chips

melted & slightly cooled

4

cups

confectioners sugar

1/4

cup

bourbon

½

cup

heavy cream
Instructions
For the cake:
Preheat oven to 350.

In the top of a double boiler (or a bowl set over gently simmering water), add the dark chocolate, and butter, stirring frequently until just melted. Stir in the chocolate stout.

In the bowl of a stand mixer beat the sugar, eggs and yolks until well combined, light and fluffy, about 3 minutes.

Add the oil and sour cream, beat until well combined.

Slowly add the chocolate, beating until all ingredients are well incorporated, scraping the bottom to make sure all us well combined.

In a separate bowl whisk together the flour, baking powder, espresso powder, cocoa powder, and kosher salt.

Sprinkle the dry ingredients over the wet ingredients, stir until just combined.

Grease and flour 3, 9-inch cake pans (or two cake pans, and 12 cupcake tins).

Pour the batter evenly between the pans.

Bake at 350 for 20-25 minutes or until the top springs back when lightly touched, (15-17 minutes for cupcakes).

Allow to cool, remove from pans (it's easiest to transfer to a plate lined with parchment paper.)

To assemble a tall cake it's easiest if all ingredients are cold, warm cake and frosting tend to slide. For best results chill the cake layers for 1 hour prior to assembling.

Chill assembled cake until ready to serve.
For the frosting:
In the bowl of a stand mixer beat the softened butter on high until creamy, about 3 minutes. Add the sour cream, beat until light and fluffy.

Slowly pour the melted chocolate into the mixer, beating until well combined with the butter mixture.

Add the powdered sugar and slowly building up speed, beat on high until well combined.

A few tablespoons at a time add the bourbon and the cream, allowing to fully incorporate before adding more. Scrape the bottom of the bowl to make sure all ingredients are well incorporated.

Cover bowl and refrigerate until set, about 20-30 minutes.