Irish Red Ale Butternut Squash Soup with Goat Cheese and Pomegranate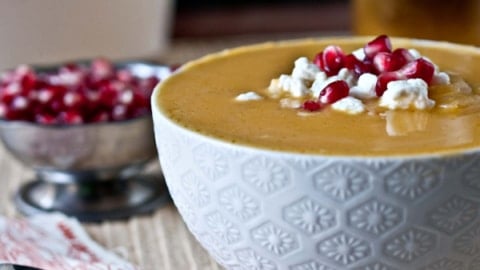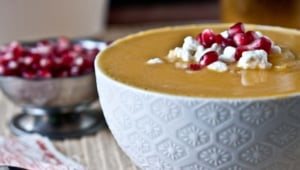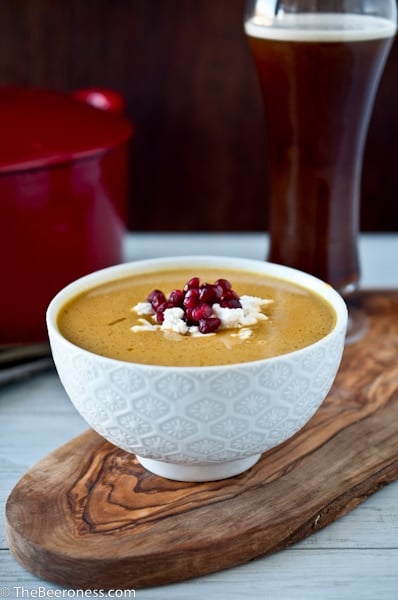 When you write a cookbook, you fall in love with some of the recipe. You don't love them all the same, you don't even remember them all the same. Recipes aren't like children, you're completely allowed to have favorites.
When I wrote The Craft Beer Cookbook (affiliate link), there were a few recipes I immediately feel love with, like Hefeweizen Brioche Pull Apart Bread (page 82), and the Porter Osso Buco (page129), and Amber Ale Carrot Cake with Mascarpone & Beer Spiked Cream Cheese Frosting (page 179) and a few I added because I was already in love with them, like the Beer Pecan Cinnamon Rolls (SO GOOD! page 26) and this soup.
This was a soup that I'd been making for years, with and without beer. Gleefully sprinkling the bowls with two of my culinary guilty pelasures: goat cheese and pomegranate seeds. Adding in the hop bitterness of an Irish red ale gave a great balance to the creamy decadence.
Now that we are around the corner from Saint Patricks day, I'm sharing this recipe with you. It's a new way to celebrate the Irish, and a vegetarian friendly one at that (if that's your thing). After all, corned beef isn't even a tradition in Ireland. But beer always is.
Irish Red Ale Butternut Squash Soup with Goat Cheese and Pomegranate
Ingredients
1

3.5 to 4 lb butternut squash

1

head garlic

6

tbs

olive oil

divided

2

shallots

sliced

2 ½

cups

vegetable broth

1

cup

red ale

1

tsp

salt

1

tsp

pepper

¼

tsp

turmeric

pinch

cayenne

½

cup

cream

3

ounces

goat cheese

½

cup

pomegranate seeds
Instructions
Preheat oven to 400.

Cut the squash down the middle lengthwise, scoop out and discard the seeds. Place cut side up on a baking sheet, drizzle with 2 tbs olive oil.

Rub most of the white papery skin off the garlic head. Cut the tip off the head of garlic, exposing the cloves. Place garlic on a small square of aluminum foil. Drizzle with 1 tbs olive oil, fold aluminum foil up over the garlic to form a tight packet. Place garlic on baking sheet with the squash.

Place baking sheet in the oven for 30 minutes. Remove the garlic and allow to cool. Continue to roast the squash until fork tender, about an addition 20-30 minutes (total of about 1 hour). Remove from oven and allow to cool enough to handle. Gently scoop out the flesh (should be between 4 and 4 1/2 cups).

In a pot over medium heat, add the remaining 3 tbs olive oil and the shallots. Allow to cook, stirring occasionally, until the shallots have caramelized, about 15 to 20 minutes (do not cook at too high heat or the shallots will burn). Add the broth and the beer and bring to a gentle simmer. Add the roasted squash, add the soft garlic cloves (discard the rest of the head) and stir until well combined.

Use an immersion blender to puree until smooth (you can also work in batches to puree in a food processor or blender). Add the salt, pepper, turmeric, cayenne and cream, allow to simmer for 10 minutes.

Ladle into serving bowls, garnish with goat cheese and pomegranate.
You can buy The Craft Beer Cookbook at cookbook, Barnes & Noble and Urban Outfitters.