Creamy Butternut Soup With Pomegranate and Goat Cheese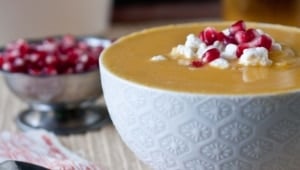 I'm so excited to share this with you. It is my favorite soup right now, and one of my favorite recipes so far this year.
It's interesting to see which posts get tons and tons of traffic and which ones get ignored, because really, you never know. My highest trafficked post isn't even in my top twenty favorites.
My most popular post, Inside Out Caramel Apples, makes me cringe a bit. Although it has been pinned about 200,000 times and shared on Facebook and Twitter thousands more, I don't really love it. It was posted about a year ago, and there seems to be mixed results with success. As a blogger, that's hard. I want everyone to have a home run every time they make the recipe, and that one seems to be hit or miss. I hate that. And I hate that I have no idea why it fails for some people, and works for others.
And sometimes, the recipes that I love and can't wait to share, get ignored. You just never know what is going to be a runaway pinterest hit, and what is going to get nothing more than a passing glance.
But this soup, I LOVE this soup, and I hope you do too.
Seriously, I'm going to make it again this week.
Stove Top Beer And Bacon Mac And Cheese
Ingredients
2 cups elbow macaroni
4 strips of bacon, cut in half
1/2 cup sour cream
1 egg
2/3 cup beer (pale ale, blonde, bock, and Hef work well, an IPA will give you a very strong beer flavor)
1 1/2 cups cheddar cheese (fresh grated, pre-shreaded has additives that prevents it from melting properly)
2 tbs butter
1/2 tsp black pepper
1/4 tsp smoked paprika
pinch cayenne pepper
salt to taste
Directions
In a large pot of boiling water, add the noodles and cook until just before done. Don't over-cook the noodles or this will end up mushy.
Drain the pasta, return the pot to the stove and cook the bacon until crispy, remove from pot and allow to cool.
Drain off bacon grease and return drained noodles to the pot.
In a separate bowl, add the beer, egg and sour cream, beat until well combined.
Add the butter and the beer mixture to the noodles and return to medium heat. Stir until the butter has melted.
About 1/4 a cup at a time, add the cheese. Stir until cheese has melted before adding more.
Add the spices and chopped bacon, stir.

Makes 4 entre sized portions.
https://domesticfits.com/butternut-bisque-with-pomegranate-and-goat-cheese/
Copyright �© TheBeeroness.com