Belgian Ale Brined Lamb Rib Rack with Goat Cheese Polenta with Crispy Sage
Belgian Ale Brined Lamb Rib Rack with Goat Cheese Polenta. We're getting fancy because I believe in you.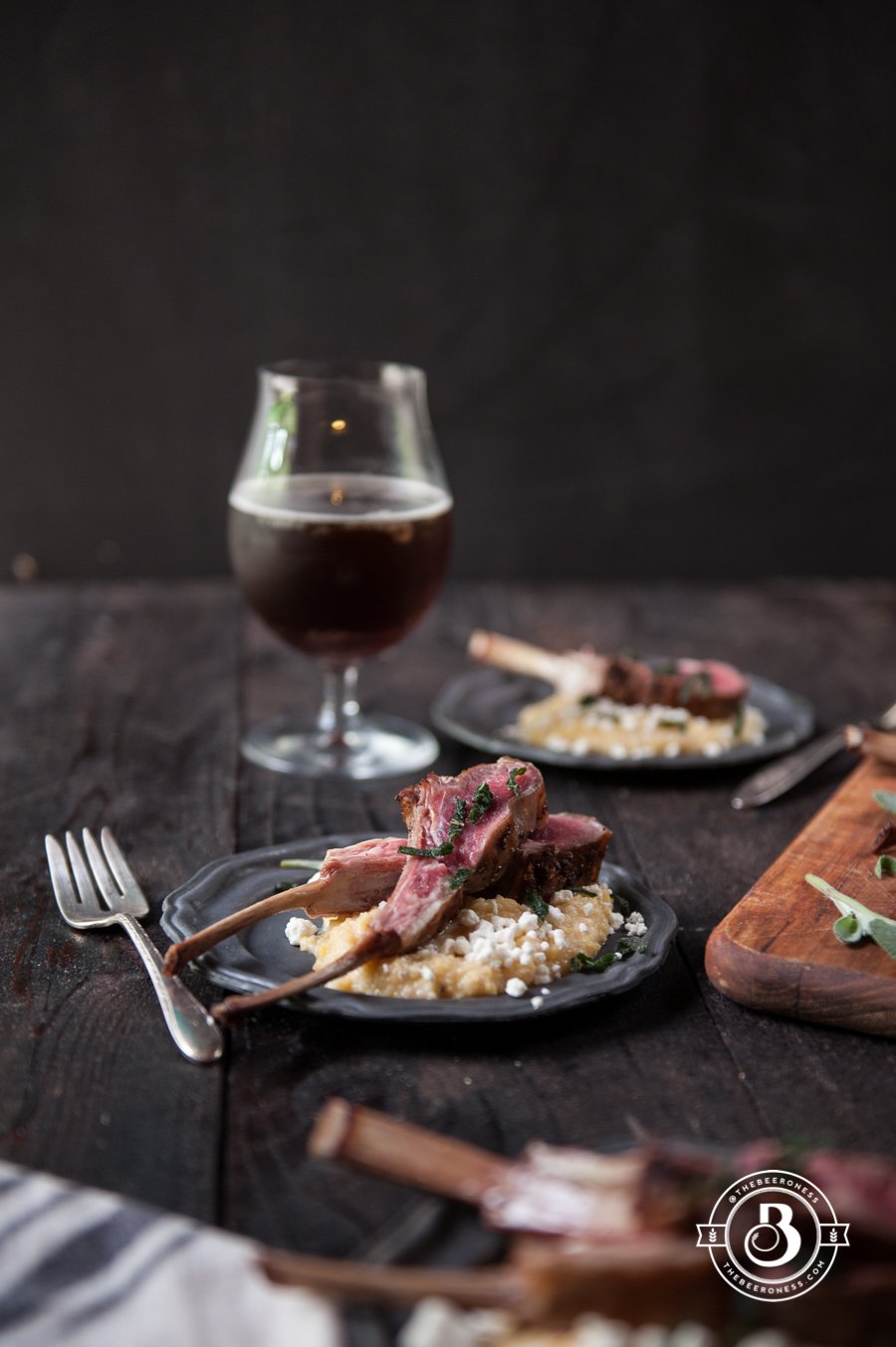 I made this because I believe in you.
I used to skim recipes, across cookbooks, websites, and magazines, looking for a few things. Of course, my eyes always went right for the recipes with the photos, because I had a hard time imagining the final product, and if I'd want it in my face, without that visual. I'd look for words I recognized, ingredients I was familiar with, techniques I'd preformed with previous success.
And then something happened. A bit slowly, a bit all at once, mostly just a rebellion from what I was used to. I started to seek out the recipes most distant from what I was used to. Ingredients I'd never used, equipment I had to buy, recipes that I didn't even know how to pronounce. I'd drive to three stores looking for an ingredient only to discover I was just looking for in the wrong section of the grocery store.
A few things happened.
First, I realized that I had no business skipping steps or deleting ingredients. Second, I found that most of these recipes, even the fancy sounding one and sometimes especially the fancy sounding ones, were really quite simple. Like creme brûlée, and duck confit. I'd found recipes that I'd fallen in love with, that made me so excited about cooking I couldn't stop talking about them like a love-sick teenager.
If you haven't done this fall-in-love-with-food thing yet, it sometimes has less to do with the food and more about your own ability to produce it. Stepping back, so amazed at what you were able to do you feel the need to announce the dish and introduce it to the table.
Do this. Find a recipe, or a couple, and fall in love with them.
Belgian Ale Brined Lamb Rib Rack with Goat Cheese Polenta with Crispy Sage
Ingredients
For the lamb:
2

lamb ribs racks

1.5 to 2 lbs total

1

tbs

kosher or sea salt

12

ounces

Belgian ale

1

tsp

black pepper

2

tbs

olive oil

2

tbs

fresh sage

cut into thin strips
For the polenta
3

tbs

unsalted butter

2

cups

whole milk

1

cup

Saison beer

or wheat beer, can sub with chicken broth

1

cup

dry polenta

1

tsp

salt

1

tsp

black pepper

½

tsp

garlic powder

½

tsp

oinion powder

3

ounces

crumbled goat cheese
Instructions
Sprinkle the lamb with salt on all sides, add to a large Ziplock bag or small baking dish. Pour beer over the lamb, seal bag (or cover bowl). Refrigerate for 6 hours and up to 24.

Remove from beer, rinse and pat dry. Allow to sit at room temperate for 30 minutes. Sprinkle with pepper.

Preheat oven to 350.

Heat olive oil in a cast iron skillet until hot but not smoking. Add the sage, cook until slightly crispy and dry looking, about 2 minutes. Remove from oil, allow to drain on paper towels.

Add the lamb, searing on all sides until browned, about 3 minutes.

Transfer the pan to oven, allowing lamb to cook until it reaches an internal temperate of 120 to 125 (use a meat thermometer), about 10 minutes.

Remove from oven and allow to rest for 5 to 10 minutes.

In a pot over medium heat, melt the butter. Add milk, bring to a simmer.

Whisk in the polenta, once the pot starts to look dry and the milk is mostly obsorbed, add the beer. Simmer until polenta is tender and thickened, whisking occasionally, about 18 minutes.

Stir in salt, pepper, garlic powder, and onion powder.

Plate the polenta, sprinkle with goat cheese.

Cut the lamb between the bones, plate over polenta, sprinkle with crispy sage.
Oh hey! My new cookbooks is available now, and it's the #1 new release in appetizer cookbooks!
Check it out: The Craft Beer Bites Cookbook