Hoisin Pineapple Beer Pork over Coconut Lime Rice
Hoisin Pineapple Beer Pork over Coconut Lime Rice
How are you out there? Are you ok?
If you're like me, and I kind of think you are, you have two opposite feelings, nearly back to back, and it's unsettling.
My thoughts jump from "Everyone needs to settle down, you are all overreacting!" to "Are we all going to die and is our society going to collapse and I need to form a post-apocalypse tribe immediately,"
and
"Self-quarantine is great, and my neighbors are the best and I want to stay like this forever," and then the next minute: "Will I ever travel again, I need to be on a virus-free plane immediately or I'll die because my wanderlust is killing me, and I need my local bars and restaurants to re-open soon, I miss them so much,"
It's all so disorienting. Just know that you're not alone, we are all in this together even if it feels lonely.
My favorite part of pre-apocalypse grocery shopping is the "weird" ingredients are always left. The chicken breast and pork chops are long gone but the more obscure meat is in abundance and on sale. My particular grocery store had rows and rows of oxtails, shanks, and boneless pork ribs, and I'm hoping yours does too. So I made you something. It's easy and since you'll be home all day, you should make it. It's really good and you'll only want coconut rice from now on, so make sure to add cans and cans of coconut milk to your next venture out in your hazmat suit.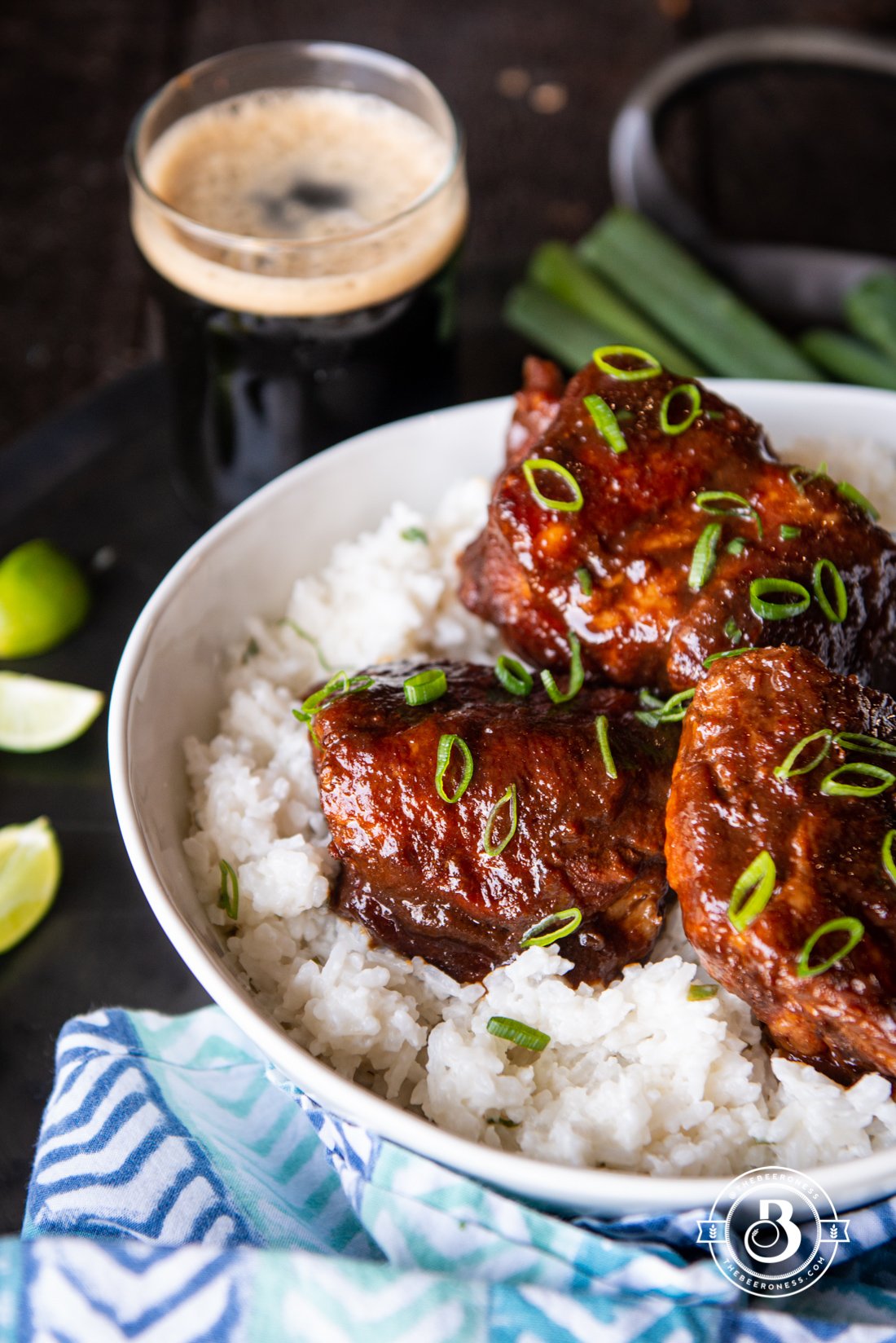 Hoisin Pineapple Beer Pork over Coconut Lime Rice
Ingredients
For the pork:
3

lbs

boneless country pork ribs or pork shoulder cut into chunks

1

tablespoon

salt

kosher

4

cloves

of garlic

¼

cup

(62g) low sodium soy sauce

¼

cup

(66g) hoisin sauce

2

teaspoons

(10g) sriracha

2

tablespoons

(25g) brown sugar

2

cup

(310g) pineapple chunks

drained if using canned

1

cup

(8oz) beer

stout, porter, brown ale
For the rice:
1

(14oz) can full-fat coconut milk

1 ¼

cup

(10oz) water

1 ½

cups

long-grain or jasmine rice

1

teaspoon

salt

2

tablespoons

lime juice

3

tablespoons

green onion

chopped
Instructions
To make the pork:
Preheat the oven to 300°F.

Sprinkle the pork on all sides with salt, add to a large Dutch oven or covered baking dish.

Add the remaining ingredients (from the pork list) to a blender, blend on high until well combined. Pour the liquid over the pork. Cover and bake for one hour.

Remove the lid, turn the pork over, then continue to bake, uncovered, for 2 ½ more hours, turning the pork every 30 minutes or so until the pork is fork-tender (total of 3 1/2 hours of cooking time).

Remove the pork from the pot, set aside.

Place the pot over a burner over high heat (if you used a baking dish, transfer the remaining liquid to a pot), boil, stirring frequently, until thickened.

Pour the thickened glaze over the pork.
To make the rice:
Add the coconut milk, water, rice, and salt to a large pot, stirring to combine.

Add to a burner over medium-high heat, bring to a boil, cover and reduce heat to low for 18 minutes. Once the 18 minutes is up, remove from heat but allow to sit for 2 minutes.

Remove the lid and stir in the lime juice and green onions.

Serve the pork over the rice.