Awesome Vegan Whole Wheat Stout Loaf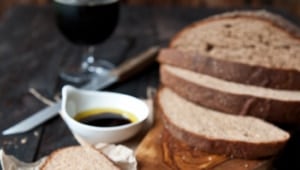 Awesome Vegan Whole Wheat Stout Loaf
This started three years ago as a personal challenge. I'd been looking up a recipe for 100% whole wheat bread and was told that it was really difficult to make really great tasting bread without at least some white flour, or copious amounts of butter.
Challenge excepted.
It took several tries, dozens of recipes, different flours and experimenting with plant fats but I did it. I'll save you several thousand hours of research and give you the quick and dirty rules that I've learned on my endeavor. First, flour matters. A lot. I tried several brands and so far King Arthur Premium Whole Wheat Flour was vastly superior to others I tried. Soft, flavorful, not at all grainy or dry.  Second was the issue of fat. Bread needs fat. I love making brioche, the yolks and butter and incredible in the final results, but I wanted to make it all plant based, mostly because I love to torture myself with endless kitchen trials and internet research. I tried different oils, but in the end, the fat from coconut milk was incredible. It gave the bread a dairy like texture and flavor, and a softness that I couldn't get with anything else.
And then there was the beer! We've already talked about how sometimes beer isn't vegan, or ever vegetarian for that matter, but pick the right beer and the results are perfect. My first choice for a bread baking liquid is usually a bottle conditioned wheat beer, the active yeast is fabulous. I tried that, a pale ale, and even a saison. In the end, the  roasty flavors of a stout complimented the whole wheat perfectly. 
So there you have it. A loaf of 100% whole wheat bread, made with just plants and beer. And it's amazing.
Awesome Vegan Whole Wheat Stout Loaf
Ingredients
3

cups

whole wheat flour

3

tablespoons

brown sugar

for vegan see note

1

packet rapid rise yeast

1

can full fat coconut milk

unshaken

1

cup

stout beer

2

tbs

olive oil

½

tsp

almond extract
Instructions
In the bowl of a stand mixer fitted with a dough hook add the flour, brown sugar, and yeast, mix to combine.

Open the can of coconut milk, scrap out ½ cup of the coconut fat layer from the top, save the rest for an alternate use.

In a microwave safe bowl add the beer and coconut fat. Heat to between 120F and 130F degrees.

Add the beer mixture, oil and almond extract to the flour, beat on high until dough gathers around the hook and is no longer sticky, about 6 minutes.

Transfer the dough to a lightly oiled bowl, cover and allow to rise in a warm place until doubled in size, about 90 minutes.

Preheat the oven to 350.

Knead the dough on a lightly floured surface for about 3 minutes.

Form into a ball, place on a baking sheet.

Allow to rise for about 20 minutes.

Bake until dark brown, about 22-26 minutes. Let cool completely before cutting.
*Beer and sugar are both inherently vegan. However, processing can often use animal products. If you are worried about it, read Is Beer Vegan?, and Vegan Sugar Brands.