Bulgogi Portobello Mushroom Wraps with Pickled Mint Slaw
Bulgogi Portobello Mushroom Wraps with Pickled Mint Slaw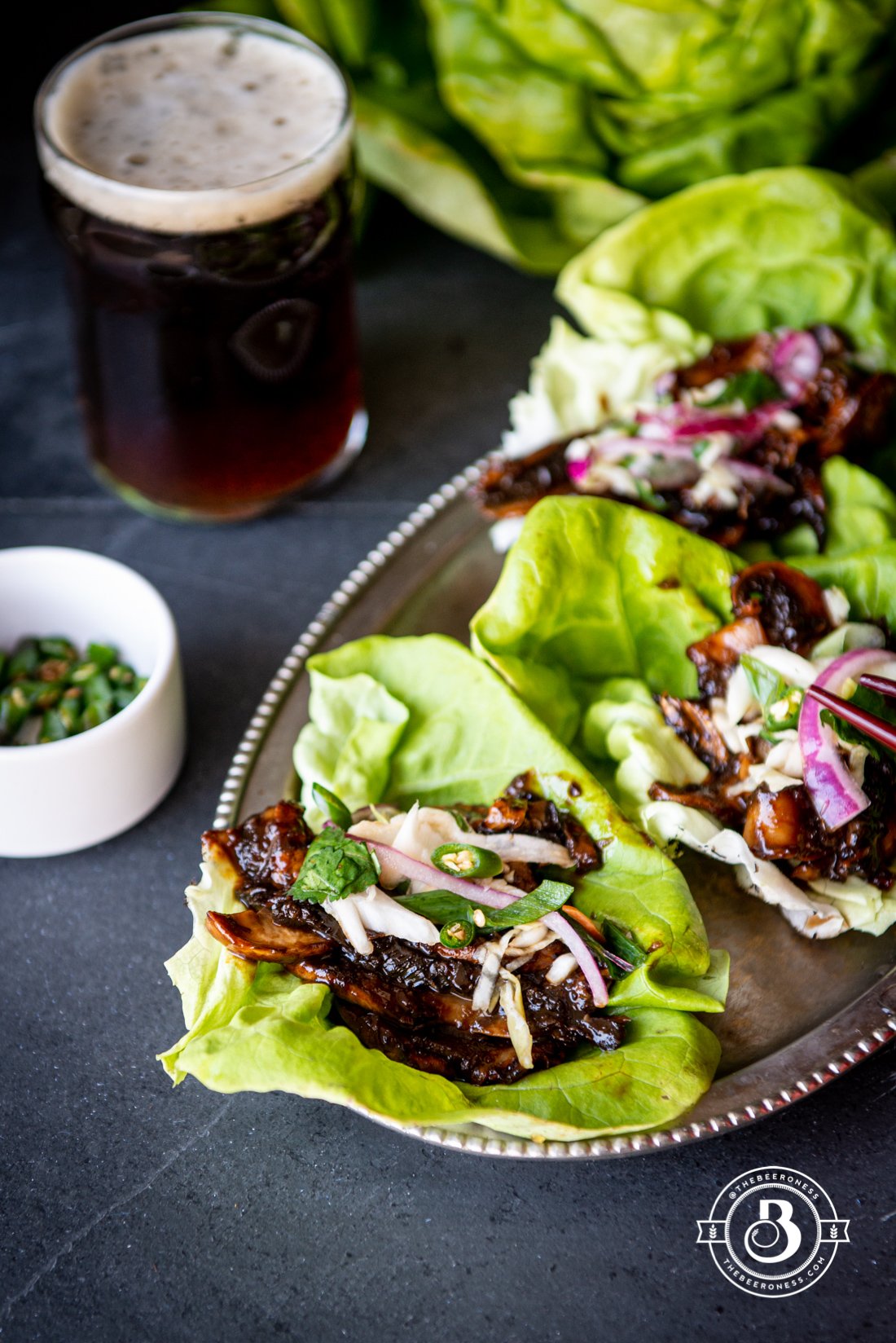 There are days when I feel this is my only useful skill. Feed people. Make food. Cook and bake. So, that's what I'll do. I don't have anything else to offer right now, but I can make you some food that tastes good, a small distraction and something to look forward to.
It's like practical self-care, food that you want to eat, want to serve to people. Something to plan for that you know won't get canceled. Even if that plan is just dinner and a beer with the person you're quarantined with. It's time to take joy in small things, and do what you can to spread it around. It's the good kind of contagious.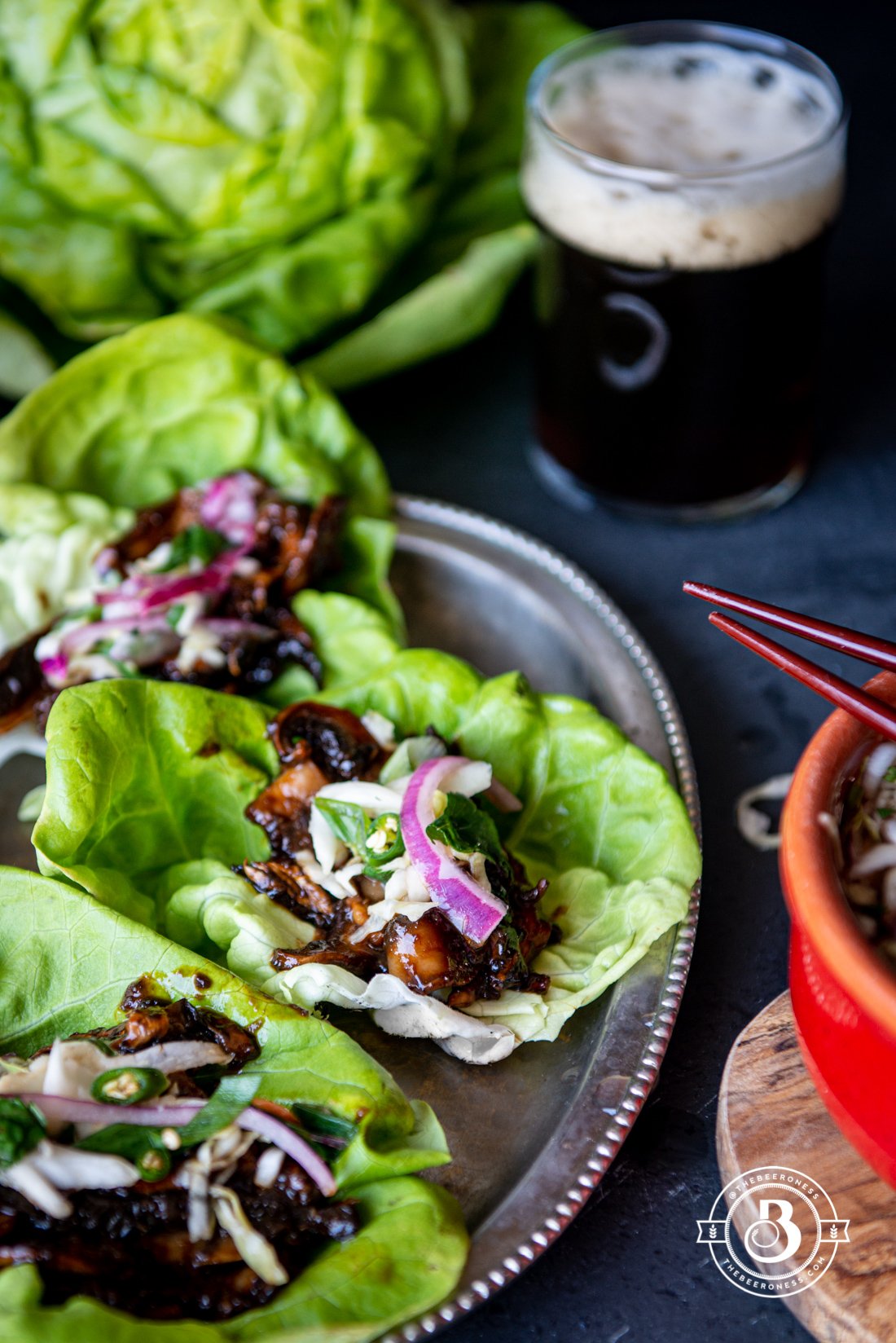 Bulgogi Portobello Mushroom Wraps with Pickled Mint Slaw
Ingredients
For the mushrooms:
½

cup

(129g) low-sodium soy sauce

(regular soy sauce will be too salty)

1/4

cup

(57g) stout beer

3

tablespoons

(42g) brown sugar

5

garlic cloves

grated with a Microplane

2

tablespoons

ginger

grated with a Microplane

3

tablespoons

(46g) rice wine vinegar

2

tablespoon

(30g) toasted sesame oil

1

tablespoon

gochujang

Korean hot sauce

1

lbs

portobello mushrooms

thinly sliced

1

tablespoon

olive oil
For the slaw:
2

tablespoon

kosher salt

3

tablespoons

sugar

1

cup

(8oz) hot water

1

teaspoon

whole cloves

1

tablespoon

black peppercorns

1

cup

(8oz) apple cider vinegar

1

cup

shredded cabbage

¼

a large

red onion, thinly sliced

1

tablespoon

chopped mint

2

tablespoon

chopped cilantro

2

green onions

chopped
For the wraps:
1

head butter lettuce

cleaned, leaves removed

Thinly sliced chilies

optional
Instructions
Add the soy sauce, beer, brown sugar, garlic, ginger, vinegar, sesame oil and gochujang to a bowl, mix until well combined.

Add the mushrooms to a large Ziplock bag, add the mixture on top, remove all the air. Add to the fridge, marinate for one hour and up to overnight.

Add the sugar, salt, hot water, cloves and peppercorn to a large bowl. Stir until the sugar and salt are dissolved. Add the vinegar and allow to rest for 5 minutes, remove the cloves and peppercorns.

Add the cabbage, onion, mint, cilantro and green onion. Cover and refrigerate for at least one hour and up to several days.

Heat the olive oil in a large skillet over medium-high heat.

Add the mushrooms and marinade. Cook until the marinade has thickened, and the mushrooms have softened about 10 minutes.

Add the mushrooms to the lettuce leaves, top with slaw and chilies (if using).