Beer Brined Pork and Pineapple Skewers with Apricot Chili Glaze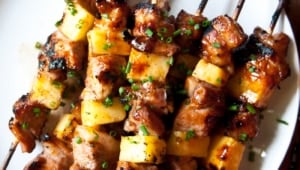 Beer Brined Pork and Pineapple Skewers with Apricot Chili Glaze
The start of grillin' season also ushers in the start of session beer season. A session beer, for those new to the brew, is a beer with lower alcohol content. Most session beers range between 3% and 5% ABV, making them easy to consume over a long drinking session, hence the name.
Session beers, especially session IPA's are exactly what you want to fill that beer tub with this summer. Don't try to assert your manhood with a galvanized bucket full of 11% monsters, it doesn't impress anyone. A beautifully balanced, crispy and well-hopped session IPA is exactly what you need to devote most of that beer tub space too. You want your guests, as well as your grill-tending self, to be able to enjoy beer all afternoon without becoming a cautionary tale. Session beers let you drink more and still have full control of exactly how obnoxious you truly want to be.
I recently got my hands on a 21st Amendment Down to Earth session IPA. It's citrusy, tropical, crispy, refreshing, and the perfect level of hops for a session beer. Not a giant hop bomb, but beautiful and bold hop flavors. It's insanely drinkable and will make a regular rotation in my beer tub this summer.
Have a favorite summer beer? Let me know about it, I'm always on the prowl for a new summer beer.
Beer Brined Pork and Pineapple Skewers with Apricot Chili Glaze
Ingredients
1 ½

cups

hot water

2

tsp

kosher salt

1

tbs

brown sugar

12

ounces

chilled pale ale

¼

cup

low sodium soy sauce

1.5

lbs

boneless country style pork ribs* cut into bite sized cubes

2

cups

pineapple

cubed

1

cup

11 wt oz apricot preserves

1

tbs

Sriracha chili sauce

¼

cup

pale ale or IPA beer
Instructions
In a large bowl combine the hot water, salt and sugar, stir until dissolved. Add the beer and soy sauce, stir to combine, allow to cool to room temperate.

Skewer the pork and the pineapple, alternating between the two. Add to a baking pan, pour the brine over the skewers, cover and chill for 1 to 6 hours.

In a small bowl combine the apricot, chili sauce, and ¼ cup beer, stir until well combined.

Preheat the grill to medium high.

Remove the skewers from brine, pat dry. Brush with glaze.

Add skewers to the grill, turn and brush with glaze every one to two minutes. Grill until pork is cooked through, about 8 to 10 minutes.
Notes
*If you can't find country style pork ribs, lean towards a fattier cut of pork. Leaner cuts, like the loin and the chops, are much more likely to be dry and flavorless.