Hello Seattle + Spicy Steamed Mussels in Beer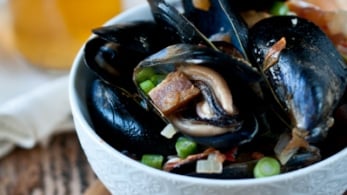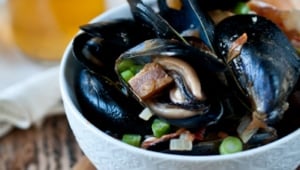 Photos in this post were taken in Seattle with vintage Polaroid cameras by my  incredibly talented sister Kim van Groos 
Check out her Flickr, it's very impressive.  
I told you last week that I'm in the process of saying goodbye to Los Angeles. A process made easier by the fact that it will end with a move to Seattle, a city that I've loved for years. A city with a vibrant love for food, people who are aware and grateful, plus a craft beer scene that is one of the best in the world.
I'll get to discover a new city, fall in love with the local beer, cook with the incredible produce. I'll also be near my sister who took all these photos, as well as my other sister who almost died with me in Morocco. I'll be around the world's best hops and the country's best seafood. The idea of wandering around a new city, losing myself in the streets and the strangers is incredibly exciting. Especially a city like Seattle that has so much to offer.
I'm not limiting my explorations to Seattle. The entire Pacific Northwest, from Medford to Bellingham, has an incredible craft beer scene that I can't wait to explore. The beer, the people, the pubs and the events, I plan to jump in with both feet, grab a pint, and become a part of what's happening up North.
I want to share it all with you. Not just on the blog, but also on Instagram and Twitter. I want you to see the beer I find, the salmon I catch, the people I meet, the butcher shops, the breweries, the farmers markets, the coast and everything else that's waiting for me up there.
As I pack the boxes and say goodbye to Los Angeles, I wanted to make something that has a bit of Seattle in it, a reminder of what I have to look forward to.
Seafood and beer it is. Can't wait to dig in.
I start my trek North in two weeks. Join me, it's going to be a big move and a big adventure. I'd love to have you along for the ride.
Instagram – Facebook – Twitter 
Spicy Steamed Mussels in Beer
Ingredients
4

strips thick cut bacon

1

cup

diced white onion

4

tbs

unsalted butter

5

cloves

garlic

minced

1

lbs

diced tomatoes

about 2 large

1

jalapeno

sliced

1

tbs

red pepper flakes

½

cup

pale ale

1

lime

juiced

1 ½

lbs

black mussels

cleaned and de-bearded

¼

cup

green onions

diced

Bread for serving
Instructions
In a large pot or deep skillet cook the bacon over medium high heat. Remove the bacon from pot, chop and set aside. Pour off about half of the bacon grease, leaving about 1 tablespoon still in the pan.

Add the butter and cook until melted.

Add the onions, cook until slightly browned.

Stir in the garlic, then add the tomatoes, jalapenos, red pepper flakes, beer, lime juice and chopped bacon. Bring to a low simmer.

Add the mussels, cover and allow to cook until mussels have opened, about 5 minutes.

Discard any that didn't open. Sprinkle the green onions over the pan.

Serve with crusty bread.
Adapted from Epicurious