Chocolate Stout S'Mores Icebox Pie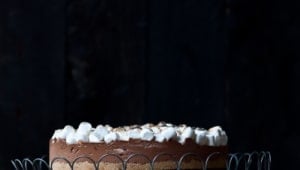 Chocolate Stout S'Mores Icebox Pie: no bake, ten minutes prep.
I had a conversation with a group of brewers the other day about water, a conversation that reminded me of what is at the heart of most brewers.
They were concerned about how much water the beer industry uses in the midst of a drought. It didn't matter that beer uses far less water than other beverages, that it doesn't even come close to the top five most water-consuming drinks, or the top 20 food products. It was about them giving back, figuring out how to be better, do better, give more back.
I see this spirit in most of the craft beer world. I see start-up breweries run by owners still working day jobs to make ends meet. I see most breweries make little to nothing on 6-packs, some even lose money. I see brewers who make far less than people think, giving to charities in their neighborhoods. I see breweries that aren't even breaking even after 4 years talk about how lucky they are to do what they do. So why do they do? Because they can't imagine doing anything else. Because they love it.
People who are in craft beer never talk about how much it costs to buy. It's expensive to make, for what you get, it's a sold at bargain prices. If beer had the mark-up that soda does, it would easily cost over $100 for a six-pack. Sure, brewers could mark up their beer, make more. But no brewer gets into beer to get rich, and you can see that when you meet one.
So please don't complain about the cost of craft beer, you're not the one who has to figure out how to balance the ledgers at the end of the month.
Chocolate Stout S'Mores Icebox Pie
Ingredients
Crust
9

graham cracker sheets

1/4

cup

brown

4

tbs

butter

melted
Filling
1/3

cup

chocolate stout

2

tbs

unsweetened Cocoa

1 1/3

cups

8.5wt oz bittersweet chocolate chips

2

tsp

vanilla extract

1 1/2

cups

heavy cream

¼

cup

powdered sugar

pinch

salt
Instructions
Add the graham crackers and brown sugar to a food processor, process until just fine crumbs remain. While the mixer is running, add the melted butter until well combined.

Press into the bottom of a spring form pan in an even layer until well compacted.

Add the chocolate stout, cocoa, and chocolate chips to a microwave safe bowl, microwave on high until melted, stirring frequently, about 90 seconds.

In the bowl of a stand mixer add the vanilla, heavy cream, powdered sugar and salt. Beat on high until medium peaks form. Turn the mixer to low and slowly add the chocolate until combined. Stir until well combined.

Pour over the crust in an even layer.

Top with marshmallows, freeze until set, about 2 hours.

Before serving toast the marshmallows with a culinary torch until blacked to desired degree.