Chocolate Stout Salted Caramel and Peanut Butter Cup Ice Cream Pie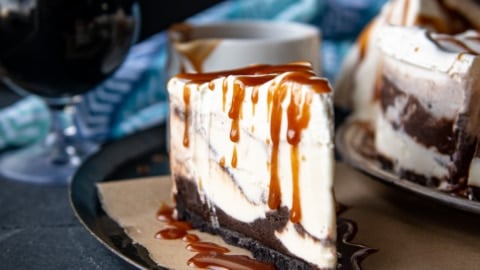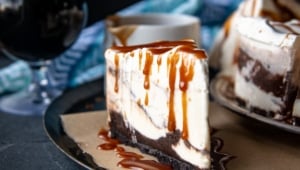 Chocolate Stout Salted Caramel and Peanut Butter Cup Ice Cream Pie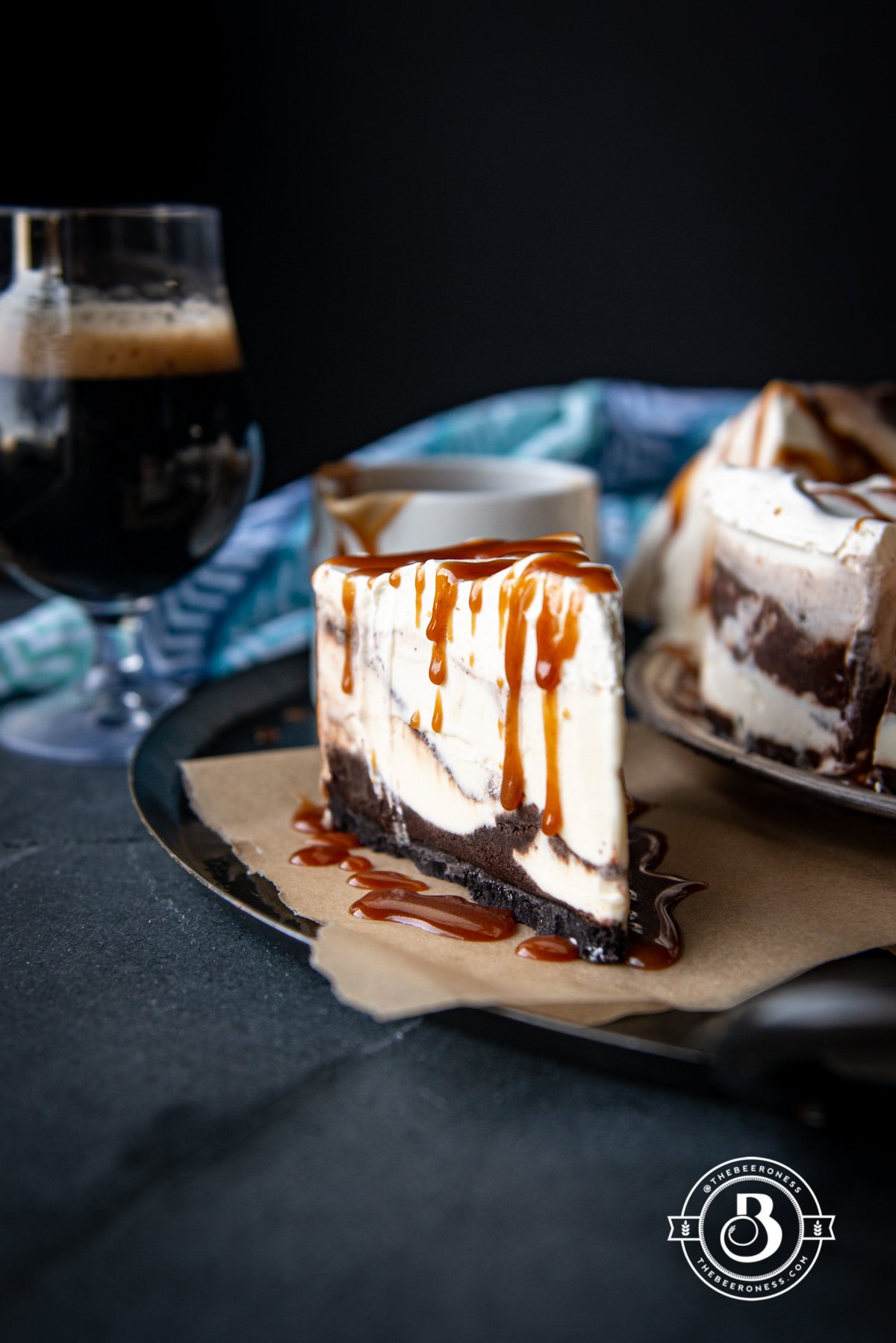 Apparently, there is quite a bit of disagreement about ice cream-related desserts. So, let's get into it. Do you call this an ice cream cake or are you right and call it a pie? Do you like a layer of cake in the center of this thing or is it all a no-bake-just-freeze situation for you? This last one can be an either-or proposition for me, I'll never turn down a layer of cake in my desserts, even if it's weird that it's there.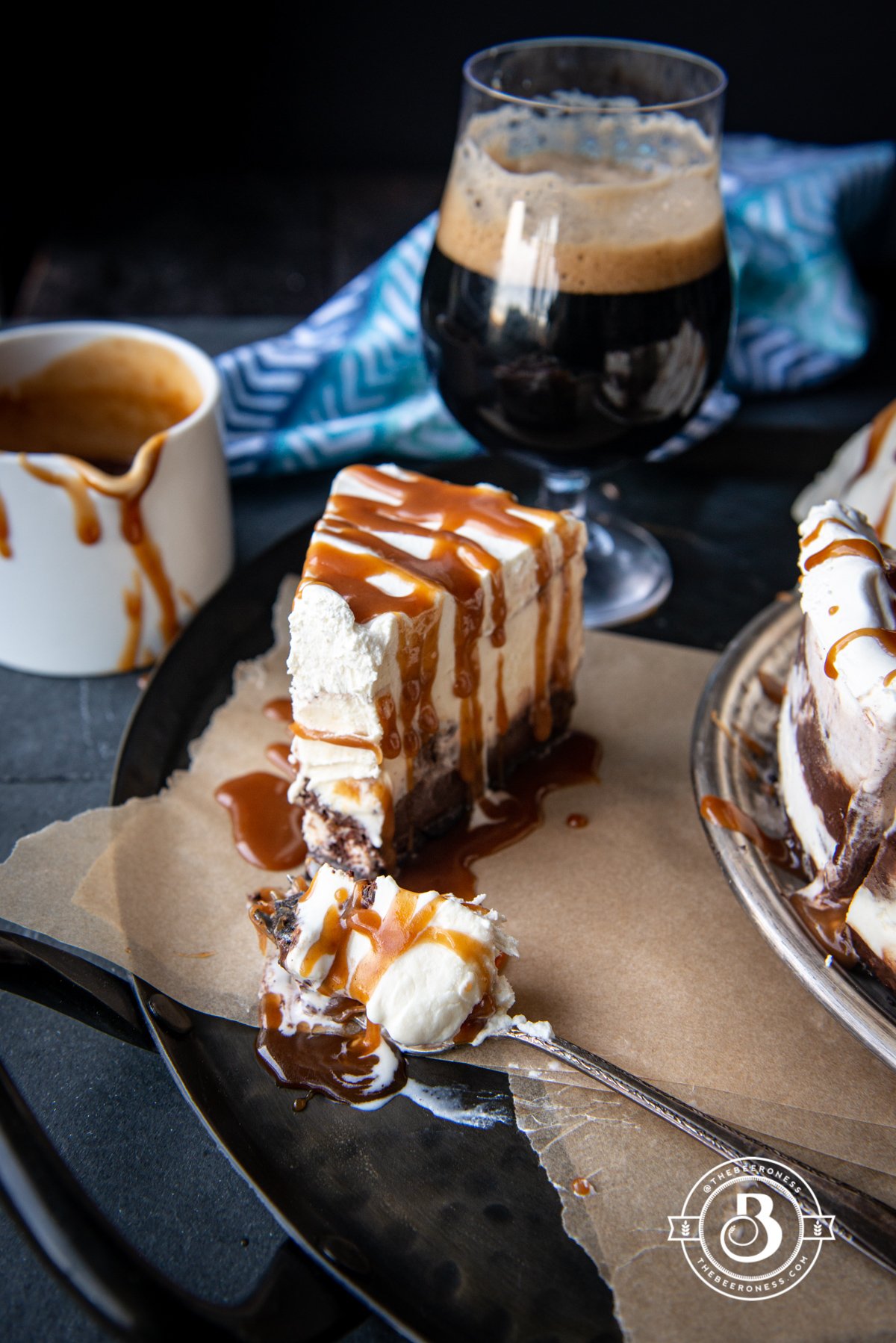 We also need to agree to ignore anyone who tells you that ice cream pies are only for the summer because those people are wrong. We can agree to disagree on a lot, but this is not one of these things. Eating ice cream is an "all the days", "all the hours" type of activity. Since it's milk-based, we need to normalize breakfast ice cream. Can you handle that? I'm over here trying to normalize eating beer so my hands are pretty full.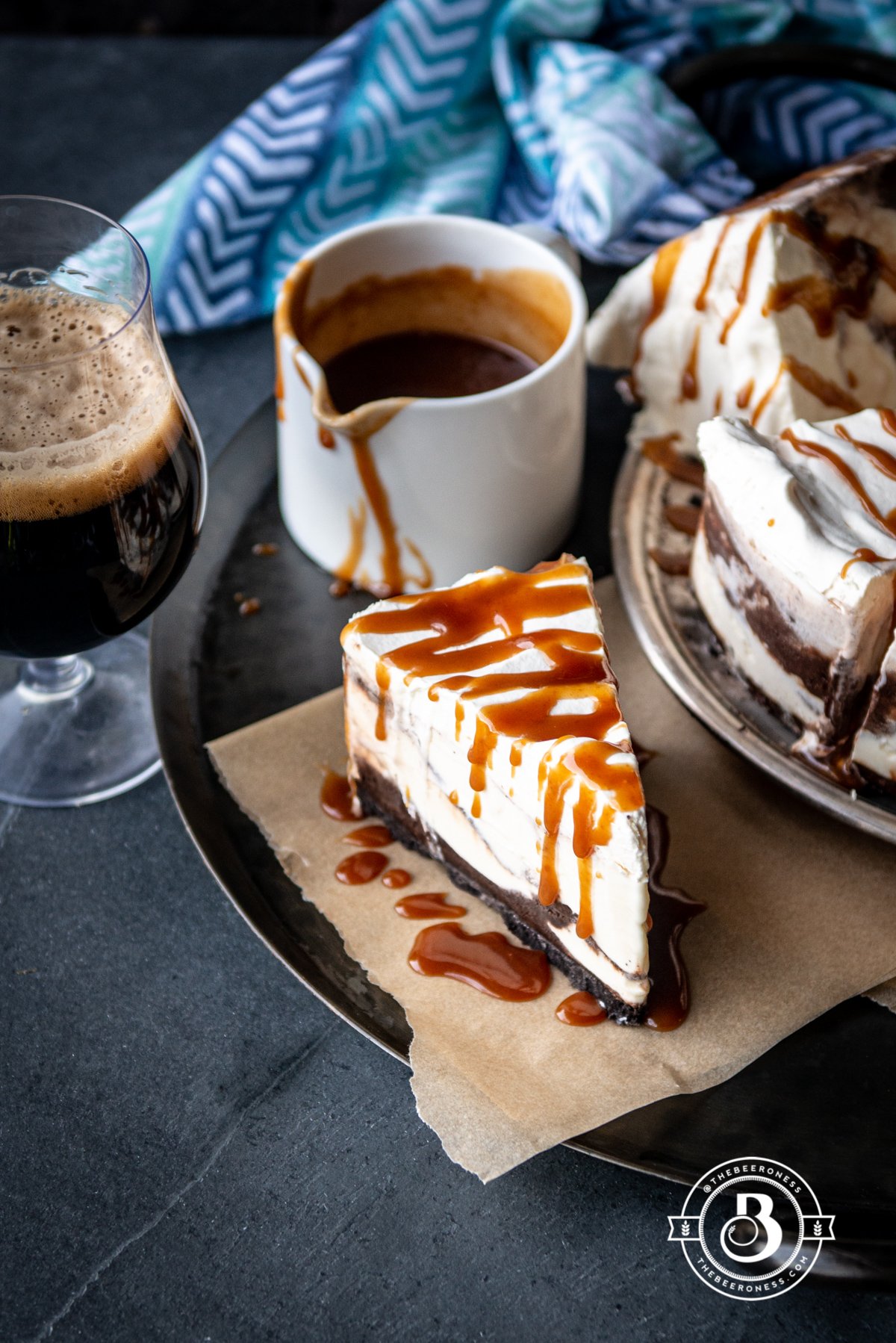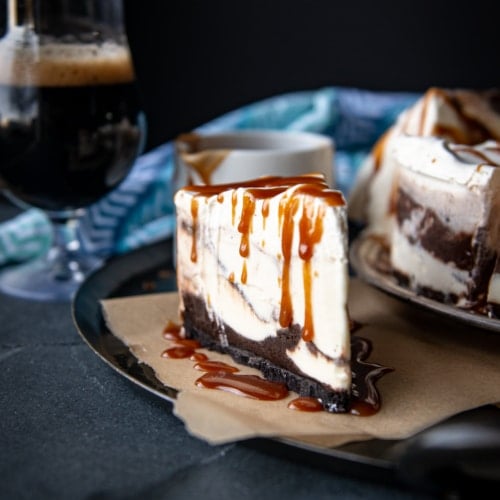 Chocolate Stout Salted Caramel and Peanut Butter Cup Ice Cream Pie
Ingredients
3

pints

vanilla Ice cream

20

chocolate sandwich cookies

3

tablespoons

melted butter

14

oz

(about 2 1/3 cups) dark chocolate chips

1

cup

(8oz) stout or porter beer

1

cup

mini peanut butter cups

2

cups

heavy cream

¼

cup

powdered sugar

½

teaspoon

vanilla extract
Caramel sauce:
1

cup

sugar

¼

teaspoon

cream of tartar*

¼

cup

water

6

tablespoons

butter

1

teaspoon

vanilla extract

¼

cup

heavy cream

1

teaspoon

flakey sea salt
Instructions
Leave the ice cream out to soften enough to be spreadable.

Add the sandwich cookies to a food processor, process until just crumbs remain.

Add the melted butter, process to combine.

Press into the bottom of a 10-inch springform pan.

In a microwave-safe bowl add the chocolate chips and stout, microwave on high for 30 seconds, stir and repeat until well combined (this can also be done in the top of a double boiler.

Pour half of the mixture in an even layer over the crust. Freeze until set.

Add 1 ½ pints of ice cream over the chocolate, smooth into an even layer.

Add the remaining chocolate mixture, top with mini chocolate peanut butter cups, freeze until set.

Add the remaining ice cream, smooth into an even layer.

Add the heavy cream, powdered sugar, and vanilla extract to the bowl of a stand mixer beat on high until well combined. Smooth over the top of the last ice cream layer. Freeze until ready to serve.
Make the caramel sauce for serving:
Add the sugar, cream of tartar, and water to a large heavy bottom saucepan, stir until the sugar is dissolved, stop stirring.

Boil until a dark amber, about 8 minutes, swirling the pan occasionally if hot spots develop.

Remove from heat, stir in the butter until melted.

Slowly stir in the heavy cream and then the salt.

Allow the cake to sit at room temperature for about ten minutes to soften enough to cut.

Drizzle with caramel before serving.
Notes
*cream of tartar is option but it does prevent crystallization if grainy caramel has ever been an issue for you.