Stout Brined Pan Seared Flank Steak with Sage Chimichurri
Stout Brined Pan Seared Flank Steak with Sage Chimichurri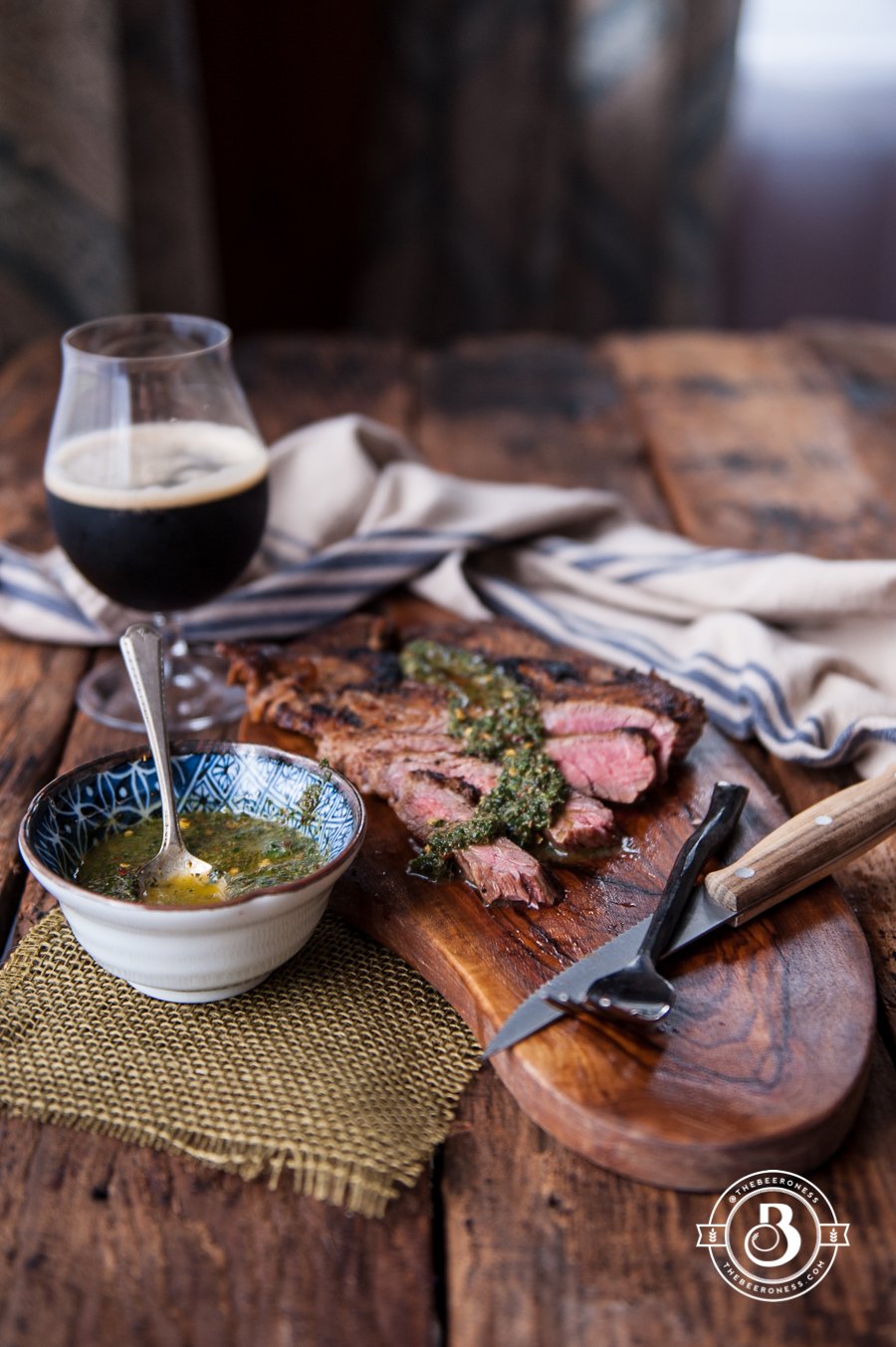 I'm going to tell you why I'm not a good person, at least not at first.
I was late a few days ago, trying to get to a place that had me stress-rushing but wasn't important enough to remember now, three days later. The car in front of me, a Volvo station wagon as old as I am was making very slow forward progress, slightly swerving, down a winding back road in the Wine Country of King County. I'm annoyed, irritated, wondering if Seattle drivers do this on purpose. Do they see that you're in a rush and slow down to make a point? Everyone in LA was always in a hurry and driving less than the speed limit wasn't even physically possible. What the hell was this guys problem? At the first opportunity I speed past him, out of the corner of my eye I see his car slow to a stop in the middle of the road, his hazards flip on, and his body slump over the steering wheel.
I stop, my I-Need-To-Get-There-Now destination on hold. I turn around and go back to check on him. I pull off on the soft shoulder of the road, my tires scrapping a few blackberry bushes that have just gone dormant. I see his old, frail body shaking a bit.
I grab the thick black handle on the faded blue door of his car and pull it open with a loud creak, "Are you OK?" he looks up, smiles. He is easily 80 years old. He tells me that the car has been acting funny, but he thought he would be able to make it to the store, but then it just stopped. He's shaken, unsure what to do. This is the man I though was an asshole for going so slow just three minutes earlier. I feel awful.
 A small market is right across the street and a few employees have come outside to see what the action is. I wave them over. We push the car out of the road for him, and help him call a tow truck.
When I leave, he's fine, his car problem assessed and fixed. But I wondered why I do that. Why do I first assume the worse about strangers? Maybe the guy in traffic is having car problems. Maybe the rude waitress isn't a bitch, maybe she just got the worst news of her life and she's only trying to hold it together. Maybe we should all just give each other a break and assume the best until proven otherwise. Maybe I need to stop driving like I still live in LA, and stop freaking out when I'm late.
Maybe we just need to get some beer and hug it out.
Beer Brined Pan Seared Flank Steak with Sage Chimichurri
Ingredients
For the Steak:
1 ½

lbs

flank steak

1 ½

cups

stout or porter

2

tbs

Worcestershire sauce

1

tsp

onion powder

1

tsp

smoked paprika

½

tsp

salt

salt and pepper

2

tbs

butter
Chimichurri:
2

tbs

20g finley chopped shallots

½

cup

6g fresh parsley

¼

cup

6g fresh sage leaves

1/3

cup

72g olive oil

1

tsp

3g red pepper flakes

2

tbs

15g red wine vinegar

1

tbs

l

15g lemon juice

1

clove

3g garlic, smashed

¼

tsp

1.5g salt

¼

tsp

.5g black pepper
Instructions
In a small bowl, whisk together the beer, Worcestershire, onion powder, paprika and salt.

Place the steak in a baking dish, cover with the marinade. Cover and refrigerate for 6 hours and up to 24, turning at least once while marinating.

To make the chimichurri combine all ingredients in a food processor, pulse several times until combined.

Remove the steak from the marinade, pat dry. Allow to sit at room temperature for 15 to 20 minutes.

Preheat the oven to 400.

Pat the steak dry again, if needed, sprinkle on both sides with salt and pepper.

Melt the butter in a cast iron skillet over high heat.

Add the steak, cook for two minutes, flip and cook on the other side for one minute.

Transfer to the oven and cook for 7 minutes or until the thickest part of the steak reads 120 on a meat thermometer.

Remove from the pan and allow to rest for ten minutes. Slice against the grain and serve with the chimichurri sauce